Family ties anchor new wine shop in historic Sparks building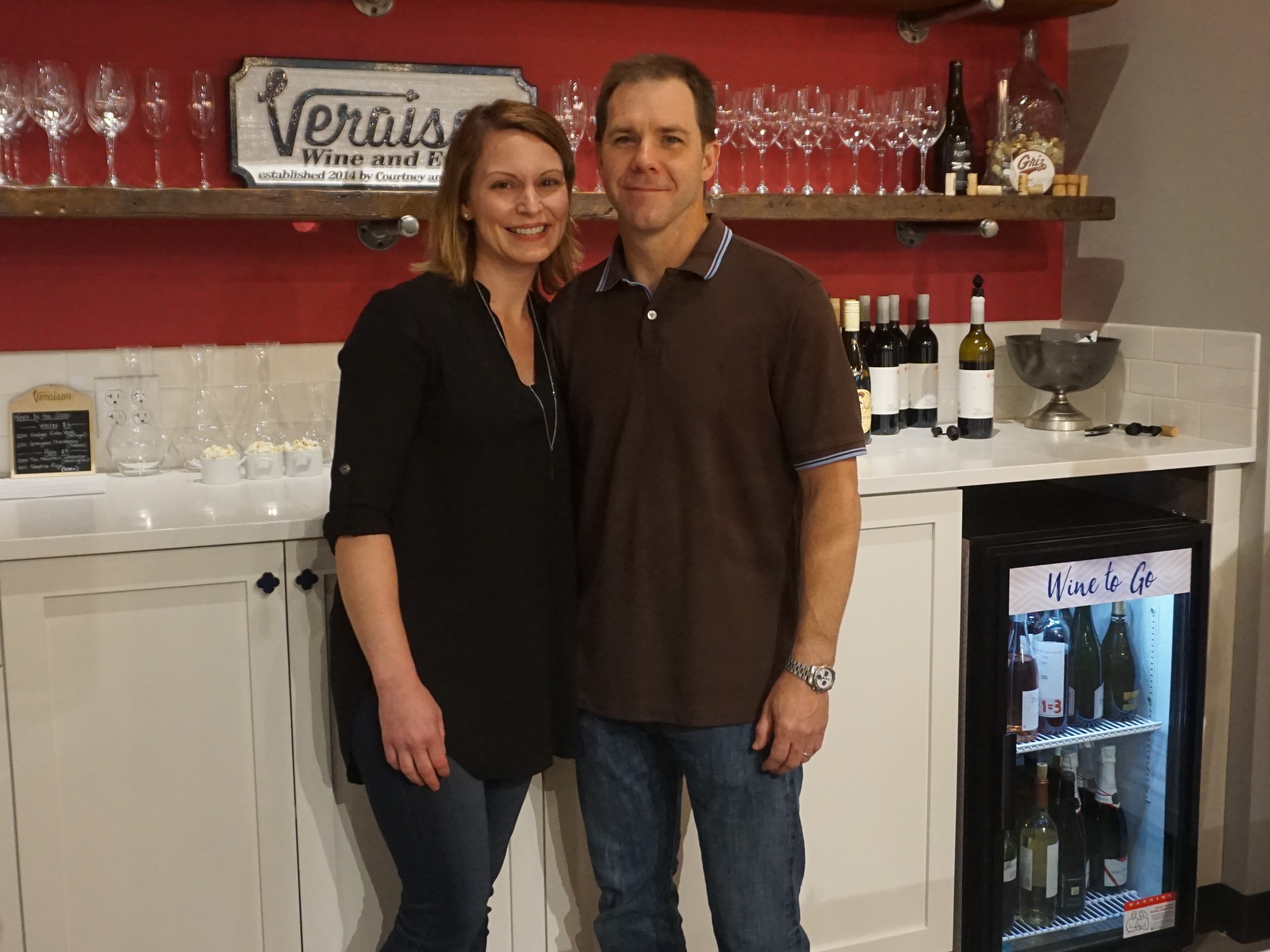 When husband and wife team, Tim and Courtney Barker, opened Véraison Wine & Events less than two years ago, it was with the vision of bringing wine into the living room of the consumer in an unintimidating way.
With the growing popularity of their wine club and a shift in their own way of enjoying wine, this approachable couple recently opened Véraison Wine Shop and Tasting Bar.
Courtney said, "I really didn't want a brick and mortar store but as I got into it—my background is in sales and marketing —going to events and pouring wine is one of my favorite things to do.  I realized there's not a bright and welcoming place to go (in Vancouver). I don't want people to feel like they have to go to Portland—and I don't want to go to Portland—to have a nice wine experience."
While still in charge of marketing and community events for her family's fourth generation company, Corwin Beverage, Courtney took a wine class for fun and it was love at first sip. In 2013 she and Tim earned their Level 2 Wine and Spirit Education Trust certifications (WSET) and Courtney went on to complete Level 3.
True to their vision, the 1,400 square foot space is bright, open and inviting. What's more, it's a bit of a homecoming for Courtney.
"The shop is located in the Sparks building. My mom's family owned Sparks for over 120 years so it's very special to be working in the building my grandfather and great grandparents built in 1951, where Sparks opened their fourth location," Courtney said.
She went on to share that the space Véraison now occupies was once the dining room section of Sparks.
Véraison will continue to offer private and corporate pouring events off-site but they now have a full kitchen in their new space with a Level Two restaurant license. Along with an extensive bottle-for-purchase selection, there are several wine-by-the-glass options as well as charcuterie sourced from Salumi of Seattle and Olympia Provisions from Portland.
Education is an emphasis at Véraison but when the subject is wine, who doesn't want homework? The wine and small bite menus will rotate regularly; flights run the gamut from white, red, bubbly, dessert and even sherry; classes will start this fall with a special focus on holiday food and wine pairings; and wineries or special pourings will be scheduled twice monthly. For extra credit, social media followers will be rewarded with the announcement of an occasional high-end wine pour utilizing a Coravin (a wine system that allows wine to be dispensed without popping the cork).
Not a wine drinker? Not a problem. A selection of beer, cider and mead can be found in the fridge and on the shelves.
Along with being an inviting place for adults, Véraison is family-friendly. The Barker's young children have been tasked with creating a play area that will include coloring books and other items to entertain youngsters and there is a selection of non-alcoholic beverages on hand, as well.
"We want this to be a high end experience in a welcoming environment," Courtney said. "We don't want anyone to feel that because it's a wine shop, you must know something about wine to experience it. Whether you spend $10 or $100 on a bottle, I want your experience to be the same."
Hours of operation are 12 p.m. – 6 p.m. Wednesday and Thursday, 12 p.m. – 8 p.m. Friday and Saturday.
**If you like what you're reading, follow Corks & Forks by clicking the 'Follow' button or follow Corks & Forks  on Facebook or Twitter @WACorksandForks.