Yakima Valley comes to Portland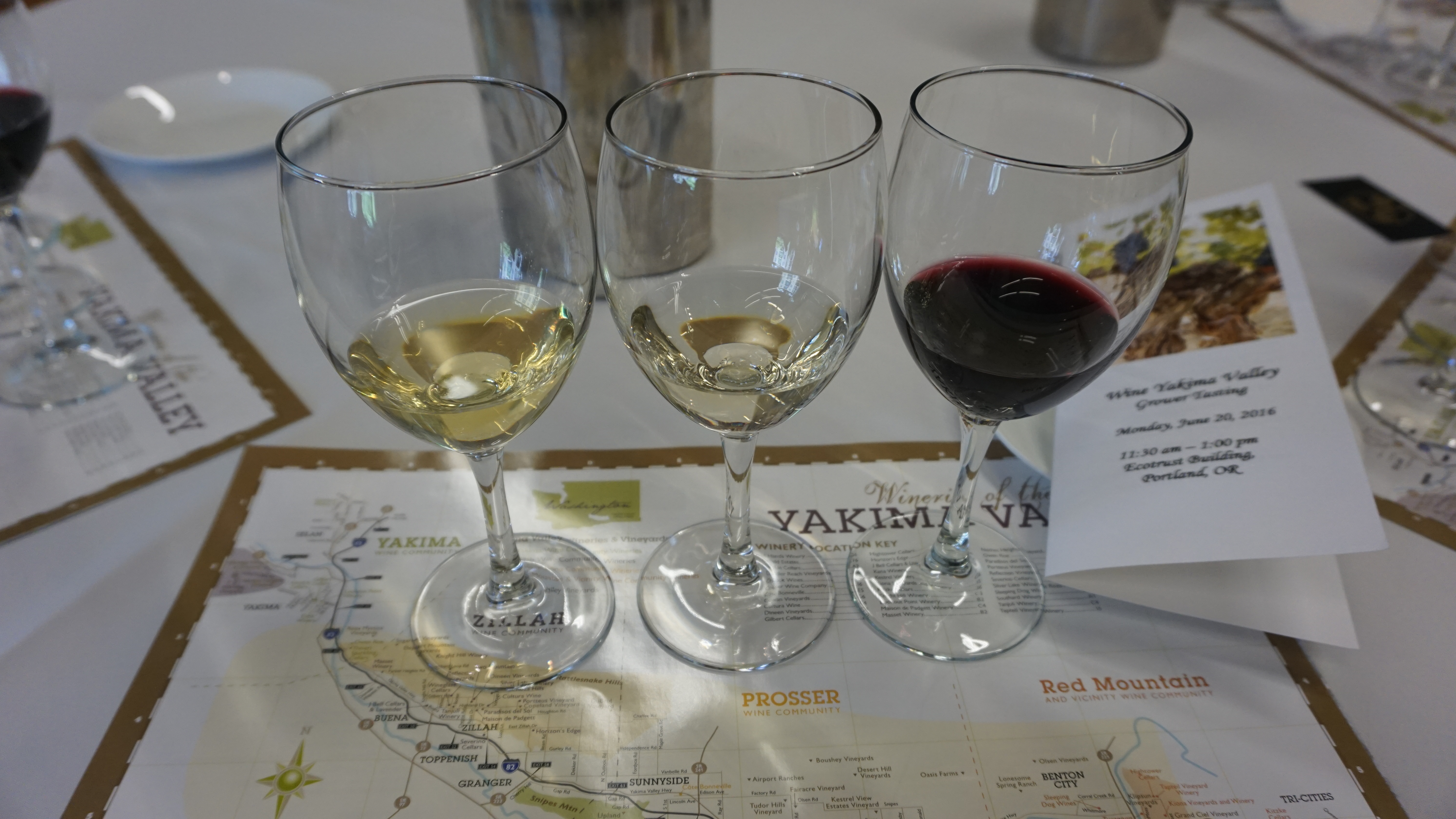 Last weeks' Wine Yakima Valley Grower Tasting brought winemakers and vineyard representatives from the east side for an intimate history lesson and tasting in Northwest Portland.
Yakima Valley can sometimes be overshadowed by its neighbor to the east but the Yakima Valley AVA was actually designated the first winegrowing appellation north of California in 1983. In fact, the Yakima Valley is still home to the most vineyard acreage in Washington State. Drinking a Woodinville or Walla Walla vineyard label? Remember, those locations source grapes from, you guessed it, the Yakima Valley.
And if wine's not your thing (why would you be reading this?) maybe you're a hop head. Note: Seventy seven percent of the world's hops are grown in the Yakima Valley…the world. Suffice it to say, there's a lot going on wine-wise in the Yakima Valley so it was exciting to have the likes of Wade Wolfe of Thurston Wolfe Winery, David O'Reilly of Owen Roe Winery, Kathy Shiels of Côte Bonneville Winery and Co Dinn of Co Dinn Cellars share their wines with some industry and media folks.
Wolfe is ever-passionate about the geology of the Valley, how the Missoula floods and—much more recently—Mt St Helens eruption left their rich mark on the land and the dramatic rain shadow that they enjoy allows a scant 10 inches of rain to fall each year.
O'Reilly spoke of the diversity of the land and its ability to grow so many varietals well—a blessing with its own challenges.
Dinn may be a newer name for some. After six vintages in the Napa Valley, he headed north to work for Hogue for 17 years. Now concentrating on his own label, if his 2013 Chardonnay (sourced from Snipes Mountain) is any indication, the Valley has another premium winemaker feather to add to its plumage.
I, personally, loved the Red Willow reference. Having visited Mike and John Sauer after meeting John at last years' tasting, I hold a special place in my heart for his dad who shared decades-old farming stories while I visited with him in his winery and tried not to be an overeager wine groupie. Sauer Sr. is seriously a rock star in my world.
"We're benefiting from Mike Sauer from Red Willow and we're benefiting from their mistakes (those who have come before). One of Mike's first grapes was pinot noir and he quickly ripped that out because he recognized it's not the right climate for that grape," O'Reilly said.
Although all the wines were lovely, I give special props to Wolfe's 2015 Albariño—the table favorite. It showed beautifully; a crisp, bright acidity with light tropical notes and a complex flavor profile that would pair beautifully with scallops, cod or halibut.
Côte Bonneville surprised everyone with a 2002 DuBrul Vineyard red blend. Pulled from their library, it had mellowed and was showing dried fruit components—obviously made to age with soft, approachable tannins.
Owen Roe's 2013 Chapel Block Syrah from Red Willow Vineyard—planted in 1990—had a lingering finish and heady complexity and the 2012 Hightower Cellars Red Mountain Reserve was well balanced with bright red fruit notes, smooth tannins and a floral nose of violet with a velvety finish.
Overall, the room seemed to have a new appreciation for an AVA that some tend to sidestep on their way to somewhere else for no other reason than the major towns tend to boast populations of 2,000-10,000 people. The Yakima Valley AVA may be the best kept secret in the wine world but, with the ratings they're receiving and the wines being crafted, there's no way that secret can lay under wraps much longer.
**If you like what you're reading, follow Corks & Forks by clicking the 'Follow' button or follow Corks & Forks  on Facebook or Twitter @WACorksandForks.