Ridgefield's Koi Pond Cellars making splash in Hollywood, aboard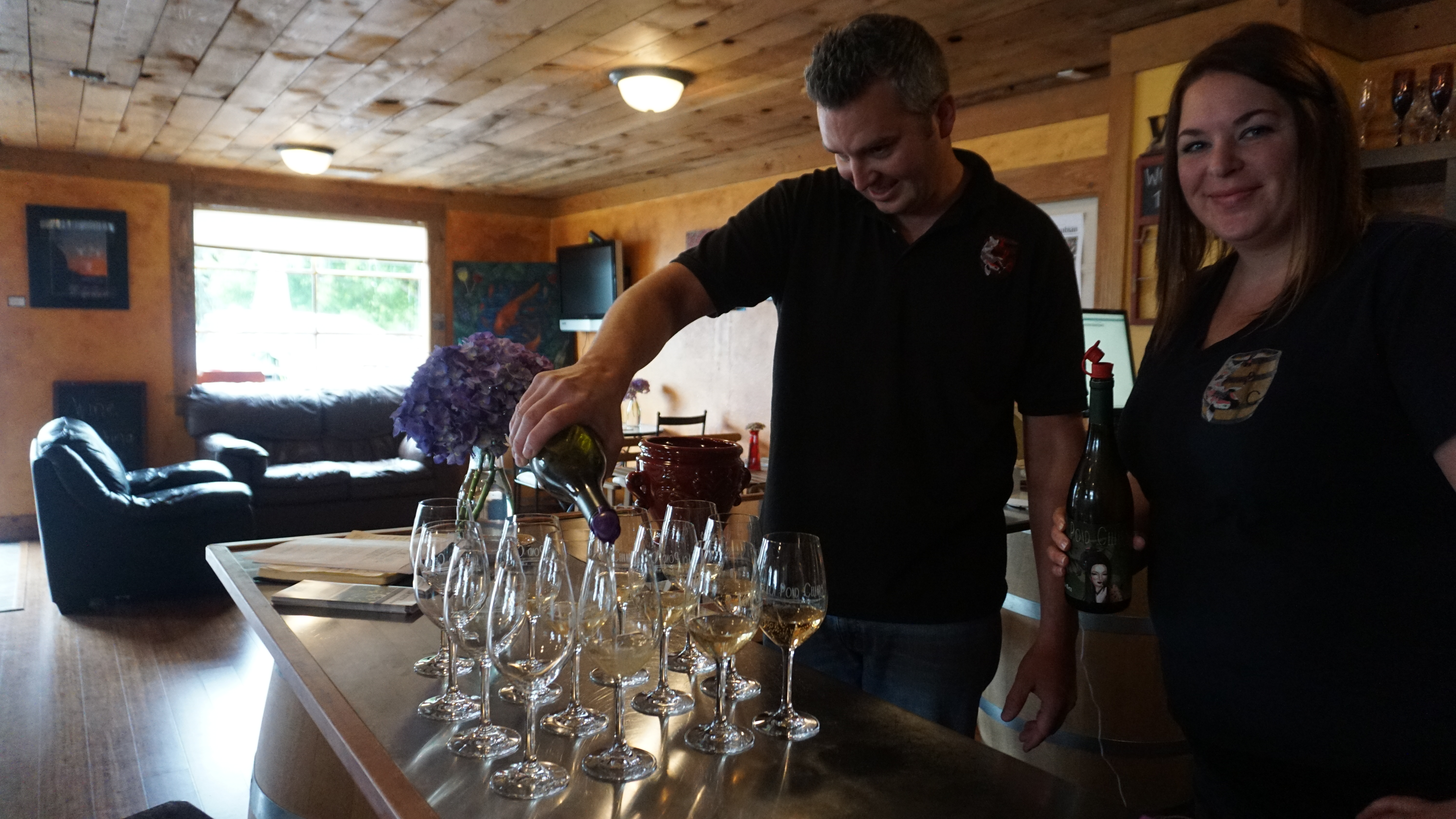 June 25 marks the two-year anniversary of Koi Pond Cellars' downtown Ridgefield tasting room and, in that short time, their wines have expanded beyond the reaches of even the Northwest. From the small screen to the silver screen and soon international waters, Koi Pond Cellars is making a splash in the wine world.
Look for offerings like their Geisha White and Geisha Red in upcoming movies such as Tallulah starring Allison Janney and Ellen Page, Mike and Dave Need Wedding Dates starring Zac Efron and Adam DeVine and The House with Will Ferrell and Amy Poehler, to name a few. Shots of bottle pours can also be seen in popular television series such as House of Cards, Pretty Little Liars, The Big Bang Theory and Grey's Anatomy.
Using grapes predominantly sourced from Walla Walla, the Columbia Valley and the Dundee Hills, prime Hollywood placement not only markets Koi Pond wines but brings these regional AVAs (American Viticultural Area) into the forefront of viewers' minds and circles back to the growing wine scene of Southwest Washington, as well.
Two upcoming cruises with USA River Cruises have Wes and Michelle floating down the Columbia River in August and crossing the big pond to showcase their wines along the Rhône River next April 20-27. On board, guests will enjoy wine and food pairings, wine presentations led by Wes and happy hours, all focusing on the award-winning Koi Pond lineup.
Michelle said "Wes and I are excited about it (the cruises) because, honestly, we love to drink wine and talk about wine. Wine's meant to be shared and we totally enjoy that. We also like to taste other wine so I'm excited to share that experience and maybe showcase wine in a way that some people aren't used to looking at it."
Closer to home, beach combers can now pick up Koi Pond wine-infused truffles at the Cannon Beach Chocolate Café. These inaugural truffles went over so well at Savor Cannon 2016, they've since been added to the shop's case of confectionary temptations.
Opportunities and success are meant to be celebrated and the Parkers are hoping folks will join their anniversary bash this Saturday, June 25 from 2-8 p.m. The first 15 people will enjoy a complimentary glass of champagne-style Sangria, live musicians are scheduled from 2-5 p.m. and 6-8 p.m., Herb N'Roots will be providing their locally-sourced menu, desserts will be served and Koi Pond is offering 20 percent off wine tabs all day long.
Their current selection encompasses 11 different palate-pleasing options. A sampling of what awaits tasting room visitors includes Geisha White— a blend that changes from harvest to harvest— is the perfect ratio of pinot gris and riesling; Blushing Geisha is a spin on a traditional GSM blend with the addition of sangiovese; the 2014 Dundee Hills Pinot Noir, which has won a Silver and Bronze at recent wine competitions, has feminine floral notes with black fruit on the palate and a complexity that will deepen with age; and the 2013 Columbia Valley Syrah marries the best of two vineyards to create a more balanced and complex product with bold tannins and a food-friendly finish.
Whether you come by your wine sense via film, river boat, cruise ship or local winery visit, Koi Pond is becoming as far-reaching or near to home as your heart desires.
For more information about Koi Pond Cellars, including their upcoming wine cruises and monthly events, go to www.koipondcellars.com.
**If you like what you're reading, follow Corks & Forks by clicking the 'Follow' button or follow Corks & Forks  on Facebook or Twitter @WACorksandForks.