Wine Tasting Raffle and Auction raises money for local murals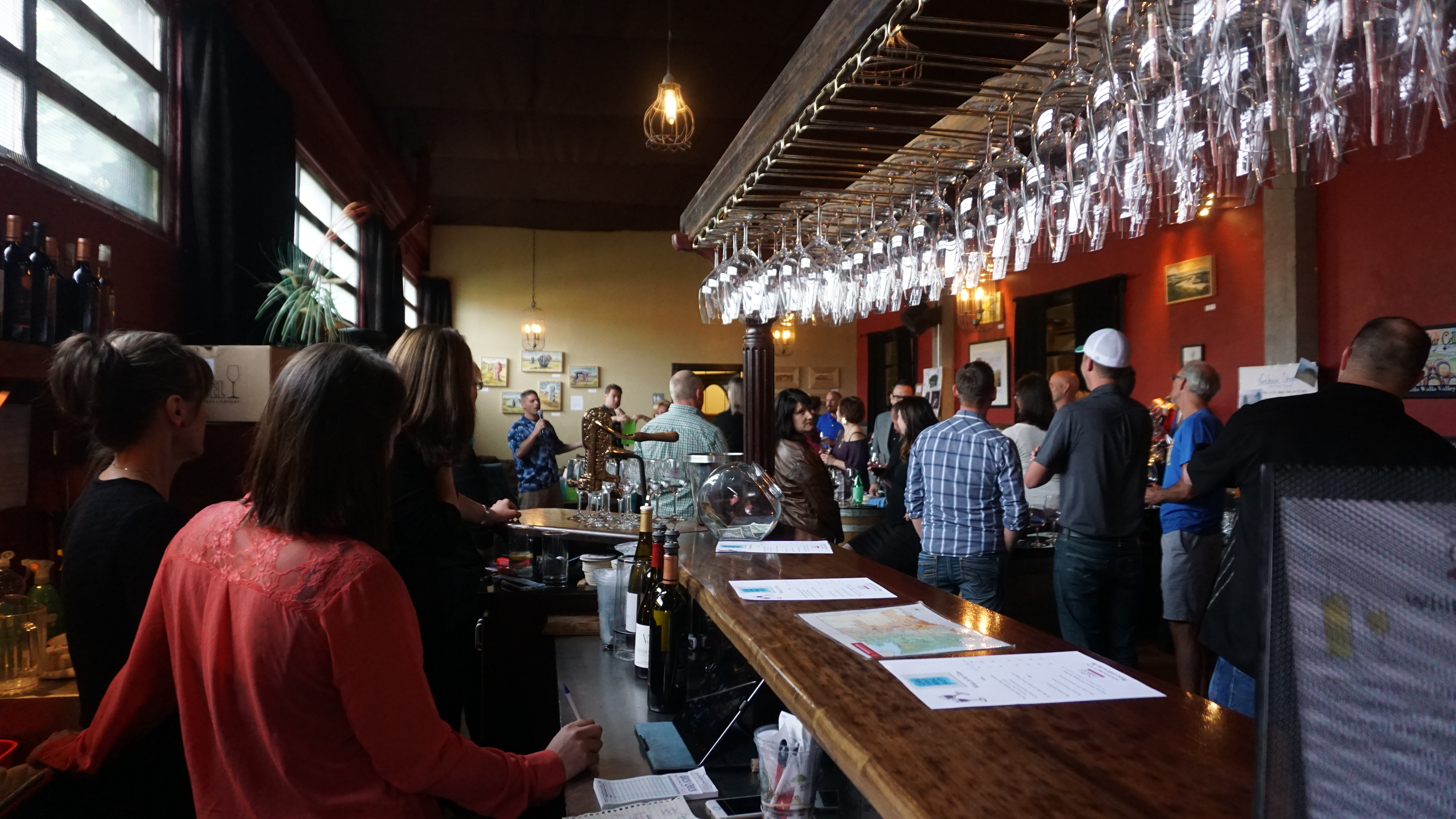 On June 15 approximately 70 people came out for the Clark County Mural Society's (CCMS) annual Wine Tasting Raffle and Auction event, held downtown at Cellar 55 Tasting Room. Appropriately, the front of Cellar 55 proudly sports the 2014 first place mural entitled River Traffic created by Bret Frizelle.
For three hours attendees enjoyed complimentary wine tastings from Basel Cellars, Burnt Bridge Cellars and select offerings from Cellar 55 as well as desserts by Bleu Door Bakery and Rosycakes while being entertained by the lively emcee duo of Bart Hansen and James O'Neil. Winning raffle tickets were called throughout the night and a Live Auction for three separate vacation getaways was also held.
All told, $6,700 was raised with $2,400 of that going specifically to the CCMS Playground Mural Project near the Marshall Center. The annual event kicked off their Summer of Murals—a time where at least three property owners offer their outdoor walls as a blank canvas to be beautified by area artists who complete submitted and approved depictions for residents and visitors to enjoy for years to come.
Since 2004 (CCMS) has committed its time and resources to beautifying the Vancouver area with murals showcasing the talents of local artists and heritage of the community. To date, 10 murals are scattered throughout the city with the goal of creating a major tourist attraction as more pieces are added each summer.
This year the murals are scheduled to be completed by July 24, with online voting for first, second and third place to occur from July 31 – Aug 4. The winners will be announced on Friday, August 5.
Mural artist, Guy Drennan, came out for the evening. He has played a large role within CCMS since its inception and is responsible for The Columbian—which won First Place and People's Choice in 2015—located at 8th and Grant Street as well as Old Apple Tree, located at 5th and Columbia Blvd. CCMS president, Linda Reid, was also in attendance and said that the annual event helps fund prize money for the muralists and supplies for each installation.
With all the enthusiasm in the room, it was obvious CCMS has a lot of local supporters but they're always looking for more. To get involved in this fantastic community organization, go to www.ccmurals.org.
**If you like what you're reading, follow Corks & Forks by clicking the 'Follow' button or follow Corks & Forks  on Facebook or Twitter @WACorksandForks.