Toss the corkscrew and open the pop top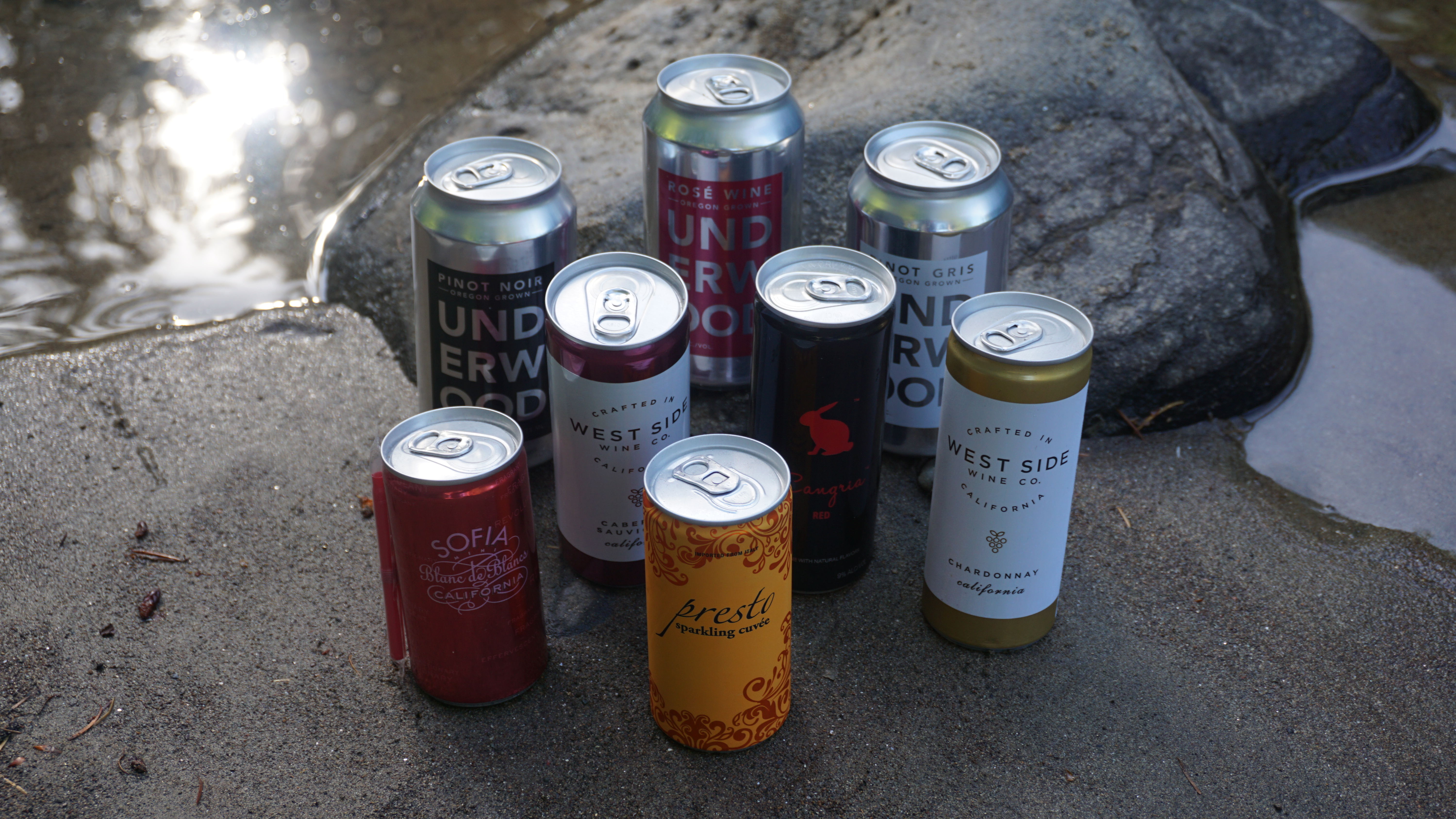 Summer is here and it's time to get outside. Whatever your activity of choice—hiking, biking, boating or just lounging poolside—sometimes a perfectly-chilled wine is in order. When glass bottles aren't, reach for a can. That's right, several companies are now packaging wines in a can and the contents may surprise you.
Sold in packs of four, these aluminum beauties are lightweight and perfect for tossing in a backpack, slushing around next to beer and soda in a cooler or sticking in a beach bag at the last minute. Pop the top and you don't even need glassware or a cork screw!
On a recent afternoon, I sacrificially sipped through eight offerings to provide unbiased feedback for my readers. I know what you're thinking; selfless to the core, that's me. Two things to note: 1. These are wines in a can people. They're good for what they're good for. 2. I'm not advocating drinking while operating a motor vehicle. Always drink responsibly.
Presto Sparkling Cuvée – Made in Italy, these are truly tasty bubbles. Presto also comes in bottle form and, according to Jamie Bandos, specialty team leader at Vancouver's Whole Foods, is hard to keep stocked due to its approachability and price point. 187 ml means a convenient, single-serving size. $12.99/4 pack
Sofia Blanc de Blancs – This little gem comes in very feminine 187 ml pink packaging with a straw. Unfortunately, that's the best I can say about Francis Ford Coppola's sparkling. Not a winner…even for wine in a can. $14.99/4 pack
West Side Wine Co. Chardonnay – I really enjoyed this California chardonnay. It had basic notes of bottled chard, nothing complex, no hints of malolactic, oak or deep minerality. Just a refreshing, pleasant chard with a crisp finish to highlight summertime fun. At 250 ml, each can is about a glass and a half. $15.99/4 pack
West Side Wine Co. Cabernet Sauvignon – This cab smelled hot and made me immediately think of a campfire. Not a wine I'd enjoy during the heat of the day but an excellent warm up when the sun goes down. Definite red fruit notes with a smooth finish. $15.99/4 pack
Underwood Pinot Gris – Oregon-grown pinot gris, this was one of my top three favorites. It was crisp and refreshing, with notes of lemongrass and citrus. Underwood packages these same wines for bottle sale. Two-serving, 375 ml size. $5.99/single cans, $28/four pack (equals 2 bottles).
Underwood Rosé – Oregon-grown grapes with strawberry and watermelon on the palate. Rosé lovers should enjoy this wine in a can offering. Two-serving, 375 ml size. $5.99/single cans, $28/four pack (equals 2 bottles).
Underwood Pinot Noir – Oregon-grown pinot noir in a can. The horror! Sorry to say, folks, this was pretty good. Light, feminine, hints of cherry. The complexity was not there but it had a solid pinot noir foundation. Two-serving, 375 ml size. $5.99/single cans, $28/four pack (equals 2 bottles).
Cangria Red – The name is clever, the sleek black packaging is eye-catching and the 250 ml size is about a glass and a half. I was told the white version was sweeter but the red was plenty sweet, as well. Just like Sangria, several fruit slices like orange and lemon or lime would go a long way to add needed acid and balance out the cloying flavor profile. $13.99/4 pack
All above wines available at Whole Foods Market.
**If you like what you're reading, follow Corks & Forks by clicking the 'Follow' button or follow Corks & Forks  on Facebook or Twitter @WACorksandForks.