North County wineries showcasing area's beauty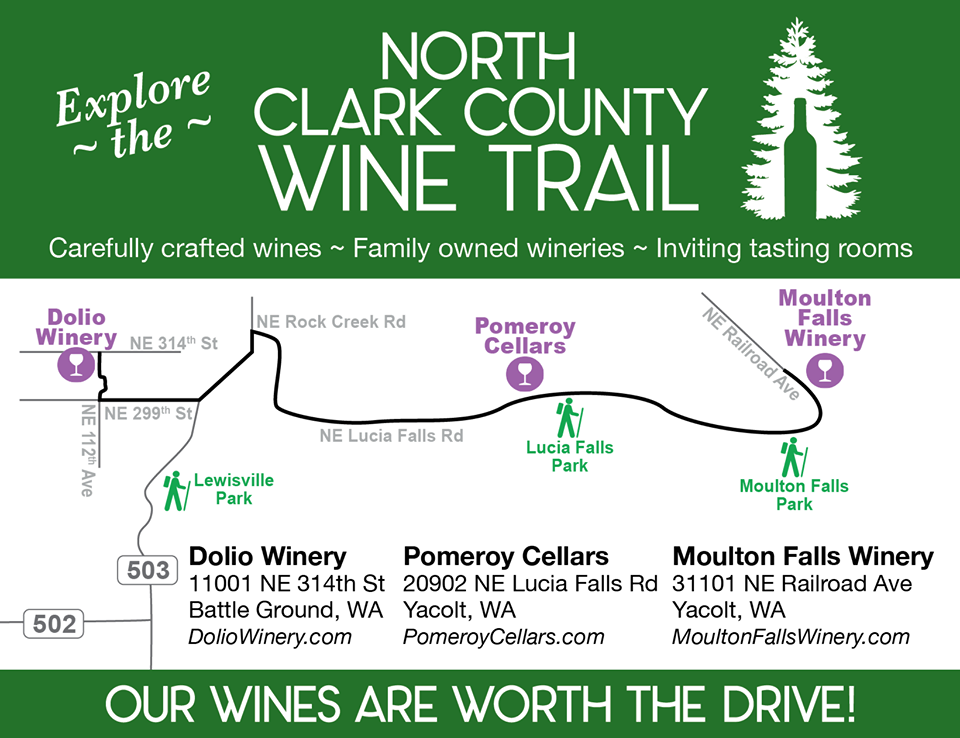 In a three-part series that begins next week all three wineries that make up the North Clark County Wine Trail will host visitors on a walk along some picturesque and close-in trails.
The Walk n' Wine Summer Hiking Series begins at Moulton Falls Winery on Saturday, May 21. Check in is similar for all three dates; meet up at the prospective winery between 10 am – 10:30 am and then proceed to the chosen park of the day. Moulton will be traversing Moulton Falls Park, of course. This beautiful trail system has several options from a short jaunt to longer routes that could literally take days to complete. Fortunately, co-owner Susan Millea, has chosen an option to appeal to many fitness levels and can recommend more extensive ones for a greater challenge.
All participants will receive a momento for coming out—collect three momentos by joining all three walks in the series—as well as a prize for completing the designated route. The satisfaction of knowing your $15 registration fee goes to the North Clark County Food Bank or North Country Emergency Medical Services (EMS) is a bonus!
Pomeroy Cellars takes people on an approximately one mile loop of Lucia Falls Park on Saturday, June 18. Destiny's made sure special prizes are awarded to walkers who go above and beyond by completing a three-mile or five-mile circuit.
The fun continues on Saturday, July 23 when all-weather walkers descend on Lewisville Park with Don and Pam from Dolio Winery. Known as Clark County's oldest park, its 154 acres has some excellent fishing holes and kayaking rapids along the East Fork of the Lewis River that runs through it. The nearly three mile trail gives a perfect overview of all that Lewisville Park has to offer and the shade of the vast evergreens is a favorite of my pups for escaping the summer heat.
Pick a walk, choose all three, sign up at each prospective winery, take in the charms of North County and be sure to head back to the tasting rooms to enjoy some locally-crafted wines at the end of your adventures. The Walk n' Wine Summer Hiking Series is a brilliant way to get to know the vintners that await you throughout the bucolic setting of the North Clark County Wine Trail.
For more information, go to www.facebook.com/NorthClarkCountyWineTrail.
**If you like what you're reading, follow Corks & Forks by clicking the 'Follow' button or follow Corks & Forks  on Facebook or Twitter @WACorksandForks.