Pomeroy Cellars offers A Class & A Glass Summer Yoga Series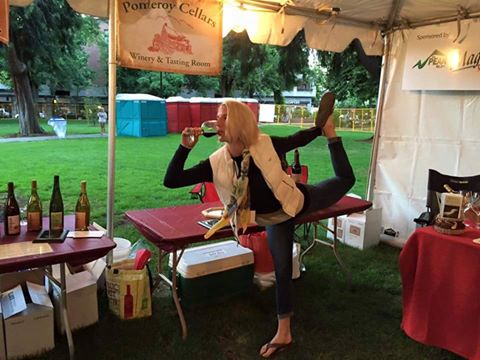 For anyone who follows Pomeroy Cellars in Yacolt, Washington, you know that operations manager, Destiny Fuller, is passionate about two things—yoga and her fiancé's winemaking style. Beginning this Friday, May 6, Pomeroy will bring both loves together when they roll out their A Class & A Glass Summer Yoga Series.
The $20 per class fee includes a 60-minute yoga session and a glass of wine to reward you for your efforts. Between May 6 and September 18, 10 classes have been scheduled ranging from Classic Hatha to Ashtanga, Hatha Flow and Power Vinyasa. Professional instructors will guide students through each hour long journey and the entire experience will take place outdoors amidst the bucolic setting of the 116 year-old Pomeroy Farm.
Through the varying disciplines offered, participants will learn that yoga is so much more than stretching. In fact, it's an excellent way to improve concentration, flexibility, balance, circulation and functional strength. Newcomers will find each session supportive and unintimidating while seasoned yoga students should enjoy shaking things up in the open air environment.
Attendees are advised to bring a yoga mat, water, and dress in comfortable workout wear. The best part of the whole thing is that if that deep breathing, relax into it, take in the chirping of the birds and light breeze wafting along the grape vines mantra doesn't work for you, there's wine at the end! There's also locally-sourced appetizer plates and wine bottles available for purchase to elevate the concept of yoga to a whole new level.
*In the event of inclement weather, classes will be moved to the inside tasting room where space is limited to the first 12 participants.
For more information, go to www.pomeroycellars.com/events.
**If you like what you're reading, follow Corks & Forks by clicking the 'Follow' button or follow Corks & Forks  on Facebook or Twitter @WACorksandForks.