Oregon winegrowers repairing the reputation of a noble grape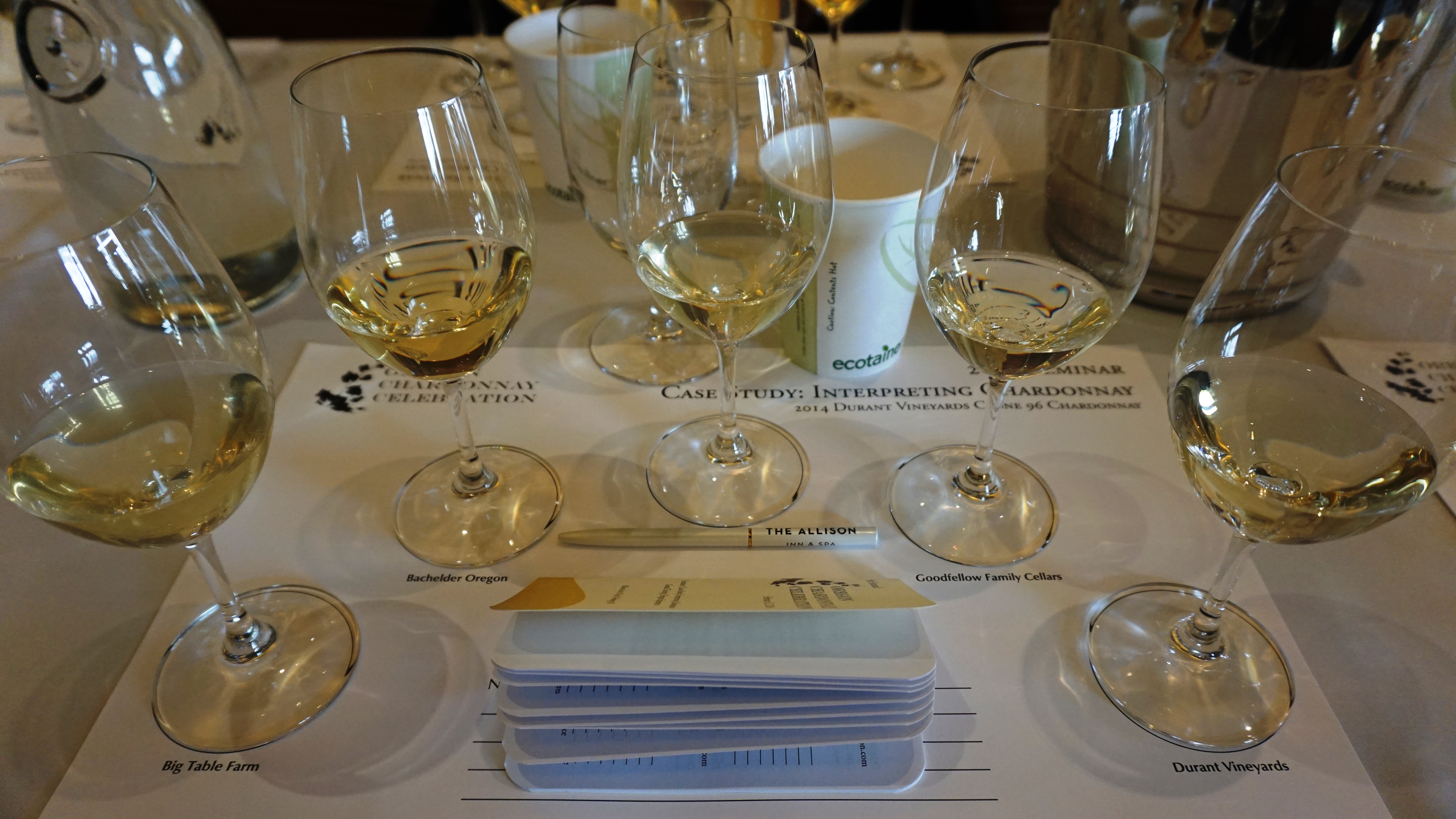 Some like it lightly oaked, others prefer a bright and lively acidity. We're talking about chardonnay and before you say "I do not like chardonnay", keep in mind that overly-oaked chardonnay has been all but lost to feathered bangs, jelly shoes and scrunchies.
That's right, there are trends—even in wine making— that sometimes just do not need to be revisited. Oregon is one state in particular giving it their all to convince wine drinkers that just because chardonnay is most notably found in Chablis, France does not mean it should taste anything like the Chablis jugs of old.
At the 5th Annual Oregon Chardonnay Celebration, winemakers and serious consumers came together to analyze five different chardonnay styles from five different winemakers who all purchase their fruit from the same vineyard—Durant Vineyards. The panel consisted of Thomas Bachelder from Bachelder Oregon, Joe Dobbes of Dobbes Family Estate, Marcus Goodfellow from Goodfellow Family Cellars, Brian Marcy of Big Table Farm and Paul Durant from Durant Vineyards (winemaker Isabelle Dutartre). The wildly popular, funny and articulate Elaine Brown presided over the two-hour discussion and her commentary peeled away at the layers of this rather austere grape.
And that is the hint of why chardonnay is sometimes so overly-manipulated. In the cool climates of France where it grows, the goal is a lean, crisp wine with high acidity that makes a refreshing accompaniment to seafood in its youth and turns creamier with a beautiful round mouth-feel to pair with heavier sauces as it ages. For some reason there was a time when American winemakers felt it needed to be more.
But let's jump ahead to now and NOW is a wonderful time for chardonnay. At the Grand Tasting, attendees were able to sample exquisite examples from nearly 50 Oregon wineries.
I was also privileged to attend a media dinner hosted at Adelsheim Vineyard the night before. Sixteen of us gathered around a communal table and enjoyed a lively conversation about the winemaker's process, inspiration and hopes for the future of Oregon Chardonnay.
Throughout the meal we were taken from a couple newer vintages of Domaine Drouhin and Alexana to progressively older vintages of Stoller and Adelsheim wines to a library tasting (2008, 2007, 2006) of Chehalem, Evening Land and Ponzi. True to form, the newer vintages had the vibrant balance with a hint of spice and citrus that cut through rich seafood and pasta sauces. With a little more age, the acidity helped the wines hold up to show more complex notes of honey and deeper baking spices. The library vintages (and their commentary) were an honest expression of the winemakers' style. Bready notes become more evident (like brioche), fruit notes become softer (from lemon to nectarine and orange) and the creamy, rounded mouth-feel is quite pronounced.
These winemakers are taking a misunderstood varietal and, with  just the right amount of new French oak aging—no more than 30 percent and often times less—developing an elegant and restrained Oregon Chardonnay style that's quickly repairing the reputation of a noble grape.
For 2017 information, go to www.oregonchardonnaycelebration.org.
**If you like what you're reading, follow Corks & Forks by clicking the 'Follow' button or follow Corks & Forks  on Facebook or Twitter @WACorksandForks.