Oregon Wine and Portland Dining Month collaborate for best event yet
Portland Dining Month returns Tuesday, March 1 and this year promises to be even more wine centric than years past. For 2016 the Oregon Wine Board has partnered with Portland Dining Month—in its eighth year—to showcase 18 Oregon Wine A-List restaurants.
The Oregon Wine A-List Awards was created to honor restaurants world-wide that support Oregon wines and this year 113 restaurants—some from as far away as Sweden and Tokyo—made the distinguished roster. Incidentally, Roots Restaurant and Bar—located in Camas—is the sole Clark County restaurant on this prestigious list.
Throughout the month of March foodies can delight in three-course culinary wonders at 121 participating restaurants for a budget-friendly $29 per person, 18 of which are Oregon Wine A-List restaurants such as Bluehour, Higgins, Imperial, Meriwether's and Raven & Rose.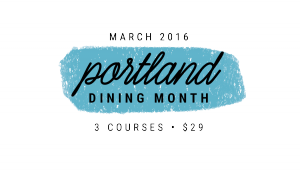 Diners who are on the ball will want to make reservations for Oregon Wine Kicks Off Portland Dining Month—held on Tuesday, March 1—at one of 14 Oregon Wine A-List restaurants. Along with the special three-course menus, wine lovers will also be able to enjoy a three-wine pairing flight for an additional $15-20, bringing this opportunity to a far more affordable version of a winemakers dinner than is commonly available. Winemakers will be on hand for this night only to talk about their wines and what characteristics lend them to pair seamlessly with each chosen course.
Nosh at The Bent Brick with Seven of Hearts, Ned Ludd with Brooks Wines, ¡Oba! Restaurante with Argyle, Restaurant St. Jack with Day Wines and Salty's on the Columbia with Dobbes Family Estate, to name a few.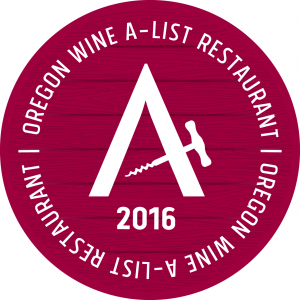 Bonus: From now until 11:59 p.m. on February 28, Oregon wine fans can enter for a chance to win two free dinners at one of the Oregon Wine A-List restaurants. Five lucky entrants will be chosen on February 29, allowing ample opportunity to utilize those tickets during Portland Dining Month.
Snagging your spot at any of these worthy eateries through OpenTable ensures you'll be paying it forward as well as cashing in on a great deal. As in previous years, for every OpenTable reservation the Oregon Food Bank receives a donation from Portland Dining Month.
At $29 per person, it becomes affordable to check out an array of popular and up-and-coming spots that might ordinarily be a little out of range for some folks. A few second course menu items from 2015 included:
Miso-braised beef short rib with taro root, Asian pear, yuzu kosho slaw –or- Pan-seared salmon with cauliflower, saffron, green apple, trout roe and American caviar at Aviary, located in NE Portland
Red wine-braised lamb shoulder, soft polenta and orange gremolata at Paley's Place, a Portland icon in NW
Cola and Pabst Blue Ribbon-braised pork at Imperial—Willamette Week's Restaurant of 2015
Ten-hour braised beef shoulder with potato pancake, warm oyster mushroom salad and beef jus at Laurelhurst Market, one of the Oregon Wine A-List restaurants
Corn tostada with hoisin, kimchi, avocado and chorizo oil with choice of Sichuan sausage or oyster mushroom at Smallwares, an "inauthentic Asian" restaurant with a well-selected sake menu
**If you like what you're reading, follow Corks & Forks by clicking the 'Follow' button or follow Corks & Forks  on Facebook or Twitter @WACorksandForks.