Burnt Bridge Cellars pouring hugs and kisses tonight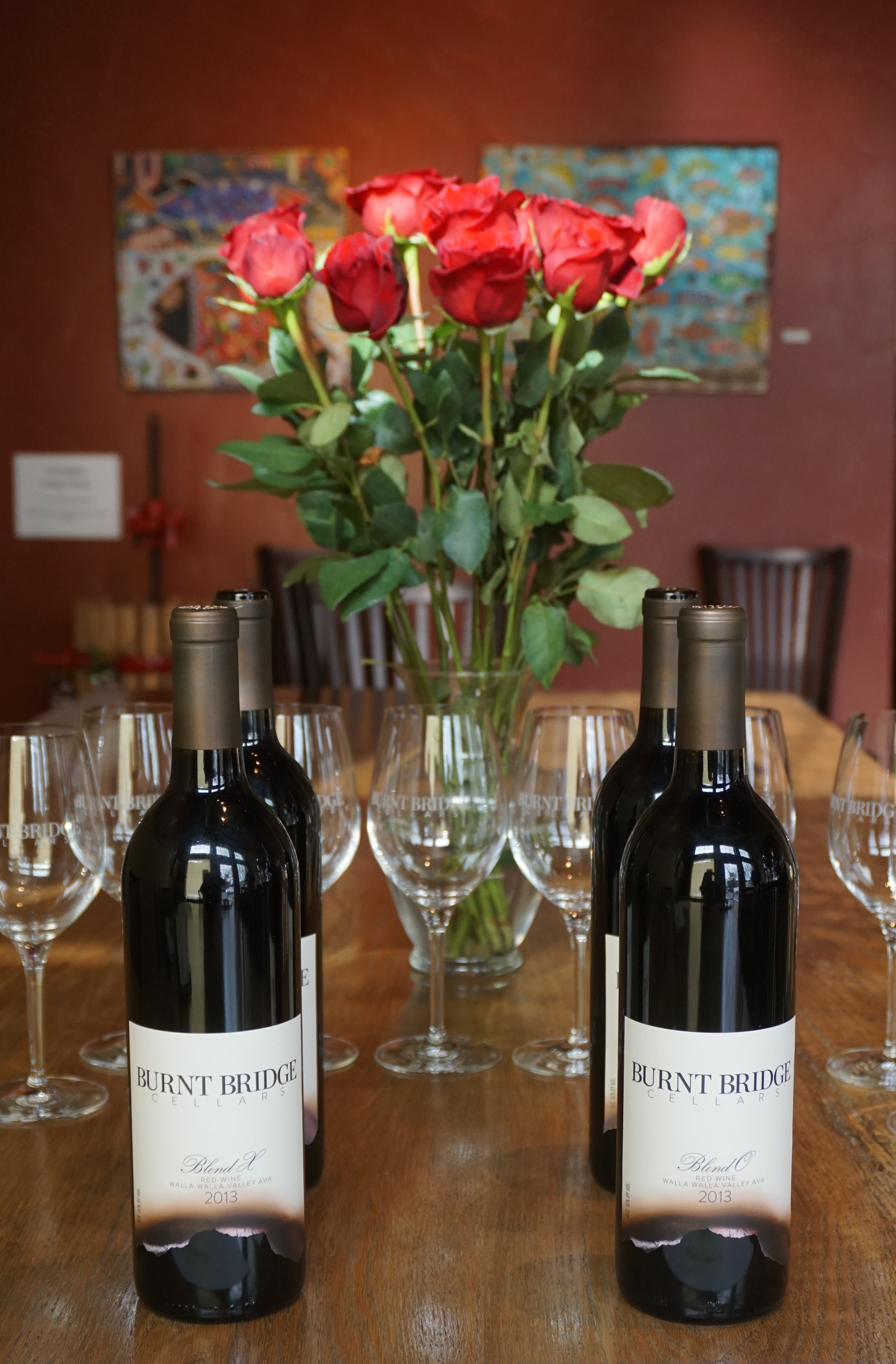 Since its inception, Burnt Bridge Cellars has offered a Blend 'X' but when their new winemaker decided to do some experimenting of his own, the result was a match made in Heaven.
Blend 'O'—a Bordeaux blend aged for 22 months in 100 percent Oregon oak—is the brainchild of assistant winemaker-turned-head winemaker, Ben Stuart, who joined the team a year ago. Its official release date is set for February 26 but folks can enjoy a pre-release tasting tonight from 4-8 p.m. at Vancouver's only urban winery.
Tasted side by side, Blends 'X' and 'O' are a happy couple that bring out the best in each other while displaying their own characteristics. Aged in 100 percent French oak, Blend 'X' is like the strong, silent type. It's savory with vanilla on the nose and a dark fruit profile that's rounded out with hints of chocolate and graphite.
Blend 'O', on the other hand, drinks a little younger, a little louder as if to say "Look at me. I'm the fun one. I'm the hamburger and pizza one. Pick me, pick me." But don't let Blend 'O' fool you because as it opens up, this wine has more depth that it initially lets on. It becomes smoky and earthy giving the impression that the quiet confidence of Blend 'X' rubs off on 'O' the more time they spend together.
With the premium grape sourcing that Burnt Bridge is committed to either choice is a quality one. Les Collines Vineyard is responsible for the fruit in these two Bordeaux blends (which consist of cabernet sauvignon, merlot and cabernet franc) and this Walla Walla site is the foundation that numerous area wine awards have been built on. The common denominator for that would be vineyard manager, Shane McKibben, who also oversaw the original grape plantings of Pepper Bridge Winery and Seven Hills Vineyard.
But I digress to wine geekdom. Back to Burnt Bridge's new winemaker. Yes, it's true that after over five years, David Smith is relinquishing his vintner duties into the capable hands of Stuart. As many know, Smith is a cancer doctor by day and the dedication of over 20 years of oncology research is coming to an exciting culmination.
Stuart was recruited through his successful completion of the Enology and Viticulture program at Walla Walla Community College (WWCC). After an inquiry from Burnt Bridge co-owner, Greg Wallace, to director of winemaking at WWCC, Tim Donahue, some time passed and Donahue phoned Wallace with the announcement that "I think I've got the right guy. I think I've found the perfect package."
That 'perfect package' is a young, eager and thoughtful family man who had years of experience in journalism, public relations and marketing before pursuing a career in wine. Originally from the Portland area, he's excited to be a part of the growing downtown Vancouver vibe and working with Walla Walla grapes that he's familiar with from time spent in the trenches of Dusted Valley Wines and Sleight of Hand Cellars.
Commenting on the impetus for Blend 'O', Stuart said "I wanted to show the difference between French-oaked and Oregon oak. The bigger grape flavors in Eastern Washington (grapes) can stand up to Oregon oak."
Find out for yourself with a side-by-side comparison of Blends 'X' and 'O' tonight and decide which one says "Pick me" to you.
**If you like what you're reading, follow Corks & Forks by clicking the 'Follow' button or follow Corks & Forks  on Facebook or Twitter @WACorksandForks.