Willamette Valley winery has its day at the races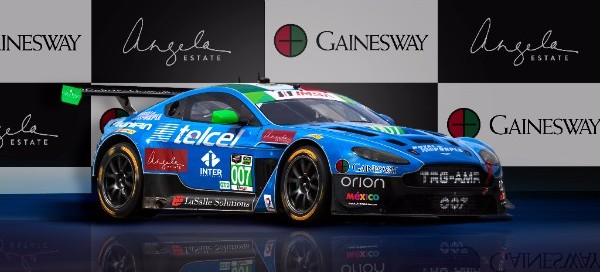 Angela Estate Winery of Dundee, Oregon recently stepped onto the track in a big way by being the main sponsor of a race car at this year's Rolex 24 Hours Endurance Race at Daytona, held on January 30.
Owners of Angela Estate, Antony and Angela Beck, are longtime friends of driver, Lars Viljoen. When they heard he'd qualified for the TRG-Aston Martin Racing team, they seized the opportunity to support him and enjoy publicity on a national scale for their Willamette Valley winery.
Prior to the event Jessica Endsworth, Angela Estate general manager, said "We are thrilled to have the opportunity to represent the Oregon wine industry at such a prestigious event and on a national level. I don't know if another Oregon winery has attempted a sponsorship of this size before, but we are certainly excited for the challenge."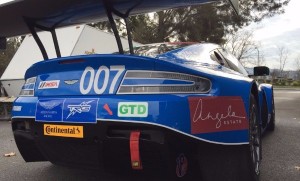 Perks of sponsoring a car included Angela Estate Pinot Noirs being featured in the Aston Martin VIP Lounge and poured at several race-related events, increasing the exposure for this small production Oregon winery. Closer to home, Angela Estate has been received well-earned accolades for their two, single-vineyard offerings including the Great NW Wine Competition, Wine Enthusiast and Wine Spectator.
Behind the scenes is winemaker, Ken Wright, responsible for Panther Creek Cellars, Ken Wright Cellars and co-founder of the non-profit organization, Salud! Interestingly, Wright and the Becks share a commonality far removed from the Yamhill-Carlton AVA where Angela Estate is located. Wright's fledgling passion for fine wine began in Lexington, Kentucky where the Becks own Gainesway—a thoroughbred stallion farm.
Although British racing driver, Viljoen, was not at the podium at the end of the grueling race, Angela Estate's bold move to go where few wineries (if any) have gone before is indicative of Antony Beck's pioneering lineage. The South African-born son of Graham Beck, he continues to oversee his father's legacy near Cape Town as well as his own Oregon winery.
Wright made beauty from a difficult year. The 2013 vintage of Angela Estate "Abbot Claim" and Pinot Noir are elegant representations of why Willamette Valley pinot noir has gained international recognition. Admittedly, the "Abbot Claim" took some opening up but, wow, did it open. Plenty of earthy characteristics combined with a refined structure, spice components and bright cherry notes. The fact that it didn't open up right away, to me, only means it's going to age beautifully. The Pinot Noir was pure bliss from the first pour; plenty of delicate tannins and a racy acidity that demonstrates how pinot noir can hold up to red meats as well as it accompanies a portabello mushroom and wild-caught salmon.
Viljoen might not have made it to the winner's circle this time around but Angela Estate pinots will linger on the palates of racing fans for some time to come.
**If you like what you're reading, follow Corks & Forks by clicking the 'Follow' button or follow Corks & Forks  on Facebook or Twitter @WACorksandForks.