Cheesecake and Wine this Valentine's Day? Yes, please.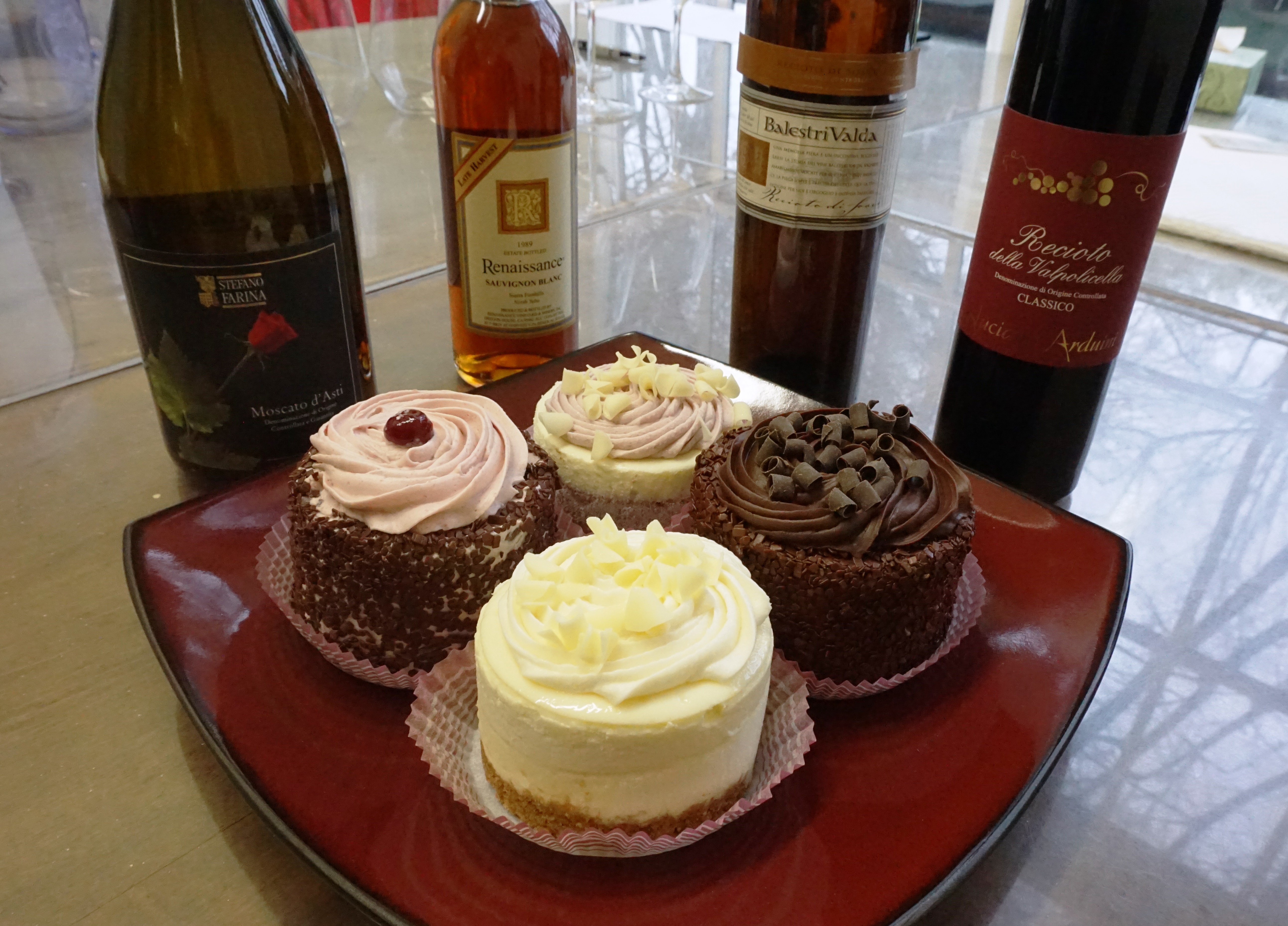 Valentine's Weekend is fast approaching and rather than the typical chocolates and flowers, may I suggest cheesecake and wine? More specifically, all-natural cheesecake made in Portland for nearly 27 years.
Kim Haines started Portland Style Cheesecake & Dessert Company out of her house and moved to her current SE Portland location in 1996. There, she sells wholesale to Fred Meyer, New Seasons and Zupan's stores all over the west coast—predominantly in Portland and Seattle but Vancouver residents will find her decadent treats at the Fisher's Landing New Seasons Market. She's also hoping to have her retail space up and running in time for the Valentine's holiday.
The focus of Portland Style Cheesecake is on from-scratch, non-GMO ingredients. She uses expeller-pressed oil which is a chemical-free method of oil extraction and there are no trans fats to be found even in her cracker crusts. All that attention to detail translates to cheesecakes that are creamy, fluffy, moist and smooth.
While European desserts tend to be less sweet than American selections (I.e. cheese platters are a popular option), I decided to partake in a wine and cheesecake pairing recently to emulate the European notion that everything's better with wine. Thanks to Ken Bennett, wine consultant at Tuscanino in Oregon City, the result was a beautiful marriage.
We started off with Haines' Classic Vanilla Cheesecake and a 1989 Renaissance Sauvignon Blanc Late Harvest from Yuba, CA.  For the year, this wine had held up nicely and the nose of vanilla and charred oak were the perfect complement to the white chocolate and vanilla/cream cheese icing over a sour cream topping. The quintessential cheesecake.
Next up was a Marionberry Cheesecake paired with a 2014 Stefano Farina Moscato d'Asti. This might just be the Valentine's Day homerun. Bubbles are always right for a romantic holiday and, although Moscato can be cloyingly sweet, the combination with the marionberry purée cut through any chance of that. The Moscato had a light and bright palate that brought out the freshness of the Oregon-grown berries.
In addition to the 18 cheesecakes on rotation, Portland Style Cheesecake makes butter cakes and their Chocolate Raspberry Cake enjoyed alongside a glass of 2001 Recioto di Soave Balestri Valda just made me want to cozy up to a fire with my sweetheart. The density of the cake with the richness of the Recioto was beautiful. Haines uses Willamette Valley-sourced raspberries for her purée in this seasonal Valentine's cake (available January through February).
The finale for this wine and dessert extravaganza was a Double Chocolate Cake teamed up with a 2007 Recioto della Valpolicella Arduini. The chocolate ganache in the cake paired with the dried plum, coffee and baking spice notes of the wine were nothing short of velvety lusciousness.
Recioto wines are made from dried grapes and, as a result, retain a sweet raisin characteristic which gives off luscious legs on a wine glass. Although sweeter wines with sweet desserts might seem counter-intuitive, keep in mind that wines contain acid which cuts through sweet much like coffee (an American dessert staple) drank with a piece of pumpkin pie.
A little experimenting with Portland Style Cheesecake's multitude of delicious desserts opens up the palate to greater inspiration like her Egg Nog Cheesecake served with champagne around Christmastime or a slice of her Raspberry Cheesecake with a quality Lambrusco. Pick up a couple flavors—which come in 3-inch and 6 or 8-inch rounds—and head to your local wine store for more suggestions.  This year, make wine and Portland Style Cheesecake a new tradition.
**If you like what you're reading, follow Corks & Forks by clicking the 'Follow' button or follow Corks & Forks  on Facebook or Twitter @WACorksandForks.