Analemma sparkling site in the Gorge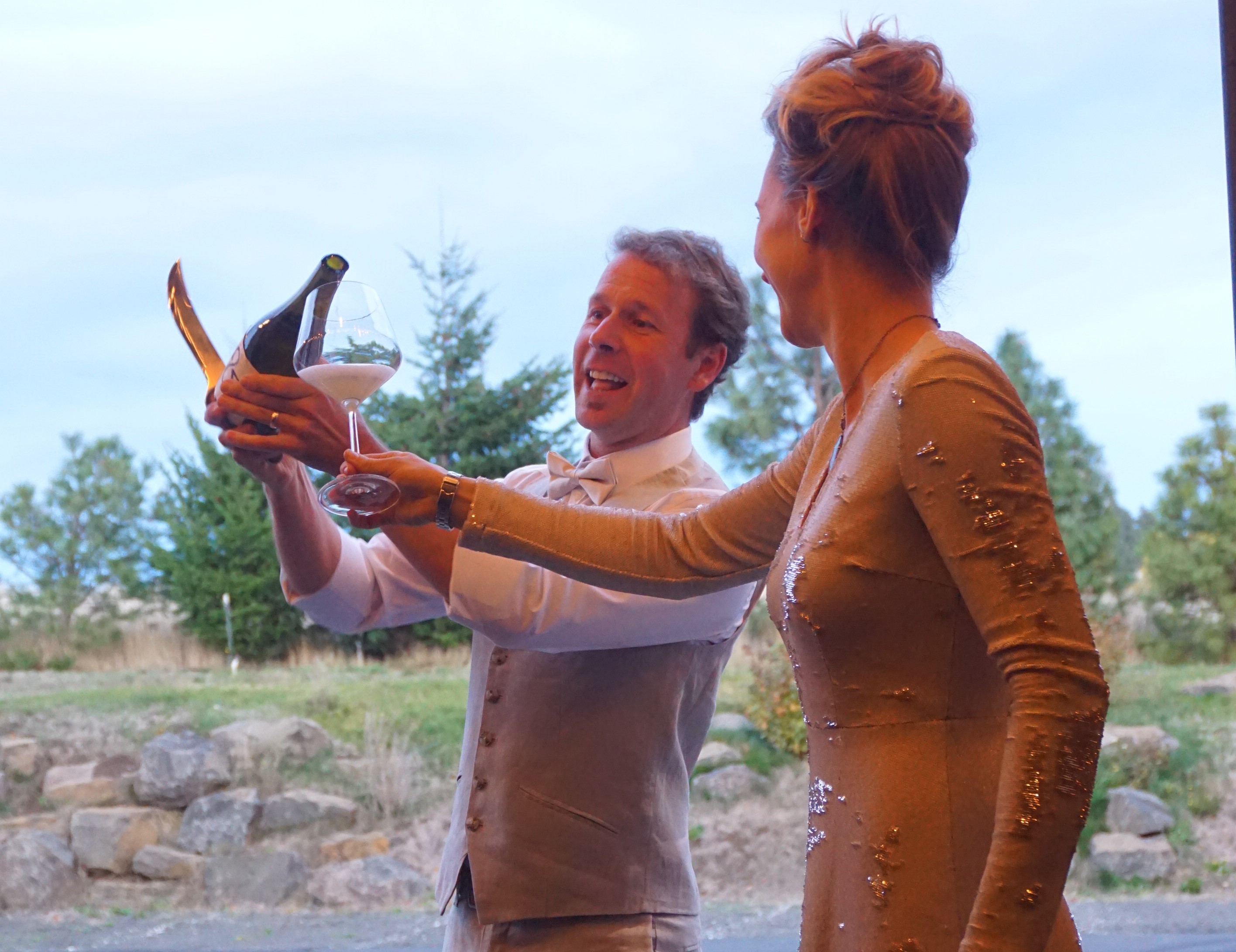 It's their moment to shine and shine they do as the wire cage—called a muselet— that fits over each bottle's opening is untwisted, the mushroom-shaped cork is pried out and the familiar pop stirs rounds of laughter and applause. The celebratory effects of Champagne are found in its bubbles and savored in its full, rounded mouthfeel that often contains bready and yeasty characteristics.
While, technically, Champagne is a sparkling wine found only in the Champagne region of France, many winemakers outside that designation use the traditional method or méthode champenoise to create their own effervescent wines.
One such place is located in the Mosier Valley, less than a 10-minute drive from Hood River on the Oregon side of The Gorge. Analemma Wines was founded in 2010 by Steven Thompson and Kris Fade, whose original business plans were significantly altered when farming on the 1,700-foot elevation of Atavus Vineyard on the Washington side. Research revealed that this historic vineyard site—previously named Dragonfly Vineyard and established under the direction of Dr. Walter Clore in 1968—was planted with a pinot noir clone specifically designed to produce sparkling wine and so, a locally-owned, grower-producer sparkling wine house was born.
With over a decade of wine-making experience under his belt, Thompson employed all his skills and that of his wife, Fade, who holds a certification in Applied Organics and Biodynamics, to lay the foundation for Champagne-class quality.
Their 2011 Atavus Blanc de Noir Sparkling is the result of passion and patience; aging sur lie (on the lees) for 42 months. With so much yeast contact, it delivers the desired bready qualities of champagne-style wine and a racy acidity that pairs beautifully with oysters, crab and other shellfish as well as egg dishes. As a 100 percent pinot noir varietal, there's a hint of strawberry on the nose and an undertone of earthiness.
Along with sparkling wines, Analemma offers a Rosé of Pinot Noir made from whole cluster pressing and left on the lees for six months in neutral oak barrels. The result is a fruitier wine that definitely has hints of autolytic (breadlike) characteristics.
Analemma sources gewürztraminer from both the Atavus and Oak Ridge vineyards and their 2013 Atavus Gewürztraminer is a drier style wine with lovely flavors of stone fruit and soft baking spice while the organically-certified and dry-farmed Oak Ridge version has more minerally components.
The only red in the lineup for Analemma is an Oak Ridge Pinot Noir—current vintage 2013. Made from 100 percent whole cluster fruit, one can expect higher tannins and nice cherry and baking spice notes. It's a fruitier version than earthy Willamette Valley pinots but maintains a pleasantly surprising elegance.
Although Analemma is currently closed for the season (reopening April 1), their selection of beautifully crafted wines can be ordered online or enjoyed at Portland's only Champagne bar—Ambonnay—as one of a mere two U.S.-made sparklings on their menu.
**If you like what you're reading, follow Corks & Forks by clicking the 'Follow' button or follow Corks & Forks  on Facebook or Twitter @WACorksandForks.