Seattle's "first neighborhood" welcomes The Estates Wine Room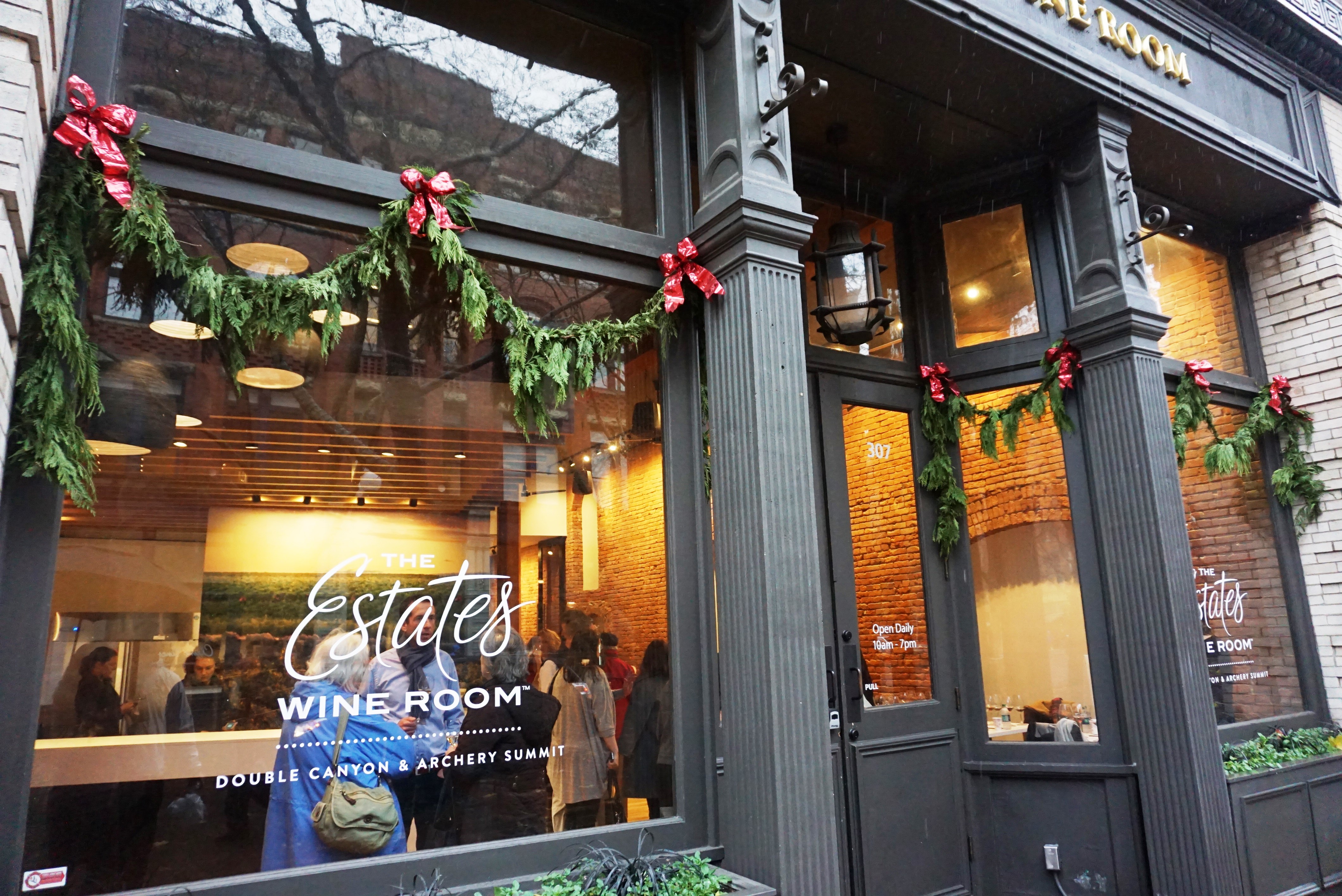 Known as the oldest neighborhood in Seattle—with some of its grand brick buildings dating as far back as 1852—the foot traffic around Pioneer Square that had waned over the years is returning thanks to the determined efforts of business owners and long-time residents.
Today postage stamp condos fetch nearly $400k, the area is home to a First Thursday Art Walk and it's dotted with bars, restaurants and boutique shopping. All that was missing was an upscale wine lounge…until The Estates Wine Room opened on Friday, December 11th.
A collaborative effort between Washington's Double Canyon and Oregon's Archery Summit, this contemporary spot balances a sleek stand-up tasting bar, matching table seating and industrial lighting with exposed beams and original brick walls. A focal point of the 1,800 square-foot space is a large-scale vertical photography rendering of vineyards from both Archery Summit and Double Canyon.
At last weeks' exclusive media preview guests enjoyed a welcome glass of A. Bergère Champagne. The lightly floral nose and clean, minerally palate made for a perfect aperitif and Russell Sheldrake, director of consumer sales, advised us that The Estates is currently the sole establishment in the U.S. pouring A. Bergère.
I had the pleasure of sharing a table with Archery Summit's winemaker, Chris Mazepink, and between his enthusiasm for his trade and the probing questions of Sip Northwest's editor-in-chief, Erin James, came away with a distinct impression of his infectious love affair with Oregon pinot noir.
Vineyard manager, Will Beightol, also explained the philosophy that goes into every bottle of Double Canyon—a label that produced 4,500 cases in 2013 and continues to grow.
The concept of The Estates is a marriage of bold Eastern Washington cabernet sauvignons and elegant Willamette Valley pinot noirs via two separate flights—the Estate or Signature—as well as wines by the glass or bottle and a selection of the above-mentioned A. Bergère Champagnes.
With an emphasis on wine education, The Estates is not a full-blown restaurant but is offering a rotating selection of cheese and meat-based small plates thoughtfully chosen to complement the flavor profiles of the wines.
While I found all the wines to be on-point representations of their vintage and varietal, I was especially delighted with Archery Summit's 2013 Arcus Estate Pinot Noir. The depth of black fruit showed the heat of the year while the savory aroma and tannin structure was akin to a Burgundian style pinot.
The Estates Wine Room is a tasteful addition to Pioneer Square; bringing the world-renowned reputation of Willamette Valley pinot noir and Eastern Washington cabernet sauvignon to the doorstep of the Seattle metropolitan area by confidently investing in the city's "first neighborhood."
**If you like what you're reading, follow Corks & Forks by clicking the 'Follow' button or follow Corks & Forks  on Facebook or Twitter @WACorksandForks.