Seattle Urban Wineries finally hitting their stride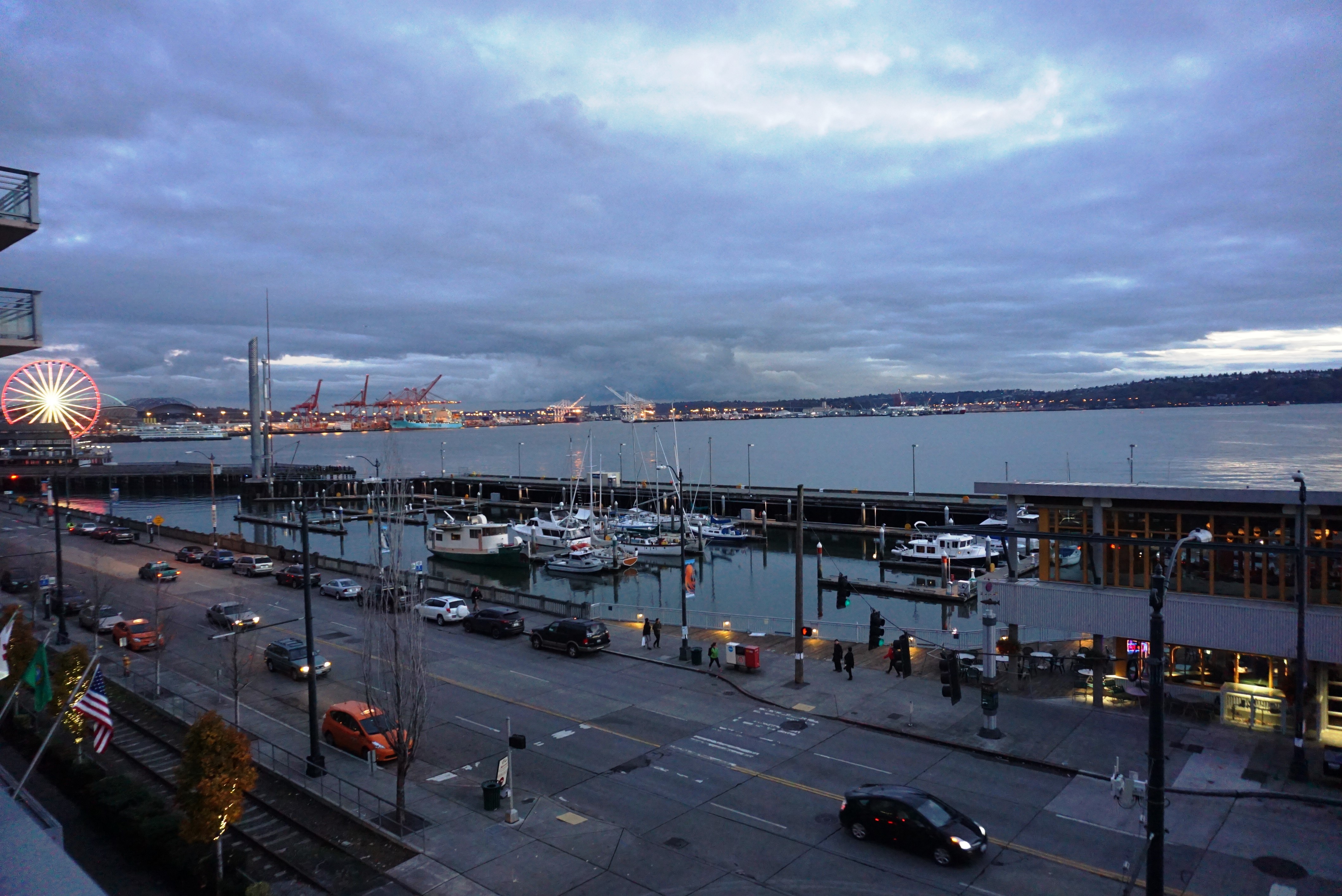 Say what you want about Seattle's traffic (and I'll probably agree) but once you're in the city, the rush of activity whispers to the possibilities around every corner.
I've found myself at wine events in Seattle a few times this year (none of them during the summer months) and the unseasonably mild weather has only punctuated the romantic notion of it all. Could my good fortune possibly hold for The Estates Wine Room opening in December?
November's adventure was to attend The Washington State AVA Seattle Urban Wineries tasting. Held on the fourth floor of The World Trade Center Seattle, the view of Elliott Bay, the twinkling lights from waterside restaurants and the Seattle Great Wheel in the distance nearly made me wish the event had been set up outside. I sufficed with a few photos before joining the industry folks in the perfectly-situated room with a 180 degree view of that stunning water.
Guests of honor were over 20 urban wineries that make up Seattle Urban Wineries (SUW), a movement that actually began five years ago but is now finally hitting its stride with locals and visitors. The city center of Seattle is not far removed from the prominent wine region of Woodinville but the 520 toll bridge can be a hit on the pocketbook. Why not stay in town and enjoy the bounty of grapes trucked in to make elegant whites and luscious reds just for you?
Everything from earthy carménère sourced from the Columbia Valley (Bartholomew Winery) to the red fruit notes of Eight Bells Winery 2011 Cabernet Sauvignon to a substantial 2009 Horse Heaven Hills Malbec (Elsom Cellars) to the violet bouquet of Kerloo Cellars 2012 Upland Grenache (which would make a terrific Thanksgiving wine) was represented.
In my book, a few stand-out wines were from Viscon Cellars and Structure Cellars. Not surprisingly, I'm not the first person to notice the humility and confidence of Structure's winemaker/owner, Brian Grasso. One caveat; I'm a sucker for roussanne so he had me at his 2014 Blueprint White—a balanced blend of roussanne and viognier. The acid was spot on, the tropical notes enchanting and the body proved to me that this would be the Thanksgiving wine for diners who don't care for reds. His 2013 "Foundation" Syrah had the anise characteristic and mild smokiness I like in a syrah with some black olive and rosemary characteristics. This is a solid barbecue wine or grilled steak with garlicky mashed potatoes and tender asparagus.
Winemaker Ben Viscon was pouring his Viscon Cellars 2014 Viognier with a soft honeysuckle nose and stone fruit palate that finished of delicate white pepper. It'd make a lovely aperitif or accompaniment to a mild cheese plate. His big, food-friendly 2011 Noir was on the opposite side of the spectrum. If his viognier could be classified as feminine, the Noir—a 60% cabernet sauvignon/40% syrah blend— was at least a tomboy. Deep plum and black pepper danced in my mouth with a mingling of vanilla and baking spice on the nose. A blackened steak or even blackened salmon would tame the edges on this bottle.
All Seattle Urban Wineries are open the second Saturday of each month and the majority of them are open at least every weekend. For exact tasting room hours, go to www.seattleurbanwineries.com.
**If you like what you're reading, follow Corks & Forks by clicking the 'Follow' button or follow Corks & Forks on Facebook.