Bader offers supplies and support for the wine hobbyist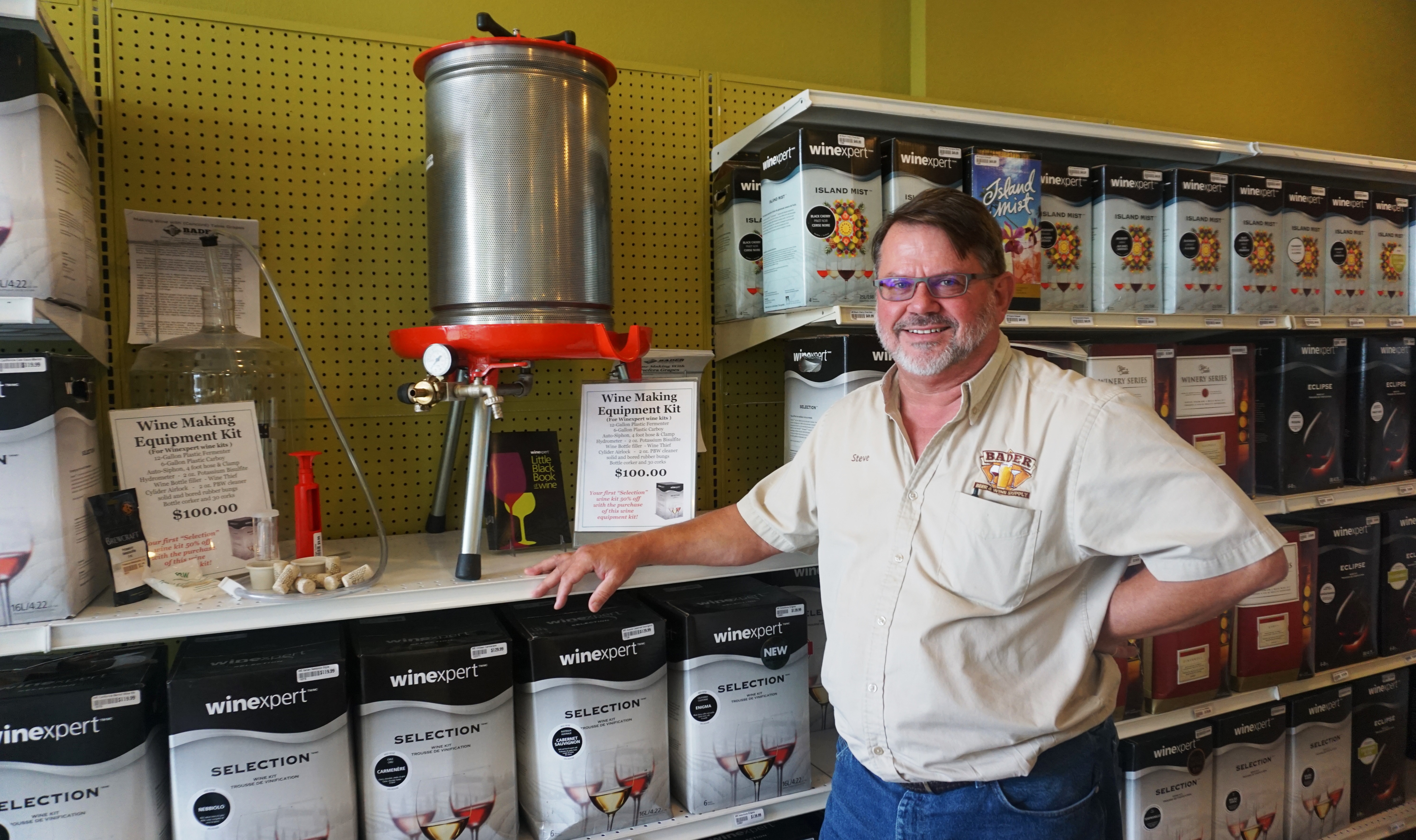 For some grape varietals, crush came early this year. Local vintners were picking up semillon in Walla Walla in late August followed by merlot and even tempranillo. Pinot noir has been harvested at a few Clark County vineyard sites as well as orange muscat. Using everything from marionberries to dandelions to Concord grapes, the wine hobbyist has an even greater selection from this year's bounty and Bader Beer and Wine Supply is standing at the ready to make the home enthusiast's 2015 vintage almost as memorable as commercial wineries.
Owner Steve Bader said "Wine season is here and we do lots of phone support for new winemakers."
Since 1992, Bader has been filling an over 2,000 square-foot space with all the essentials an aspiring winemaker could need—and a few things that are just plain cool like a shiny chrome and red bladder press that might be best reserved for a second or third go-around.
All beer and wine supply stores are not created equally. I have a family member who lives in Bellingham that considers Bader to be the holy grail of his cider and wine-making passion and is like a kid in a candy store walking the aisles. Still, the industry has grown considerably over the last 20 years and, even in the beginning, wine was not a huge focus of the store.
"We had some (wine supplies) initially but wine as a hobby didn't really become big in the local area—at least in the history of my store —until 1998 or 1999," Bader said.
For at least the last five years, Bader has purchased grapes from the Benton City/Prosser area and sold them to local enthusiasts with a minimum 25 pound order. A 75 pound purchase includes a complimentary Wine Making with Vinifera Grapes class wherein all the major stages of winemaking are discussed from fermentation to aging to bottling and beyond.
Vino fans can try their hand at winemaking year-round thanks to kits that encompass all the sought-after regions and varietals such as Dry Creek Valley chardonnay, New Zealand Marlborough sauvignon blanc and Argentine malbec. The process is described in a one-night Wine Making with Kits class that Bader offers throughout the year and, during store hours, some kit wines are available for tasting so prospective hobbyists can sip the finished product. In fact, Bader is one of the few wine supply stores in the United States able to offer this service to their customers—a licensing hold over from when large scale winemaking was conducted on the premises from 2003 to 2012.
Bader is a fan of the winemaking kits because they allow an enthusiast to start whenever they want to and, as he describes it, "they're foolproof."
Did you pick a lot of blueberries this year? Have a neighbor with some arbor grapes he's trying to offload or just curious to see if you have what it takes to be the newest Clark County vintner? Bader Beer and Wine Supply can hook you up with all the knowledge and tools needed to uncork your own private label at a 2016 dinner party.
Bader Beer and Wine Supply is located at 711 Grand Blvd., Vancouver, WA. 98661.
**If you like what you're reading, follow Corks & Forks by clicking the 'Follow' button or follow Corks & Forks on Facebook.