Stoller Family Estate : The substance of one man's vision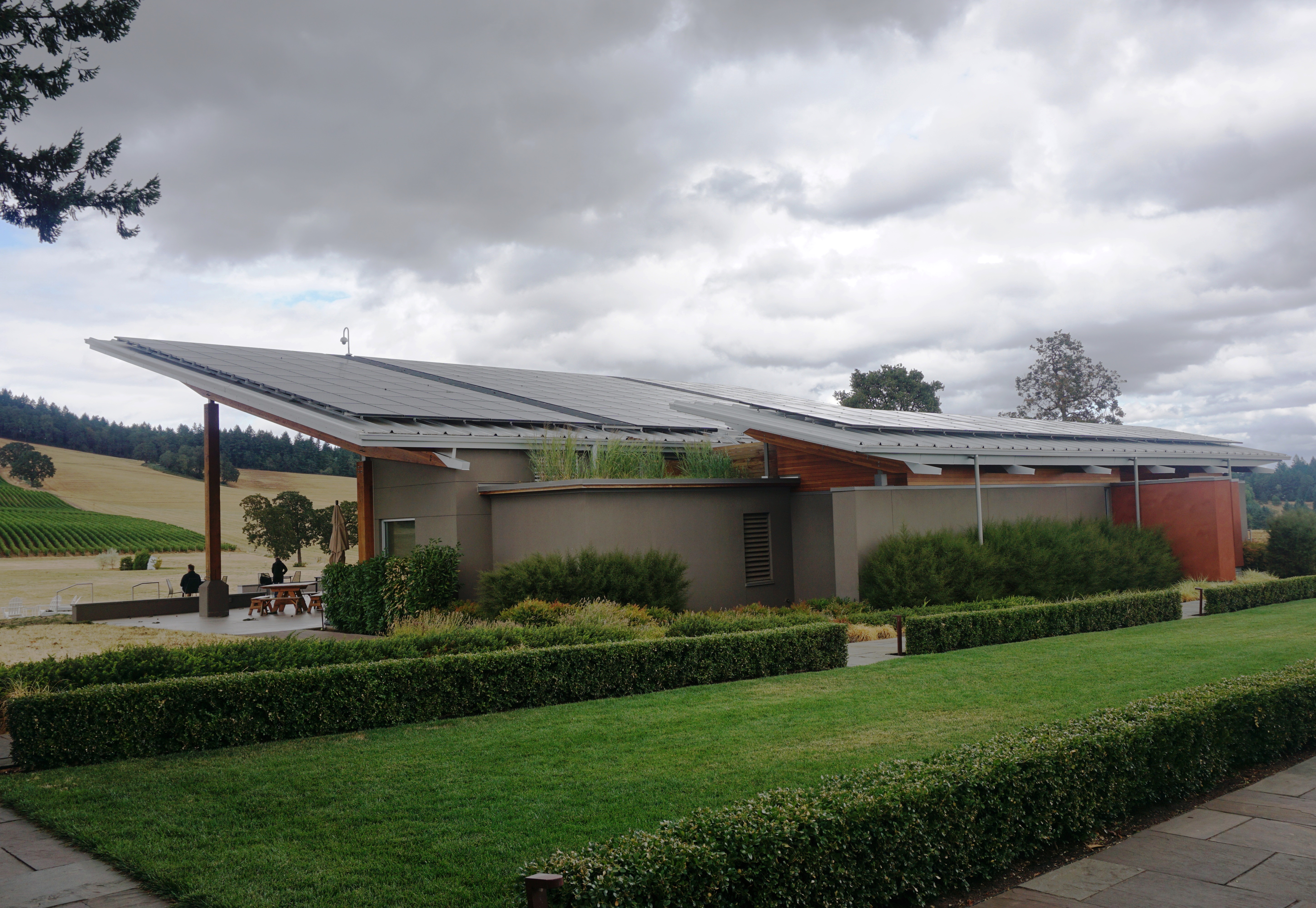 Distinguishing oneself in a sea of approximately 400 wineries is no easy feat but Stoller Family Estate has managed to do just that through a combination of elegantly crafted estate grown wines and laying claim to the world's first LEED gold certified winery.
A sweeping, tree-lined drive welcomes visitors to their expansive grounds that have been in the Stoller family since 1943. South-facing slopes are covered in 195 acres of vines with clumps of oak trees scattered about and a state-of-the-art tasting room and winery sits as its crowning glory. The whole effect weaves not just a visual feast but is the substance of owner Bill Stoller's vision to preserve that which he has built up for generations to come and leave a legacy of environmental stewardship through the application of sustainable practices.
A network of rooftop solar panels contribute to about half of the winery's electrical needs; the floor-to-ceiling glass brings the outdoors in while introducing natural light to the main tasting room; and Stoller has taken full advantage of the slope of the property to employ gravity flow winemaking—a process that has been around since the 1800s wherein gravity, as opposed to mechanical means, is used to move the wine through its various steps. Energy conservation is one goal in adopting this method but gravity flow is also widely believed to produce a superior quality wine through the gentle handling of the grapes at all stages.
Seven grape varietals —with pinot noir and chardonnay constituting the vast majority of the plantings—enjoy the Jory soil of this Dundee Hills vineyard. Layers of organic material, silty clay loam and clay create this well-draining soil that brings a minerally characteristic to the wines of Stoller.
A luncheon catered by Bon Appétit—students from George Fox University who invest nearly one third of their food and beverage budget on locally-grown ingredients—proved a fitting introduction to Stoller's portfolio on an unusually blustery August day a few weekends ago. The crisp elements and tropical notes of their 2014 Dundee Hills Chardonnay paired seamlessly with a Hood River pear with thyme-infused onion and buttermilk blue cheese appetizer; a summer watermelon salad accented by red raspberries, shaved onion, fresh mint, feta cheese and purple micro radish mimicked the soft floral tones and light red fruit notes of the 2014 Dundee Hills Rosé.
Winemakers noted the 2011 harvest with mixed feelings. I've even talked with vintners in the Chelan area who scrapped the harvest all together. For those who chose to persevere, the wines are proving age-worthy and Stoller's 2011 Reserve Pinot Noir is no exception. Baking spice characteristics married with the inherent earthiness found throughout the Willamette Valley showed off the blackberry and ginger balsamic roasted pork tenderloin topped with blackberry jus beautifully although, as a vegetarian, it was the mushroom with corn polenta and marinated peppers that I happily devoured.
Finishing off this Yamhill County food showcase was a peach upside-down cake with vanilla-poached blueberries enjoyed between sips of Stoller's 2014 Single Acre Riesling that presented with a delicate peach aroma and balanced acidity that complemented the sweetness of the dish.
Stoller Family Estate, located in Dayton, Oregon, is open daily from 11 a.m-5 p.m.
**If you like what you're reading, follow Corks & Forks by clicking the 'Follow' button or follow Corks & Forks on Facebook.