Noshing with the Young Guns is a culinary experience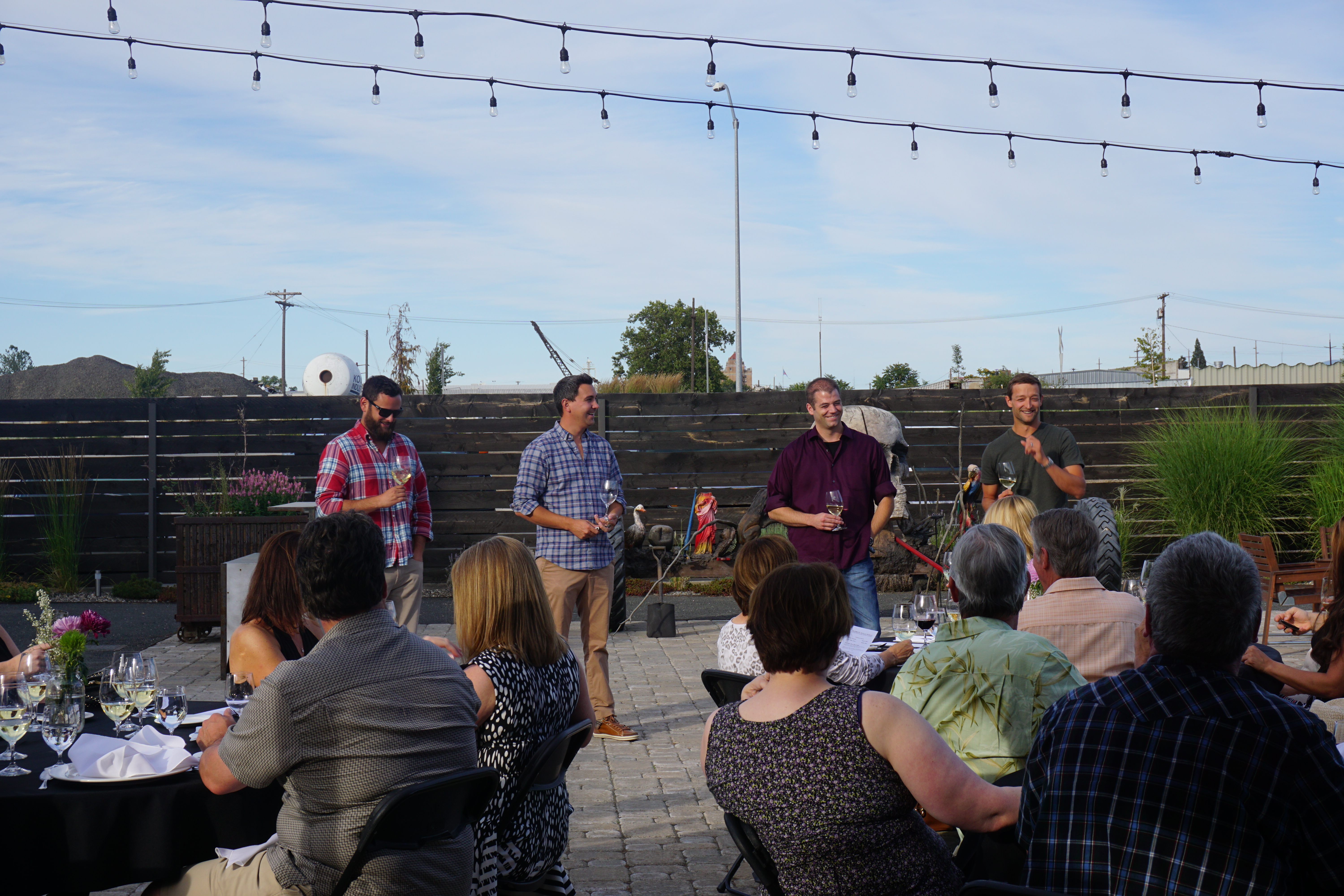 Sipping wine on the patio after a long day in the yard or office is a pleasant experience but the elegance and complexity of many bottles are best paired with food and my opportunity to attend the Young Guns Wine Dinner back in June is an excellent example.
The Young Guns are actually four separate winemakers with four distinct tasting rooms in Walla Walla who share a strong collaborative vision and enjoy coming together for special events throughout the year. Our dinner was set in the inviting courtyard of Foundry Vineyards which proved the ideal location to witness a spectacular sunset as the evening unfolded.
Our first course was a Hayshaker Farm beet salad. The ingredients couldn't have been more local or sustainable since Hayshaker Farm uses horses instead of tractors to farm and the Monteillet feta cheese sprinkled over the top was a combination of goat and sheep from a fromagerie less than 30 miles away. The slightly sweet and floral notes of Kontos Cellars 2014 Gossamer—a blend of viognier, chardonnay, rousanne and orange muscat—gave it a leg up as a pairing with this salad drizzled with an orange-tarragon dressing.
Herbaceous and salty are apt descriptors for the grilled asparagus wrapped with prosciutto that came next and the cabernet sauvignon and malbec in the 2009 Skylight Reserve were the right combination of dark fruit and acidity to balance the briny quality of the meat.
Earthy is one of my favorite wine characteristics and the flavor profile of the 2010 Skylite Cellars Syrah was the perfect choice with the morel mushroom ragu on a bed of handmade pasta. Some smoke and sweet spice notes with a bit of leather on the nose danced a magical jig in my mouth as I savored bites of the dish and sips from my glass.
Meat lovers rejoiced at the beautiful display of the main course—merlot braised beef short ribs served atop green polenta—set before us. Many chefs strongly encourage home cooks to pour a bit of whatever they're drinking into the meal they'll be serving it with as one more way to marry the aromas and palate of both components. The acid level in the 100 percent Red Mountain-sourced Foundry Vineyards 2012 Merlot played off the fattier nature of short ribs as jovially as winemakers Justin Basel, Cameron Kontos, Greg Matiko and Josh McDaniels did at the introduction of each course.
Dessert is amplified with a well-suited wine and the chocolate and cherry notes of Sweet Valley Wines 2012 Cabernet Sauvignon romanced me as I alternated between it and chef, Jay Anderson's, chocolate bread pudding and local Bing cherry compote with a dollop of mascarpone-whipped cream.
Anderson, general manager and chef for Foundry Vineyards, knew the portfolio of wines he had to work with for this dinner and the elements of each one married nicely with its chosen dish as a result of his impressive culinary resumé but I'm confident that he would encourage the layperson to take creative risks in their own kitchen and/or attend a few winemaker's dinners for a deeper understanding of how wine paired with food is even better than wine on its own.
**If you like what you're reading, follow Corks & Forks by clicking the 'Follow' button or follow Corks & Forks on Facebook.