Area wineries bringing their A game to outdoor concerts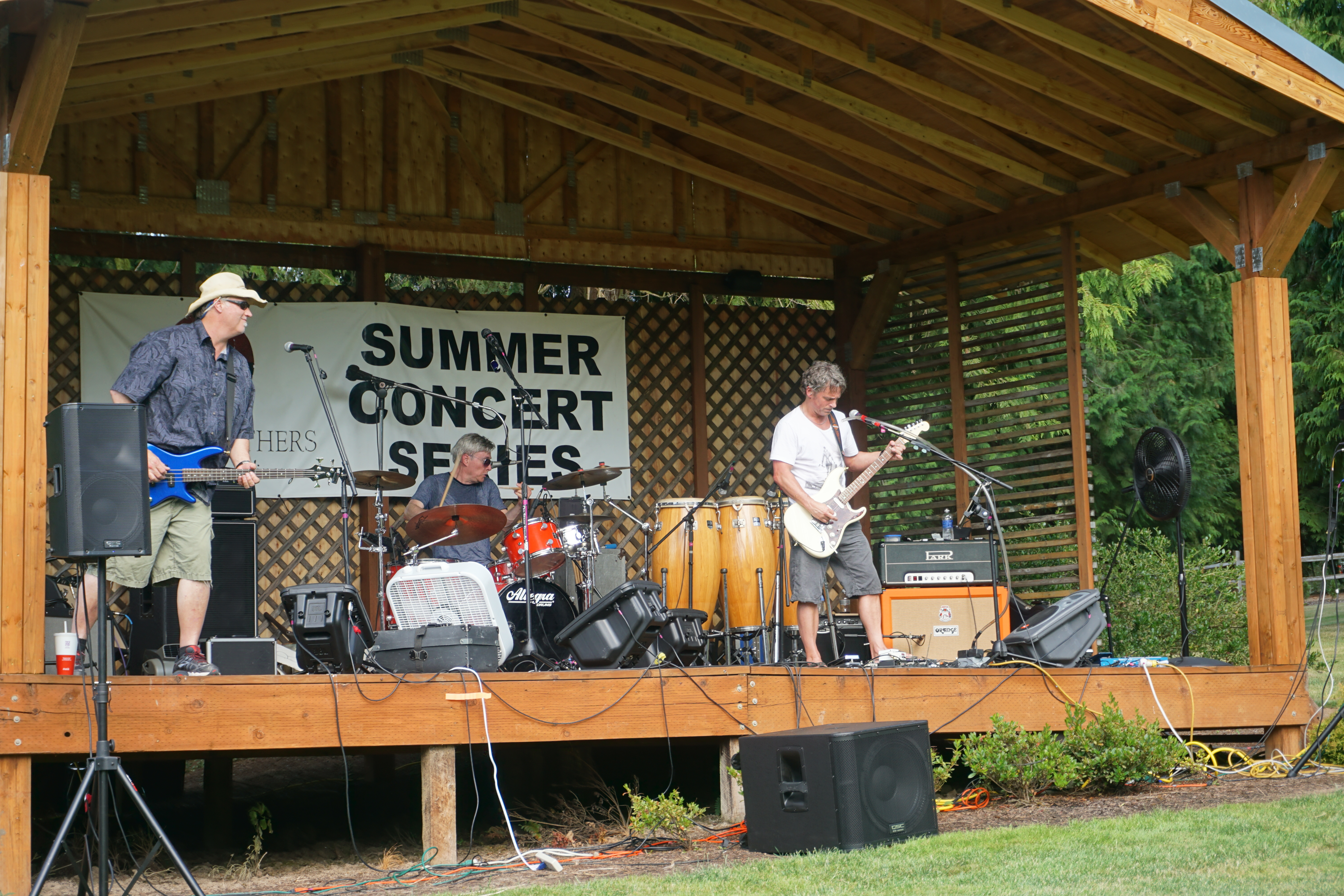 Two weekends ago the park like setting of Three Brothers Winery—under majestic evergreens—provided a cooling backdrop for their combined Wine Club Appreciation Concert with East Fork Cellars and I had the privilege of attending.
Scheduled to begin at 4:30 pm, the crowd was a bit thin early on due to the extreme heat we've been experiencing but the opening act—Les Cellar Rats—appeared unfazed by the scorching sun as they covered hits from Journey to Kansas and an impressive Jimi Hendrix interpretation.
My husband and I scored premium seating under the recently-expanded covered patio since most guests were spread out with blankets on the lawn. Owner, Dan Andersen, joked with me that we'd taken over Walt Houser's table and I can see why that's his favorite spot; it afforded the perfect stage view under the comfort of shade and close proximity to chilled bottles of crisp pinot gris.
As more and more club members began descending on the grounds, the Al Perez Band took to the stage. The soulful sounds from Al's acoustic guitar and the five-piece band backing him were masterfully woven but, alas, we had to make our exit before their set was up because, while I was visiting with Doug and Janine Julian (owners of The Vine Travelers), Walt and his lovely bride, Beth, showed up!
All kidding aside, that is not why we left. The arrival of the gracious owner and winemaker of Bethany Vineyards and our departure was simply a synergistic happenstance (you can thank us later for saving your table) because we were off to check out the inaugural Guitar Summit at Moulton Falls Winery with critically-acclaimed finger picking guitarists Terry Robb, Doug Smith and Mark Hanson while Drastic Measures and F.O.G. with special guest vocalist, Brenna Stillwell, would have the Wine Appreciation Concert continuing well into the evening.
Joe and Susan, owners of Moulton Falls, had their hands full with an appreciative crowd under a now cooler evening sky by the time we pulled in and the skillfully-delivered compositions of the trio were absolute magic. A recently-constructed stage (a.k.a Jake's doghouse) provided ideal acoustics to project the sometimes flamenco, sometimes bluesy sounds of this stellar ensemble.
It was like old homecoming at both stops being able to visit with Andersen, East Fork Cellars' winemaker, Jeff Waddell (also lead guitarist for Les Cellar Rats), Walt and even Ridgefield mayor, Ron Onslow, at Three Brothers and then seeing author, Spike Walker; wine photographer, Richard Duval; and chatting with Joe and Susan at Moulton Falls. Wine makers and appreciators are truly a community of approachable, fun loving folks.
Two completely different concerts with two completely different atmospheres but each one hitting it out of the park with performances and talent. More outdoor concerts are scheduled throughout the summer at Clark County wineries. Gather some close friends and be sure to raise a glass at one (or two).
**If you like what you're reading, follow Corks & Forks by clicking the 'Follow' button or follow Corks & Forks on Facebook.