July 2: Weekly wine down for Clark County and beyond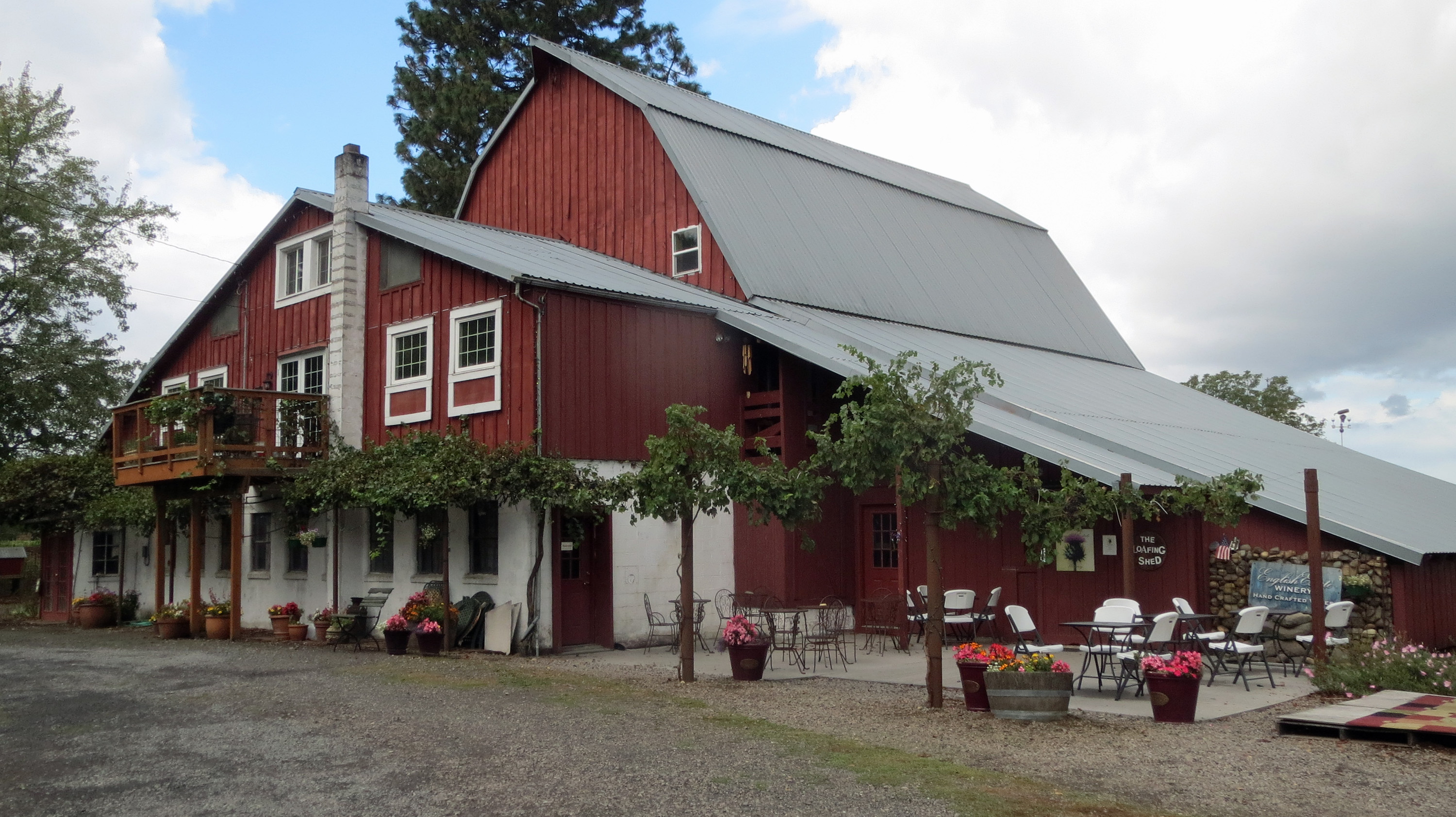 Upcoming events/festival:
Update on Ridgefield Roundabouts – For those of you who know (or don't), Ridgefield will be planting a couple roundabouts with grape vines to welcome visitors and residents alike to Clark County Wine Country. Gary Gougér of Gougér Cellars has been spearheading a good portion of it and he, along with a host of volunteers, recently installed the end posts for the vines which will be planted in July. More to come…
First Friday in the downtown core of Vancouver, Camas, Battle Ground and Ridgefield – Fri, July 3 stores stay open late, local art is featured, live music can be heard and nibbles are available at select locations. Check each city's local link for more information.
8th Annual Wine & Art Fair – Sat, July 11 from 11 am-7 pm and Sun, July 12 from noon-6 pm English Estate Winery will host music on two stages and over 40 local artists. Free admission. For the artist and music schedule, go to 

www.englishestatewinery.com/art-wine-fair-2

.
Drink Pink 2015 – Sat July 18 from noon-4 p.m. Patton Valley Vineyard in Gaston, OR will host 25 Willamette Valley wineries as they pour the classic summer beverage for wine lovers; rosé. Purchase tickets at pattonvalley.com/buy-tickets/. $60 all-inclusive.
International Pinot Noir Celebration – Fri, July 24-Sun July 26 Held on the grounds of Linfield College in McMinnville, Oregon, this is the premier event for pinot noir lovers to taste this delicate and earthy wine from over 70 wineries. Tickets range from $125 for their Sunday afternoon outdoor tasting event to $1,200 for a full submersion weekend including a salmon bake dinner, seminars, a vineyard tour and much more.
North County Wine Run – Sat, Sep 12 The 5th Annual day-long event begins at 9 am and wines by Heisen House Vineyards, Olequa Cellars, Emanar Cellars, English Estate Winery, Gougér Cellars Winery and Moulton Falls Winery will be available after the run for tasting or by the glass. Read more here.
Clark County wineries:
Bethany Vineyard – Updated tasting room hours for summer: Wed-Sat noon-6 p.m. and Sun noon-5 p.m. Sun, July 26—Playing host to 3 Grands Concert for the Blind at 6 pm. Featuring award-winning blind pianists Mac Potts, Nick Baker, Brent Gjerve and jazz vocalist, Darcy Schmitt. Proceeds go to the School of Piano Technology for the Blind and the Pacific Foundation for Blind Children. Their 2011 Malbec is tasting beautifully. The lovingly-maintained grounds of this estate vineyard is the perfect spot to enjoy Bethany's extensive list. From Riesling to cabernet franc to petite syrah, there's a bottle for every palate. Music in the Vines summer concert series begins July 19 with Lisa Mann, Aug 9 with Dan Reed and Aug 30 with the Patrick Lamb band.
Burnt Bridge Cellars – Learn more about winemaker, David Smith, here.  Fri, July 3—It's First Friday once again. Come in for food provided by Class Cooking, wine and live music by Jeffery Cochell from 4-8 pm. Kudos: Their 2014 Semillon and 2012 Coyote Canyon Syrah were awarded Silver medals and their 2014 Viognier was awarded a Bronze at the San Francisco International Wine Competition. Be sure to congratulate the gang the next time you're in! Enjoy award-winning wine at Vancouver's only urban winery. New tasting room hours: Fri 4-8 pm, Sat 12-7 pm, Sun 12-5 pm.
Confluence Vineyards and Winery – Fri, Jul 3—Kick off Independence weekend right with the sounds of Norman Sylvester paired with barbecue fair from 6-9 pm. Sat, Jul 25-Sun, Jul 26—Peruse upscale pieces crafted by local artisans at an Artists in the Vineyard Festival from noon-6 pm. Fri, Aug 7 & 21—Relax with Blues & BBQ from 6-9 pm. Open Sat & Sun noon-6 pm tasting the bold and beautiful Rhone and Bordeaux reds Confluence is known for. Keep tabs on their Facebook page for last-minute live music by stellar local artists.
East Fork Cellars – Fri, July 3—This award-winning winery has gone private but is still open to the public during each First Friday Art Walk from 5-9 pm so take advantage of tomorrow nights' opportunity to taste some estate grown, award winning pinot. Join the club and enjoy special member events. Housed in the historic Old Slocum House within Esther Short Park.
English Estate Winery – Fri, July 3—Raspberry chipotle chicken dinner-for-purchase accompanied by local musician, Eric John Kaiser, from 6-8:30 pm. Reservations encouraged.  This weekend: Take advantage of the Red, White & Rosé special Saturday and Sunday only; $34 for three estate wines—2008 Pinot Noir, Marguerite Metis & 2013 Rose de' Noir—while supplies last. July 11 & 12—8th Annual Art & Wine Fair with musicians on two stages, over 40 local artisans and food-for-purchase. Free admission. Hours: Sat, 11 am-7 pm; Sun, noon-6 pm.  For the artist and music schedule, go to www.englishestatewinery.com/art-wine-fair-2. July 21—Wine About Painting with Jennifer Smith from 6:30-8:30 pm. $40 includes supplies, a glass of wine and light bites. The only Clark County winery open Monday from 4:30-7 pm with $5 glasses of wine to start your week off right. Open Fri-Mon.
Gougér Cellars – Lamiglass fishing poles—Three of these high-end poles still available with the purchase of a case of red wine. July 4th Weekend—Gary is showcasing weekend food specials and this weekend's comes direct from New York; Zweigle's hot dogs  cooked up on the Traeger or smoker with sauerkraut and his own mustard made with Gougér Cellars viognier as condiment options. Come nosh on some great food paired with award-winning wines and cap it all off with one of his non-alcoholic ice creams made from his wines. Kudos: His 2013 Syrah just won Gold and earned 93 points at the San Francisco International Wine Competition. But that's not all. His 2011 Cabernet Sauvignon and 2012 Malbec both received silver medals and his still-in-tank 2014 Pinot Noir earned him a bronze! Be sure to congratulate him the next time you're in! Tasting room open Wed-Sun.
Heisen House Vineyards – Fri, July 3— Friday Music Nights begins. From 6-9 pm enjoy live music by Wayne Hoffman, beautiful wines and dinner-for-purchase from local food vendors. Sat, July 25—Come enjoy the 6th Annual Lavender Festival. Spotlighting lavender goodies and craft demos. Live music throughout the day Sat, Aug 29—Check out the 6th Annual Sunflower Festival. Blooming sunflowers, vintage flea market, antique car show, food and live music throughout the day. Sat, Sep 26—Be a part of the 6th Annual Crush Festival. See live winemaking demonstrations, enjoy barrel tastings, food and live music throughout the day. Tasting room hours: Sat noon-6 pm, Sun noon-5 pm.
Koi Pond Cellars – Sat, July 4—Enjoy Ridgefield's Parade & Party and visit Koi Pond for wine and bbq. Sat, July 24—Koi Pond's on the road at Latte Da Coffee House & Wine Bar  from 5-8 pm, pouring to support the Vancouver Library Association. Mural and artwork by resident artist, Micah Boylan, grace the walls of their tasting room. Open Wed-Sun.
Moulton Falls Winery –  Thu, July 2—Enjoy their version of Thirsty Thursday from 4-8 pm with $9 pizzas and $5 cider. This weekend: Enjoy new food items like salads, their special German sausage for Independence Weekend only and a new artist on Saturday; singer, songwriter and guitarist, Jane Yii. Sat, Sep 12—Save the date for the Third Annual Clark County Folk Festival held on the Moulton Falls grounds. Come check out their made-on-site Hard Cider and chat with local resident and author of the book Working on the Edge which inspired the Discovery Channel's Deadliest Catch, Spike Walker. Each weekend enjoy live music by some of the area's best musicians from 6-9 pm and pasta dinners available for purchase on Saturday nights in addition to their wood-fired pizza options. Tasting room days: Thu-Sun.
Olequa Cellars – Next opening dates: Sat, July 11 and 25. One of his two newer releases is the 2014 Rosé of Maréchal Foch—a varietal he's had planted on his property since 2005. His dog-friendly patio is particularly inviting on a lazy summer afternoon with a glass (or bottle) of his exceptional offerings. Private tastings of his beautiful boutique wines welcome.
Pomeroy Cellars – Fri, Sep 18—Mark your calendar for their First Year Anniversary Party. Details to follow. Down to the last 3 cases of 2013 Rosé of Cabernet Franc. Pick up the 2013 for $13/bottle while supplies last and try their new 2014 Rosé of Syrah and Merlot. Normal tasting room days: Sat-Sun.
Rezabek Vineyards and Daybreak Cellars – Read more here. Rezabek's own tasting room's still in the works but Roger & Donna invite private tastings at their Battle Ground-area location on a by-appointment basis. Email them at rezabekvineyards@gmail.com.
Rusty Grape Vineyards –  Sat, July 25—Be sure to add this Open Air Market to your calendar from noon-6 pm. Wood-fired pizzas, paninis and truffle chips complement Italian-inspired reds and their lineup of whites is perfect for our Summer weather. Pouring at their new outdoor tasting bar. Live music Wed-Sat from 7-9 pm. Come check out additional indoor seating, expanded outdoor seating and the return of movies-on-the-lawn. Wednesday is 2 wood-fired pizzas for $15. Thursday brings Thirsty Thursday from 4:3-6:30 pm with special prices on wines, beer and food and Sunday they do it again from noon-3 pm. Something's always going on at the Grape. Open Wed-Sun.
Three Brothers Vineyard –  Updated tasting room hours for summer: Wed-Fri 1-6 p.m., Sat noon-6 p.m. and Sun noon-5 p.m. Summer Concert Series begins July 12 with Stone in Love and Aug 16 with Lloyd Jones. Winemaker, Dan Andersen, was featured here.  Enjoy the expanded outdoor seating and park-like atmosphere under cooling Evergreens while sipping on award-winning wines. Tasting hours Fri 1-6 pm, Sat noon-6 pm, Sun noon-5 pm.
Village Vineyard –  Fri, July 17—From 5:30-7:30 pm Sharon's Paint and Pour will be presenting Dragonfly Fantasy at Village Vineyard. $36 (a 10% discount for Sharon's one year anniversary celebration) buys all supplies, Sharon's expert instruction and a glass of balanced and approachable wine from the Vineyard's lineup. Live music every Saturday from 2-5 pm and open mic, hosted by Marianne Flemming or Wayne Hoffman, every Sunday from 2-4 pm. You never know which local musician(s) will stop by for an impromptu gig with these two around. Folks are welcome to bring outside food to snack on while enjoying their beautiful wine lineup and some extended adult down time. Normal tasting room hours: Sat noon-6 pm, Sun 11 am-5 pm.
Tasting opportunities/wine bars:
Battle Ground Produce – The owner of Battle Ground Produce, Lorne, knows his wine and enjoys offering complimentary tastings to customers most Fridays from 4-7 pm. Andreas, Rayne and Scott pour with insight, passion and friendly banter. There's usually something for the beer lover, as well, and he recently added a handy growler station across from the meat case.
BevMo! – Fri 4-7 pm & Sat 2-5 pm, 5 tastings, always complimentary unless otherwise indicated.  Presiding over the pouring could be the very pleasant and cheerful, Anna, accompanied by manager, Kristin. Low key, comfortable atmosphere.
Birch Street Uptown Lounge – Their expansion into the space next to them is nearly complete (beautiful bar top recently installed). Look forward to some wine dinners and other tantalizing events in the future. Sunday and Monday night wine flights from 4-midnight with terrific tasting notes. Come out and enjoy this classic-style wine and cocktail lounge with live torch singers every Fri and Sat night beginning at 8 pm that has even Portland folks venturing over the river.
Cellar 55 Tasting Room – Fri, July 3—Make this a must stop on your First Friday tour with live music, dinner-for-purchase, local art work and an inviting patio to kick back on. Pouring their fantastic Eastern Washington and Walla Walla wines by the glass or bottle along with light appetizers for purchase.  Local art and special happy hours are featured throughout the week as well as live music most Fridays from 7-9 pm. Open at noon Wed-Sun.
Charlie's Bodega Tapas & Whiskey Bar –  Monday 50% off all bottles of wine $50 and under and a Tuesday night flight tasting—3 whiskeys or 3-4 wines depending on bartender's pick paired with a tapas (similar to an appetizer) or media-ración (small version of an entrée). The entire menu aims to educate folks on Spanish cuisine and their wine selection is heavily Spanish and Portuguese with a few NW favorites mixed in. Whiskey lovers will enjoy the ever-expanding local, regional and international choices with the promise of more to come. Open Mon-Sat.
Emanar Cellars  –  Fri, July 3—Relax to the sounds of local musician, Maple Rose, from 6-8 pm. Closed this Saturday. Come check out their new sliding glass doors that bring the outside in wherever you sit. Featuring Rezabek Vineyards 2012 Tempranillo this weekend, expanded patio seating, gazpacho and Sangria. Enjoy their extensive lineup of Spanish wines with first-hand tasting notes and authentic tapas Thursday-Saturday.
Evergreen Wine Cellar – Owner, Pam Robertson, was featured here. Fri, July 3—No weekly wine tasting but Pam does have what she insists is "the most amazing Chardonnay you have ever tasted" and invites folks to come taste it until 3 p.m. and enjoy 15 percent off all white wines in honor of Independence Weekend. Thu, Jul 23— Next wine and art class. Register on site. Pam has the largest selection of sparklings in Clark County (80 at last count), holds extensive knowledge on food pairings to help more occasions be elevated to special ones and offers special pricing for fundraisers and special events. Sign up for her email blast to keep in the loop.
Flutes & Rocks Lounge –  Fri, July 3—Stop by for First Friday to savor sparklings from California, high-end Champagnes by the glass, wines, beers and select liquors (I.e. Jameson Black Barrel Select Reserve) paired with an artisan cheese plate or charcuterie platter at their outdoor seating. Stay tuned for: live music, more scheduled wine and Bourbon tastings! Open Tues-Sat.
Fred Meyer Fisher's Landing – Every Fri & Sat from 2-5 pm long-time Clark County wine steward, Ernie Jones, aims for two tastings with occasional Murray's cheese pairings. Enjoy their dedicated wine-tasting space.
Fred Meyer Orchards – Occasional tastings on Fridays from 2-5 pm and every Saturday from 1-5 pm. Wine steward, Shawn Martin, hosts a two to three-wine tasting that he pairs with Murray's cheeses. Shawn's commitment to Northwest wines is evident in two end caps featuring Burnt Bridge Cellars and Koi Pond Cellars as well as Bateaux Cellars and Mount St. Helens Cellars.
Fred Meyer Salmon Creek – Fri and Sat from 3-6 pm wine steward, Kent Gallegos, routinely pairs two wines with Murray's cheeses. Don't know quite what you're looking for? Kent's enthusiastic palate and gregarious personality won't steer you wrong.
La Bottega– Wednesday night wine tasting from 5-7 pm. $12 includes four tastings and antipasti. Terrific casual Italian dining with an extensive wine list to complement every flavor profile. Happy hour Mon-Sat features $5 red/white wine option. Tuesday, from 5-9 pm, wines under $50 are 50% off and wines over $50 are discounted $25. Excellent way to enjoy some premium wines with their locally-focused menu. With an inventory of 300+ bottles also available to take away, La Bottega easily doubles as a wine shop.
Latte da Coffeehouse & Wine Bar – Thurs, July 23 from 5-7 pm is the next wine tasting in this intimate and inviting wine bar.  Try four wines for $5. Sat, July 24—Koi Pond Cellars  pouring from 5-8 pm to support the Vancouver Library Association. Latte Da's wine bar is open 'til 10 pm Thur-Sat featuring a wine-friendly appetizer menu to pair with their unique vino selection and beer taps coming soon. Bonus: The expansive patio is perfect for summer sipping and all wines are available to purchase by the bottle for take away.
New Seasons Market – Fri, July 3—Friday tastings from 4-6 pm could be wine or beer paired with cheeses. Stop by to see what's being poured.
Niche-a wine & art bar–  This downtown wine bar has 30+ pours available six days a week with a staff who knows their vino. All set in an unpretentious atmosphere displaying local art. With an inventory of over 160 bottles also available to take away, Niche easily doubles as a wine shop. Live entertainment every Saturday night.
Total Wine & More – Tasting hours:  Fri, 4-8 pm, Sat noon-6 pm, Sun noon-5 pm. Check out their calendar for upcoming special event tastings and classes which may include a fee.
Vinotopia – Located inside Cascade Park's Cinetopia, Vinotopia received Wine Spectator's Best of Award of Excellence five years straight. More info here. Aside from the dizzying array of wines by the bottle, guests can enjoy ½ off bottles of wines on Wednesdays and tastes or glasses of wine from a selection of over 100 daily. Pair that with their live music from 6-10 pm every Sat in their dining room and you have a no-fail date night.
Whole Foods – Beer & wine specialist, Kamram, hosts beer or wine tastings Sat from 1-4 pm. Also tasting on Friday evenings from 4-8 pm but it's typically beer-focused.
**If you like what you're reading, follow Corks & Forks by clicking the 'Follow' button or follow Corks & Forks on Facebook.