A taste of Red Mountain found in rural Clark County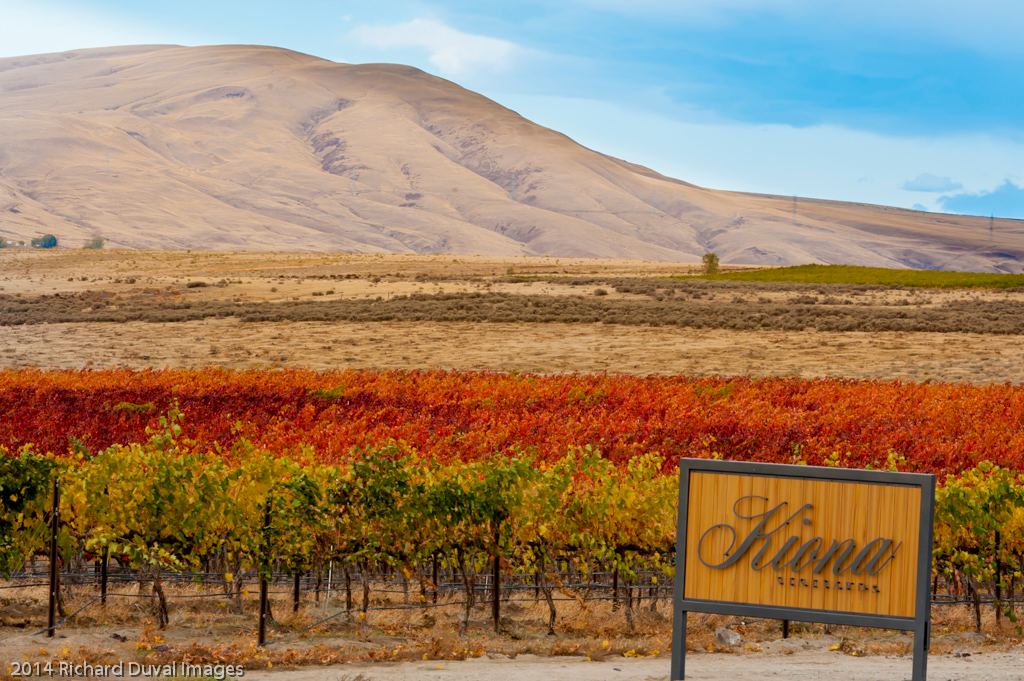 Whoever said size matters limited their opportunity to experience some tantalizing possibilities not the least of which would be the Red Mountain AVA. At just over 4,000 acres it's the smallest in Washington State but is known the world over for the quality of its grapes.
Located in southeast Washington, Red Mountain enjoys a slight elevation gain—sloped to the southwest— that gives it ideal sun exposure and makes it the warmest grape-growing area in the State. Ninety degree days dipping to 50 at night produce the robust tannins and bright acidity sought after by top Woodinville wineries such as Mark Ryan and Efestē and prized by the handful of winemakers who call Red Mountain home such as Charlie Hoppes of Fidélitas, Tim and Kelly Hightower of Hightower Cellars and Larry Pearson of Tapteil Vineyard.
It is the considerable evening temperature drop and unique soil composition that allows chardonnay to retain acidity and a complex minerality along the same slope as its more heat-loving red bedfellows—cabernet sauvignon, syrah, merlot and cabernet franc. Considering all that this little AVA has going for it, it should come as no surprise that Red Mountain grape-sourcing wineries consistently produce 90+ point wines as rated by Wine Enthusiast and Wine Spectator.
For local folks who'd like to skip the drive, Moulton Falls Winery—less than one hour from downtown Portland—features a tempting lineup of Red Mountain AVA-sourced wines.
Speaking with Joe Millea, owner and winemaker at Moulton Falls, about his decision to purchase Red Mountain grapes, he cited their rural location as the motivation for his two-fold business plan. Step one: Build a stunning, Northwest-themed tasting room accented with massive beams. Check. Step two: Purchase award-winning, premium fruit. Check.
"We think the building will bring them once but the wine will bring them back," Millea said.
Premium fruit translates to a larger financial investment—$1.35-$1.55 per pound compared to other areas that are asking $1 per pound for their harvest—but the proof is in the juice, if you will.
Currently the 2013 Chardonnay, 2012 RR Red BYCX Cabernet Sauvignon, 2012 Cedar Creek Sangiovese, 2012 Syrah, 2013 Petit Verdot, 2012 Lemberger—the wine which garnered a double gold at the 2013 Craft Winefest— and syrah and petit verdot in the 2012 Millea Reserve are all 100 percent Red Mountain fruit. Layered, earthy, bright and crisp are common descriptors when sampling these wines with luscious berry-forward components.
Cluster depth and vibrancy translate to complex aromas and flavors in each varietal and Millea admits he does little to manipulate what he receives—choosing to let the optimal growing conditions of Red Mountain speak for itself.
A feather in the proverbial wine cap for Red Mountain came when Quilceda Creek Vintners—located in Snohomish, WA— scored a three-consecutive-vintage 100-point rating from Robert Parker's The Wine Advocate for their Red Mountain-sourced 2002, 2003 and 2005 Cabernet Sauvignon. This begs the question: What might lie ahead for Clark County wineries choosing to acquire fruit from this famed AVA?
**If you like what you're reading, follow Corks & Forks by clicking the 'Follow' button or follow Corks & Forks on Facebook.