Still time to enjoy Craft Winefest 2015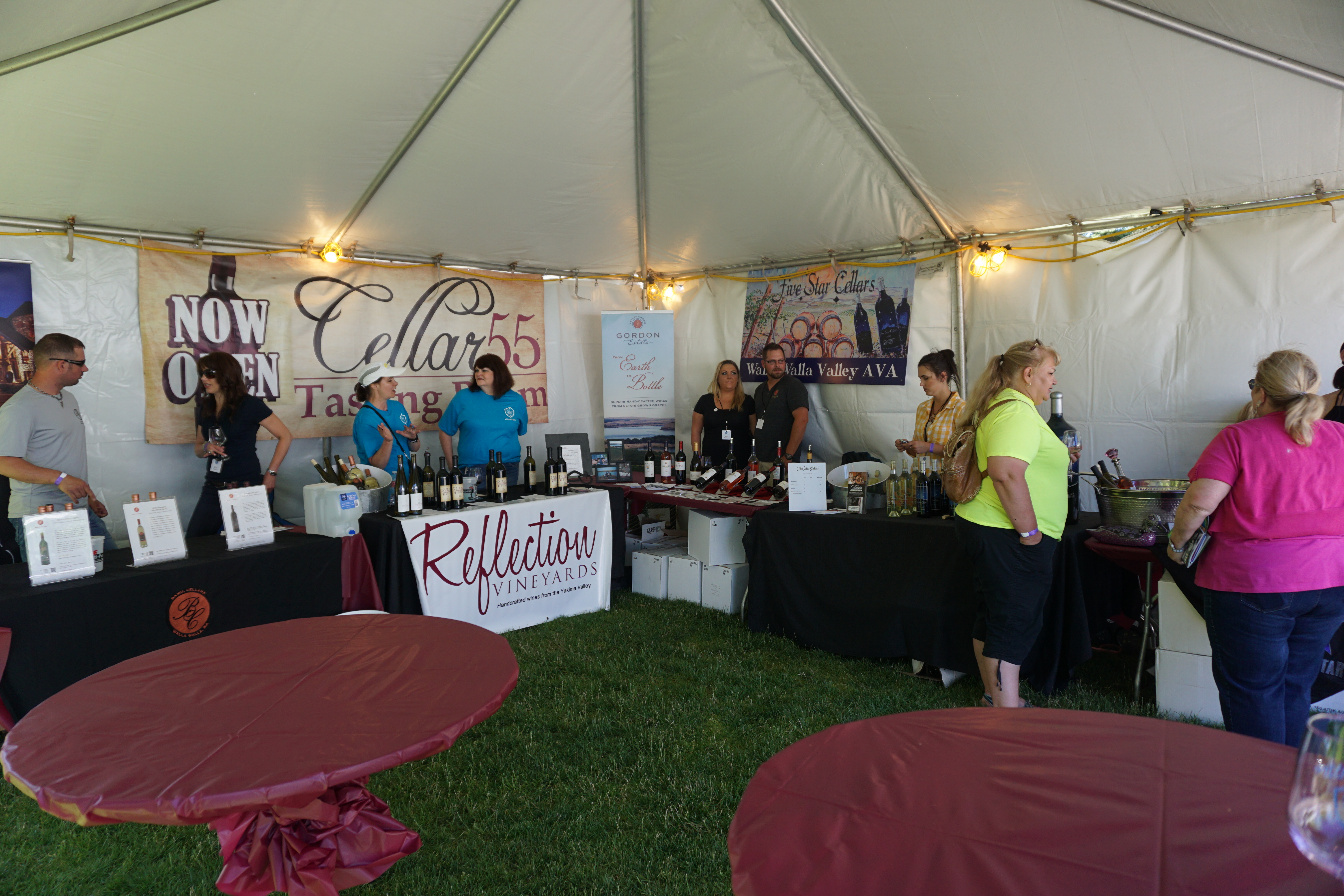 In less than one hour the Craft Winefest 2015 re-opens its doors for a full day of amazing wine, craft beers, spirits, terrific live music and a host of eateries to keep you fueled for the task at hand—enjoying this weekend long event under clear, warm summer-beckoning skies.
I attended last night and had a wonderful time chatting with Dan and Destiny of Pomeroy Cellars (loved the scarf woven through her hair), saying 'hi' to Michelle of Cellar 55 Tasting Room (aka Hollywood starlet with her glam glasses), meeting Kyle and Amy of Purple Star Wines, FINALLY tasting a couple of the stellar wines from Bateaux Cellars (this Toledo-based winery boasts a couple Vancouverites and four approachable folks), reveling in the delicate flavor profile of Olequa Cellars 2014 Maréchal Foch Rosé and getting to know Taylor who was manning the Basel Cellars booth.
Greg and Jae Weber of Confluence Vineyards were having a great time engaging with lovers of bold reds. Heather of Rusty Grape  looked gorgeous sporting her recently-been-hanging-out-in-Mexico tan and looking forward to sharing their Italian-inspired lineup with attendees. Michelle of Koi Pond Cellars had on her perpetually photographable (alas, I did not snap a shot) smile that likely draws folks to their wines like bees to honey. I was introduced to the newest team member of Burnt Bridge Cellars—Greg Wallace—who was pouring with buddy and business partner, Mark Mahan.
Roger and Donna, owners of Rezabek Vineyards, were beaming as they shared their gold medal-winning Daybreak Cellars 2014 Rosé of Tempranillo. Sadly, I was unable to meet Kent and Allison VanArnam, owners of Reflection Vineyards, but would highly recommend their 2012 Mélange. I love a good blend and this being predominantly cabernet sauvignon, the splash of merlot and malbec rounded out the edges, deepened the color and gave it a hint of violet on the nose.
It was fun to taste Bader Beer & Wine's  cherry and strawberry wines and to see g. Cuneo Cellars in attendance. I met winemaker, Gino, at Walla Walla at Pure Space back in March and chose to revisit his 2010 Ripasso —an attractive take on the traditional Venetian method producing a food-friendly red with appealing dried fruit characteristics.
I'm not a beer girl but the guys at Heathen Brewing found some beautiful ones to help them pour their craft sensations in front of their sparkly mascot—the easily recognizable 1956 GMC fire truck purchased off Craigslist that's been converted into a giant, portable kegerator. Looks even shinier than when I interview Sunny last August for another publication.
All told, you'll find 25 local beers and a few spirits in addition to over 100 wines. Tickets, which allow unlimited re-entry over the next two days, are $20 at the door and benefit the Vancouver's Downtown Association and Second Chance Companions.
Did I mention it's DOG FRIENDLY? Challenge and Baby Girl met so many awesome pups last night but I think their favorite was a six month old Aussie puppy who I'm sure Baby Girl thought was hers and she seemed a bit sad that she couldn't bring her home.
**If you like what you're reading, follow Corks & Forks by clicking the 'Follow' button or follow Corks & Forks on Facebook.