Meet the wine pro: A picture worth a thousand sips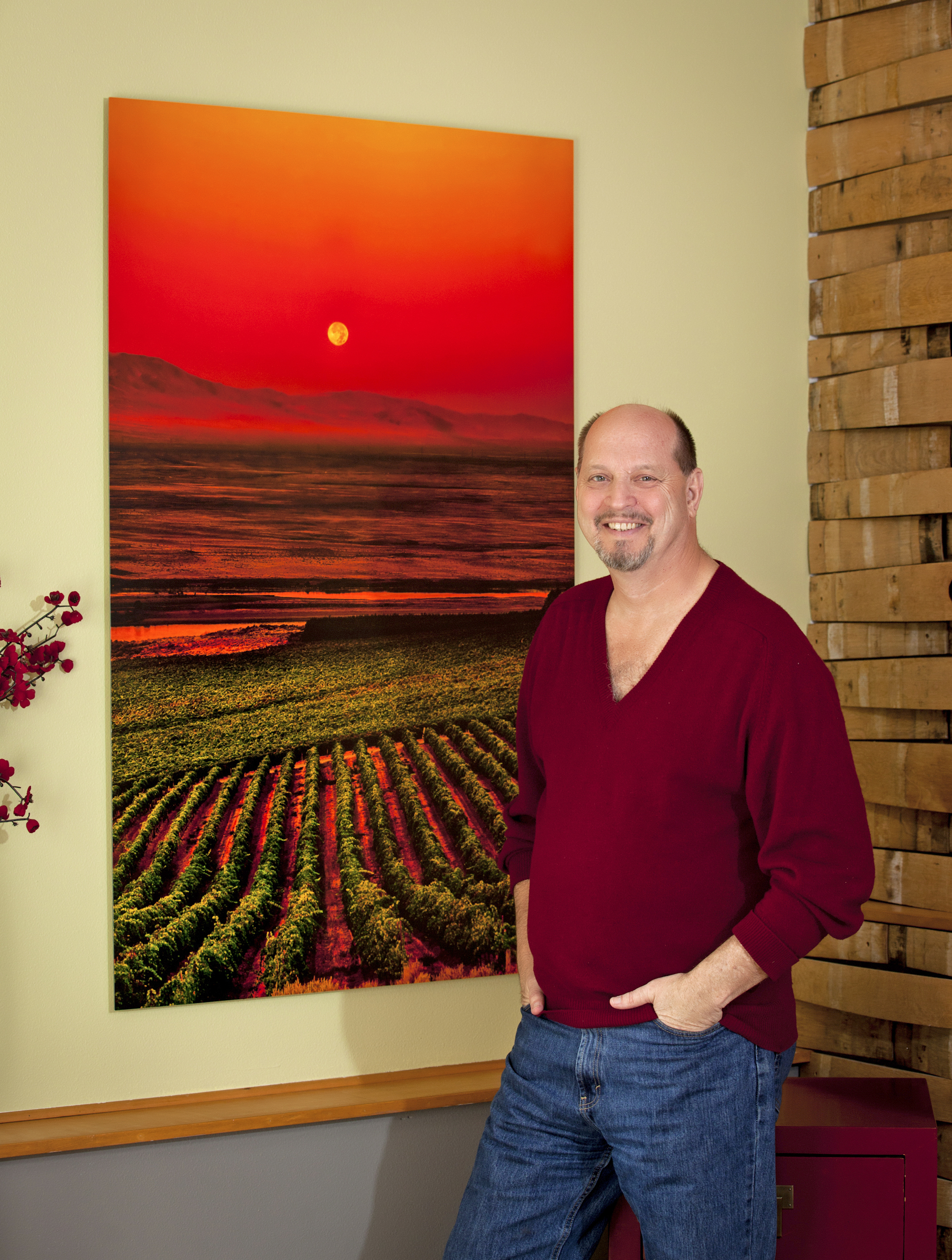 The morning dew dripping from a bursting cluster of grapes, the first drops of liquid as they escape from an uncorked bottle, billowy clouds blowing over a field of vines in a profusion of fall colors—this is the world of wine caught through the lens of a skillful photographer.
"I've found I have an ethereal connection to wine makers, vineyards (and) grapes. Winemakers are great people. I like hanging out with them," said Richard Duval, professional wine photographer.
In college Duval majored in journalism but it was a required photography class that made him the best candidate at the time to teach photography in tandem with journalism at the high school level for three years. His professional focus turned to marketing but he continued honing his skills behind the camera with a lean toward scenic and landscape until about five years ago when he found himself on Mt. Rainier with so many other photographers that it resembled a Canon commercial.
It was around that time that he was hired by Chateau Ste. Michelle Winery in Woodinville, Washington to handle some marketing pieces. As he went out to other wineries, he took his camera and would capture various aspects of the vineyard and wine-making process.
"The niche for photography with wineries was not nearly as saturated," Duval said. "I went to every wine event and made a joke that if four people were pouring in an elevator, I'd come shoot that."
He reached out to John Vitale, publisher and editor of Washington Tasting Room Magazine, whose premier issue had hit stands in the fall of 2009. As a fledgling quarterly, the partnership proved strategic for both sides. Duval provided—and continues to provide— shots that are as full-bodied and character-driven as a Barrage Cellars 2009 Double Barrel Cabernet Sauvignon. His eye for composition draws viewers into the romance and craft of the vineyard while his casual demeanor and obvious enthusiasm for the industry puts vintners at ease.
"They (vintners) have a passion for it and they light up. The camera comes out for me and I'm just completely lost in their vision," Duval said.
Over the years he's shot for all the wine media in Washington State as well as national outlets. He supplies photos to the Washington State Wine Commission and his images have appeared in Wine Enthusiast, Wine Spectator, the Grape Collective, Sip Northwest, Northwest Travel Magazine and Alaska Airlines to name a few. In addition, his prolific career has taken him as near as Oregon and California and as far away as Italy and Austria.
Before the end of summer Duval hopes to feature his exhibit, Metal Impressions, at Cellar 55 Tasting Room in downtown Vancouver. It's a series of pieces printed on metal which he says creates a sharp detail, depth and dimension not attainable on glossy paper.
Duval said "My job is to capture the magic made in the bottle and I never get tired of it."
**If you like what you're reading, follow Corks & Forks by clicking the 'Follow' button or follow Corks & Forks on Facebook.