Charlies Bodega + Grape-ful Women = 5 stars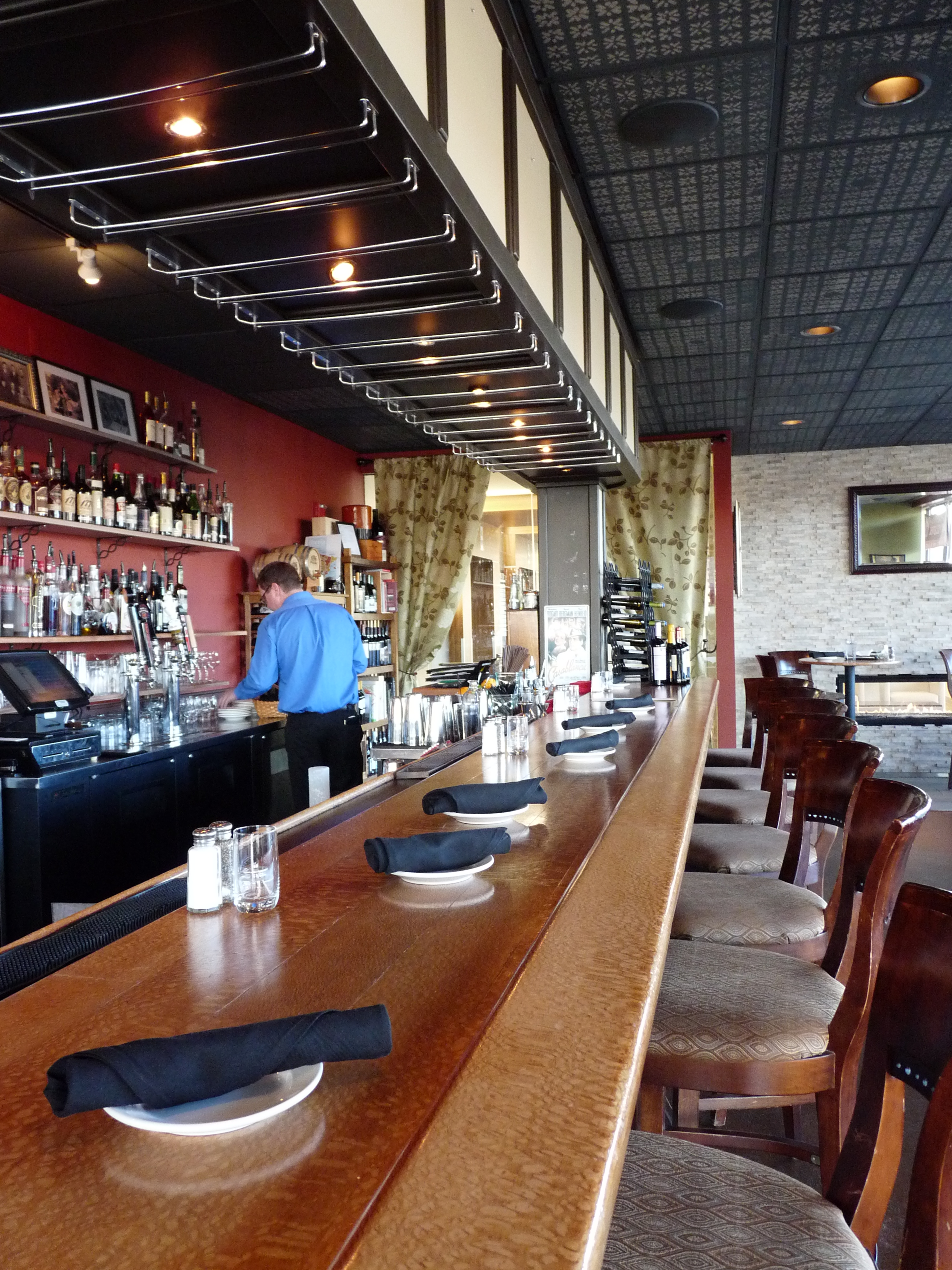 What elevates an opportunity to try out a new place is doing it with friends. Even better, a group of about 40 other women just as excited about new adventures and great wine as I can be.
So it was that about three weeks ago I ventured into the recently-rebranded Charlies Bodega in downtown Vancouver all by my lonesome to meet up with the Grape-ful Women. This is the second event I've attended and they do an amazing job of making everyone feel included.
I immediately saw Janine Julian, co-owner of The Vine Travelers, and area wine consultant, Lynda Lathrop, talking with a lady who'd walked in seconds before me (Dawn). The party was in full swing and there was one table left. So, my new friend, Dawn, and I took a seat and started chatting. She was waiting for a high school friend (Stacey) to show up so they could blend Spanish wine tasting with reunion planning. Sounded like a terrific arrangement to me.
The waiter assigned to our group—that kept growing as the night progressed—adapted with a smile on his face and plenty of wine to keep us all happy. I think Joe realized early on that all that attention from so many ladies was a pretty good gig.
The first wine of the evening was a well-chilled Príncipe de Viana 2013 Chardonnay from the Navarra region paired with a bacalao tapas. When in Spain, I learned that bacalao is salted cod and it was served on its own with vinegar that, frankly, was a bit much however it's paired beautifully with Albariño—a bright, high acidic, low alcohol wine that cuts the harshness of this dish perfectly. Charlies Bodega mixes their bacalo with potato making it less intense and the richness of the chardonnay was a lovely accompaniment to their version.
According to our wine tasting notes, bobal grapes are the "second most widely planted" in Spain with tempranillo beng number one. The Bovale 2011 Bobal from the Utiel-Requena region is a red wine harvested from 60+ year-old grapes. It had a medium finish with raspberry and herbal characteristics making it a nice wine for even summer days and would probably evolve if paired with food.
The favorite of the night seemed to be the Luzon Verde 2013 Monastrell from the Jumilla region which was amusing since it was also the least expensive at $22/bottle but it was bold with lots of chewy tannins and its earthiness paired wonderfully with the mushroom salad that Joe so kindly set before us. Monastrell (aka mourvèdre) is a favorite of mine (note: just tasted a gorgeous one at the Celebration of Syrah that Anne Hubatch of Helioterra Wines is making). The spice and leather notes of this grape draw me in and it's a perfect example of how affordable high quality wine coming out of Spain is.
I can't mention Charlies Bodega without talking about co-owner, Lisa Dougherty. She was there for the Grape-ful Women event and was seamlessly accommodating, even having Joe pour a fourth wine—the 2008 Vega Escal from Priorat, which was an inky, chewy blend of garnacha, cariñena and syrah that any steak lover would embrace.
As is the case at a Grape-ful Women event, I ran into some familiar faces and left with some new friends including Katherine, Lori, Charlotte and Laura Caldwell, who's the voice of Sun City Players. The next Grape-ful Women gathering is happening this Thursday from 6-8 pm at Koi Pond Cellars.
Tip: Charlies Bodega has a Tuesday night flight tasting which varies between whiskey and wine and a great deal every Monday night from 5-9 pm when all their wines by the bottle $50 and under are 50 percent off and bottles over $50 are $25 off. It's a great way to find a new favorite and enjoy some amazing Spanish fair served by a terrific staff simultaneously.
**If you like what you're reading, follow Corks & Forks by clicking the 'Follow' button or follow Corks & Forks on Facebook.