Long-established Holland America Bulb Farm entering the wine market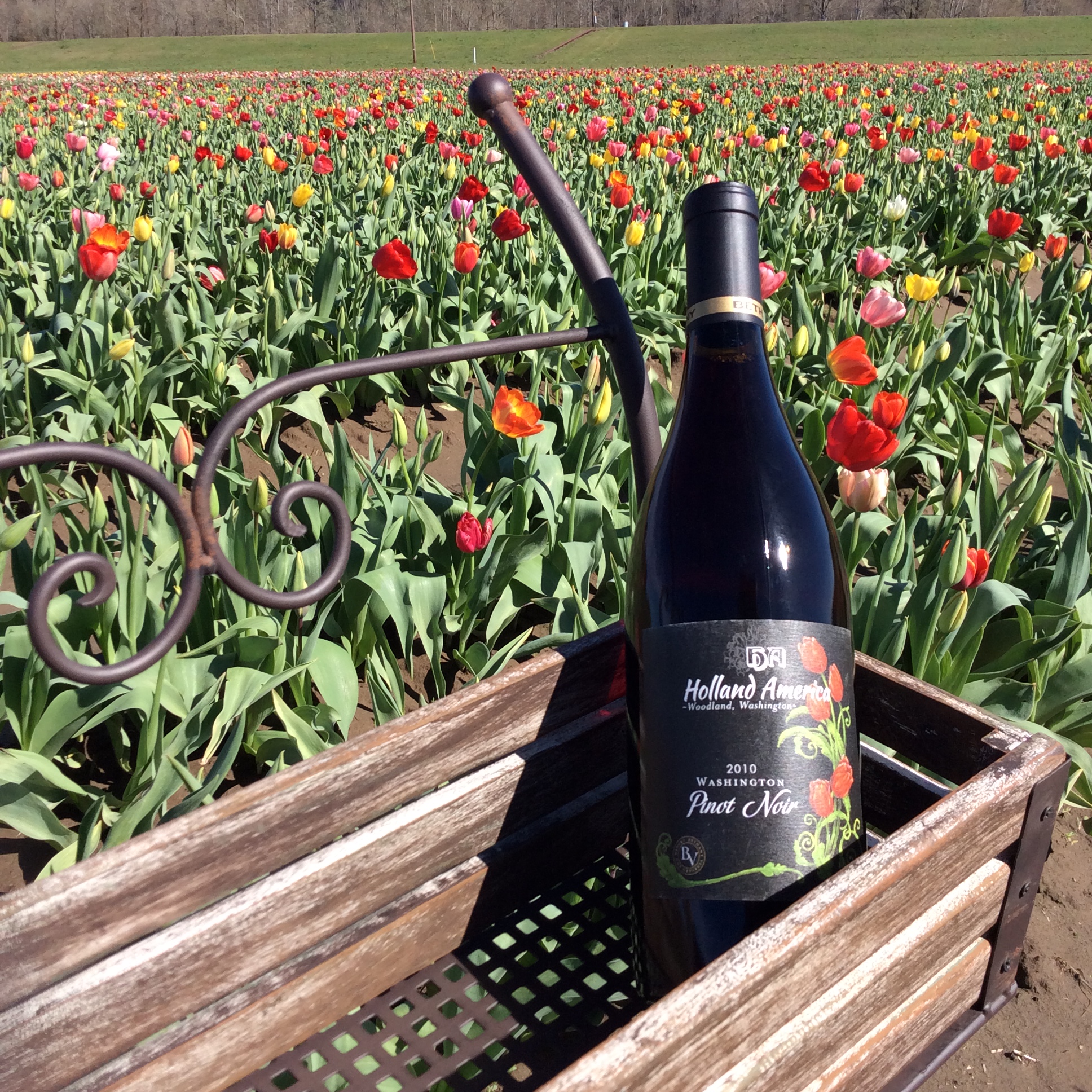 Holland America Bulb Farm is known for its popular Tulip Festival—held in April since 2003—but this year they're entering a whole new market. Owner Benno Dobbe has teamed up with long-time friend Walt Houser, owner and winemaker at Bethany Vineyard & Winery, to create a private Holland America wine label.
Their 2010 Pinot Noir and 2014 Riesling will be introduced at the Second Annual Wine Tasting and Art Show scheduled for Saturday, April 25 from 5-9 p.m. on the Holland America grounds in Woodland, Washington.
This 21 and over event will feature local artisans, live music, food catered by America's Family Diner chosen to pair with the wines being poured and a selection of Bethany Vineyard wines for tasting, as well. The $15 ticket price ($20 at the door) includes five tastings. Wines by the glass or by the bottle will also be available.
Stacey Lane, retail manager of Holland America Flower Gardens, said "Last year I wanted to do a wine and art festival and appeal to a wider crowd. Flowers and wine and chocolate all seem to go together. We kind of joked and said 'Wouldn't it be awesome to have our own private label wine?' and Bethany (Vineyard) stepped in."
An art contest was held for their label and area resident, Debbie Littlefield's, entry was selected to grace their first vintage. According to Lane, this tradition will continue with a new label chosen annually.
In an email Dobbe said "We are hoping to expand gradually with Bethany's Winery with a new label and new varieties every year because it is great working with them."
Both the pinot noir and riesling are estate-grown grapes from Bethany Vineyard's 26-acre site in Ridgefield, Washington so they're wonderful representations of our local terroir. The pinot noir has traditional cherry notes and Lane described the riesling as "crisp and clean." With the combination of high acidity levels naturally occurring in riesling and 2014's banner year for the Northwest grape growing region, this particular riesling is prime for developing some lovely stone fruit characteristics that should only improve with age.
Dobbe's decision to add private label wines extended beyond a mere musing.
"We were looking for another avenue to invite people to come and enjoy our farm and gift shop. We also feel it's important to support local businesses and enjoy our relationship with Bethany," Dobbe explained. "Bethany has a great reputation for making great wines with no sulfites and clean finishes. We are excited to see where this new adventure leads us."
Holland America's wines are available to purchase in their gift shop during normal operating hours but, due to permitting restrictions, are currently available for tasting at their Second Annual Wine Tasting and Art Show and a yet-to-be-finalized event during fall bulb season on October 17th.
For more information, go to www.woodlandtulipshabf.com.
**If you like what you're reading, follow Corks & Forks by clicking the 'Follow' button or follow Corks & Forks on Facebook.