Tap wall in East Vancouver appeals to wine and beer lovers alike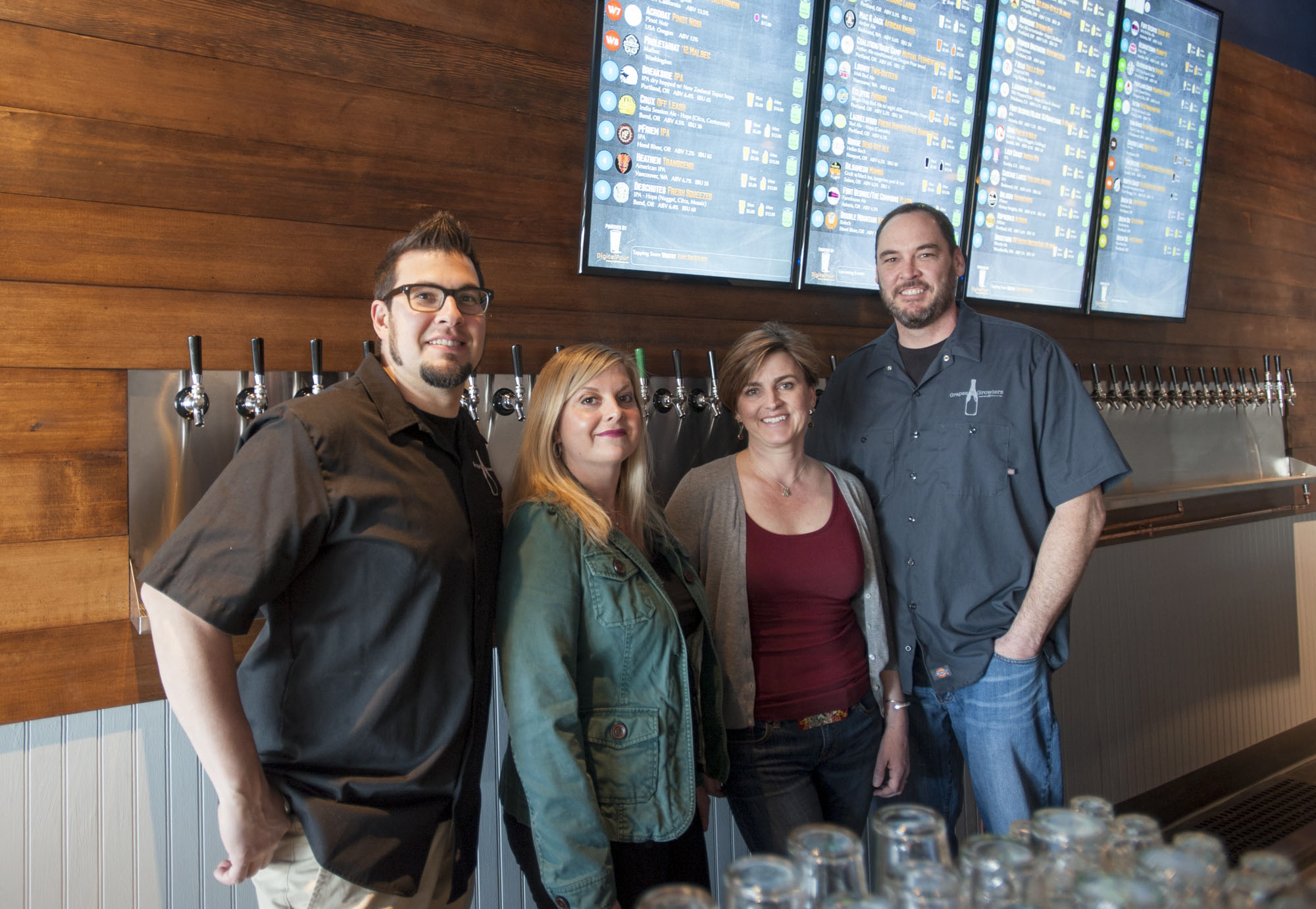 Owners Tom and Paige Mahoney and Ashley and Amanda Cahoon are sparing no expense to educate consumers on the attributes of keg wine at their new establishment, Grapes 'n Growlers.
Ashley said "We went stainless steel so every part of our system can accommodate everything we're pouring. Products are as fresh as can be, we went with a high temp dishwasher (and) glass rinsers at the taps."
His wife, Amanda, is hoping people will adopt the sustainability aspect of keg wine. She explained that patrons will be able to come in and refill a growler of any on-tap beverage and try something different as often as they like to enjoy at a barbeque with friends or in the evenings with family. No bottles or cans to recycle here and complimentary tastings are encouraged.
Tom pointed out that keg wine—pushed with nitrogren gas similar to a beer keg— receives none of the air contact that causes oxidation, giving it an average 90-day shelf life.
Another ace in the hole is who Grapes 'n Growlers is sourcing their wine from. Instead of wineries that set aside wine specifically for kegging, they're working with ones that keg what they bottle and those names might surprise people. Chateau Bianca (one of my favorites), Chehalem Winery, Va Piano Vineyards and Domaine Drouhin are just a smattering of possibilities.
With 51 taps, Grapes 'n Growlers will also be dedicating 34 to craft beers and they don't have to go far to fill those up. The group is concentrating on local brewers that fans won't find in grocery stores from the exploding selection in Vancouver, Eastern Washington, Portland, Bend and up into Bellingham. They'll pull a few tasty choices from California and are even following some promising brews in Idaho.
Rotating and educating are priority at Grapes 'n Growlers. Once a keg is blown, it'll be backed up with a whole new selection and changes can be followed on social media. With the help of DigitalPour software (created by a Portland-based company), folks will see the alcohol by volume, where the brewery/winery is located, beverage style, price of a growler, the approximate contents of a keg, what's being put on next and upcoming events. This information is also prominently displayed on four high-definition screens above the tap wall.
The rest of the taps are ear-marked for a variety of ciders, a root beer, mead or cold-brewed coffee and kombucha (a fermented tea loaded with vitamin B).
Both couples want to extend a family-friendly feel and their light food menu of unique panini selections, charcuterie, cheese and hummus plates and floats—to go with that root beer—feel just right for the laid back space with upscale details like large copper light fixtures, delicate pendant lights and a darkly lacquered wooden bar top.
Grapes 'n Growlers is located in the Riverstone Marketplace at 3425 SE 192nd Ave., Suite 105, Vancouver. For more information, go to www.grapesngrowlers.com.
**If you like what you're reading, follow Corks & Forks by clicking the 'Follow' button on the bottom right-hand corner or follow Corks & Forks on Facebook.