Wrap up of the 2015 Newport Seafood & Wine Festival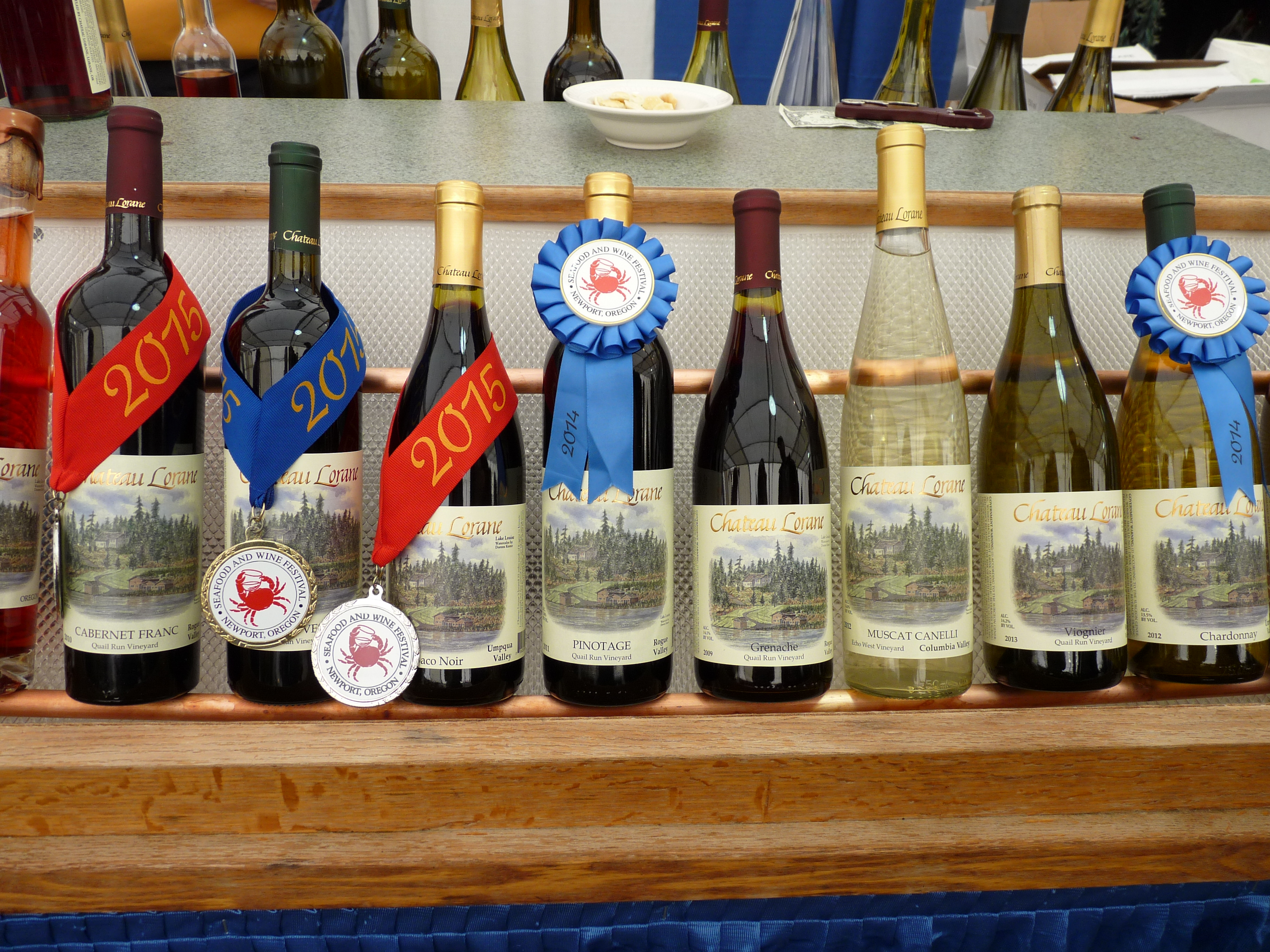 Emerson Vineyards' Willamette Valley 2013 Pinot Noir took Best of Show at the 38th annual Newport Seafood & Wine Festival over this past weekend. Its fruit-forward and elegantly oaked flavors wowed a panel of judges so, naturally, it was an early stop in my day. Tom Johns, the business and marketing guru at Emerson (and the winemaker's dad) was beaming like a proud parent as he poured their Best of Show but he was pretty confident about their popular 2013 Brother Red, as well. Blends are crowd-pleasers and this five-grape beauty is full of deep berries, food-friendly tannins and a rich mouth-feel that's an excellent value for $16-$20.
I was warned by several people that the Newport Seafood & Wine Festival tends to be one of the coldest, wettest wine festivals in the area but it was, once again, 'white dog weather' on the coast (A term coined when our white pups bring good weather luck on a trip). The sunshine only added to the anticipation of the crowd. Crab Man was in attendance, the Pirate Taxi was on standby, plenty of Mardi Gras beads, shirts sporting clever sayings like 'Smile if you love wine' and…oh, yeah, wine as far as the nose could smell. Over seventy five wineries were represented from Abiqua Wind Vineyards to Zerba Cellars and everything in between.
Arguably Wine Fauve claimed one of the most visited booths. Under a 50,000# tent selling tastings from $1-$2, their 3 for $1 was a steal but I stayed for the unique offerings. An '08 Touriga (Nacional)/Pinot blend caught my eye due to my 2014 Portugal trip—Touriga Nacional is one of the top Port grapes and, more often, being used to make quality red wine throughout Portugal. Pairing this high tannin wine with the subtle minerality common in a Pinot was interesting and effective. The 2012 Petite Sirah was like walking into someone's kitchen on a Sunday morning—meat and butter mingled with smoke. Odalisque is a combination raisin wine—in this case grenache grapes are dried to concentrate the flavor (I.e. sweet)—blended with chardonnay and pinot noir. This 19% abv wine sports a recioto/passito bend without the price tag to match. Their version of a Vin Doux Naturel 'Port style' was another curiosity but the flavors of elder flower and anise in their Sambuco won my heart. The anise was beautiful, unique and refreshing. The Italian Riviera spritz Sambuco—equal parts Sambuco and ginger ale—sounds intriguing.
Surrounded by all manner of Pinot, a girl must be appropriately armed and the freebie smoked salmon on a toothpick wasn't going to cut it for me. A large chunk, two napkins and you can keep your fork please and thank you. I was tempted to have a crab melt but when the vendor shouted out 'seafood smothered in cheese,' its appeal was quickly lost on me.
For one of my closest friends I had to venture over to Oregon Craft Saké and try their G Saké 50—definitely smooth with refreshing flavors of cantaloupe but it probably won't replace grape wine for me any time soon. Rizzo Winery had a fabulous smoky carménère. I was once again wooed by Purple Cow Vineyards and bought a bottle of their 2010 Estate Tempranillo after tasting the 2012 Aglianico, 2012 Primitivo, 2011 Durif and 2010 Reserve Tempranillo (a tad too much vanilla vs. the more complex toast and nut of the Estate). Aging for seven months in Hungarian oak garnered Sweet Earth Vineyard's 2012 Pinot Noir a little spice on the finish and a silver medal at the festival.
Buddha Kat Winery (delish blackberry port), Chateau Bianca Winery (love these wines particularly their Pinot Noir), Chateau Lorane (a dynamic 2012 Baco Noir), Crater Lake Cellars (the delicate white pepper in their 2012 Viognier and cassis in the 2013 Mourvèdre), Cubanisimo Vineyards (not only did their 2012 Estate Pinot Noir win a silver at the festival but this Salem winery has monthly salsa lessons and terrific live music and tapas events throughout the year) and HV Cellars (caught my eye for all the Fingerlakes Region International medals) rounded out the day. An excellent inaugural Newport Seafood & Wine Festival for me capped off with some live music on the historic Bayfront before heading back to South Beach State Park (all transportation courtesy of the free bus shuttle) to enjoy another couple days of unseasonably glorious Oregon coast weather.
**If you like what you're reading, follow Corks & Forks by clicking the 'Follow' button on the bottom right-hand corner or follow Corks & Forks on Facebook.