Vinotopia is a veritable playground for wine lovers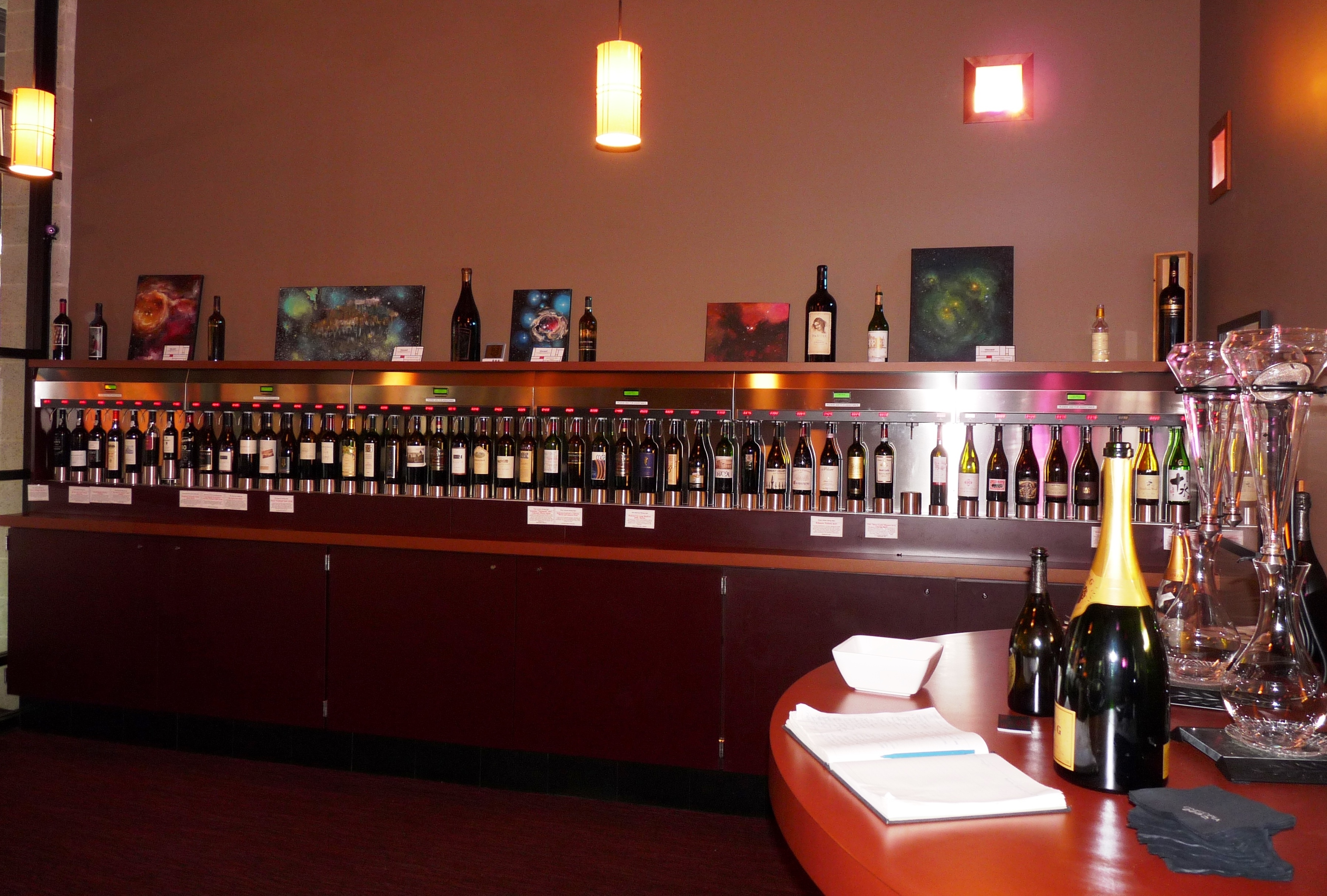 Vinotopia, housed inside Vancouver's Cinetopia, is a veritable playground for wine lovers. Aside from the extensive wines by the glass or by the bottle list, customers can enjoy one-ounce tastings of up to 100 wines in The Cellar.
Using the Enomatic system, developed in Italy, Vinotopia is able to keep world-class wines such as Châteauneuf-du-Pape, Domaine de la Charbonnière and Leonetti Cellars for an extended period of time without altering the exquisite flavors and aromas that each is known for.
Anyone over 21 can purchase a card inside Vinotopia, loaded with whatever dollar amount they determine and go crazy (within the card's limit) inside The Cellar. One ounce tastes vary from $1.00 to the current high-end of $8.15 for a delicious Dow's 1994 Vintage Port.
Sommelier, Nicole Tuson, is an approachable wealth of knowledge and her passion for wine is contagious. Sadly, you'll find her presiding over The Cellar for only about another week until she embarks on the challenging and rewarding path to earn her Master Sommelier Diploma with The Court of Master Sommeliers which is a full-time undertaking on its own.
The food menu at Vinotopia has several excellent full meal options. The ample cheese plate, stocked with fruits, nuts and five different cheeses, is an ideal food-pairing choice. My wine samples ranged from the tropical notes of the 2012 Cakebread Cellars Chardonnay to the delicate floral and mineral qualities of a 2005 white Châteauneuf-du-Pape (made from predominantly roussanne grapes), to the intense black fruit and smoky characteristics of the 2004 Yalumba red blend from the famed Barossa Valley of Australia.
Sprinkled in there was a surprising side-by-side pinot noir tasting of Evesham Wood Eola-Amity Hills with a Benton Lane 2008-Willamette Valley, (I preferred Evesham Wood) as well as an opportunity to savor a 2001 Pasanau Priorat, a Napa Valley cabernet sauvignon and a Shirvington 2004 McLaren Vale Shiraz. The dark cherry and sweet spice notes of the only Italian varietal I chose—Feudi di San Gregorio 2001 Serpico—was fabulous with the cacio de roma cheese.
It's easy to while away a couple hours in the well-appointed dining room of Vinotopia being serenaded by movie scores, enjoying nibbles and pondering your next sample selection. The owner's dedication to fine wine is evident and the menu is geared specifically toward wines while his second Vancouver location, Brewtopia, has a more brew-friendly appeal.
My leisurely field trip was capped off with Bual Madeira which paired beautifully with the toasted walnuts and sips of a 1994 Port that accompanied both the fourme d'ambert bleu cheese and honey chèvre equally well.
But don't take my word for it. Wine Spectator bestowed the BEST OF AWARD OF EXCELLENCE on Vinotopia in 2009, 2010, 2011, 2012 and 2013.
Vinotopia is located at 11700 SE 7th St Vancouver, WA 98683 (360) 213-2811.
**If you like what you're reading, follow Corks & Forks by clicking the 'Follow' button on the bottom right-hand corner or follow Corks & Forkson Facebook.