Weekend wine wrap-up for Jan 9th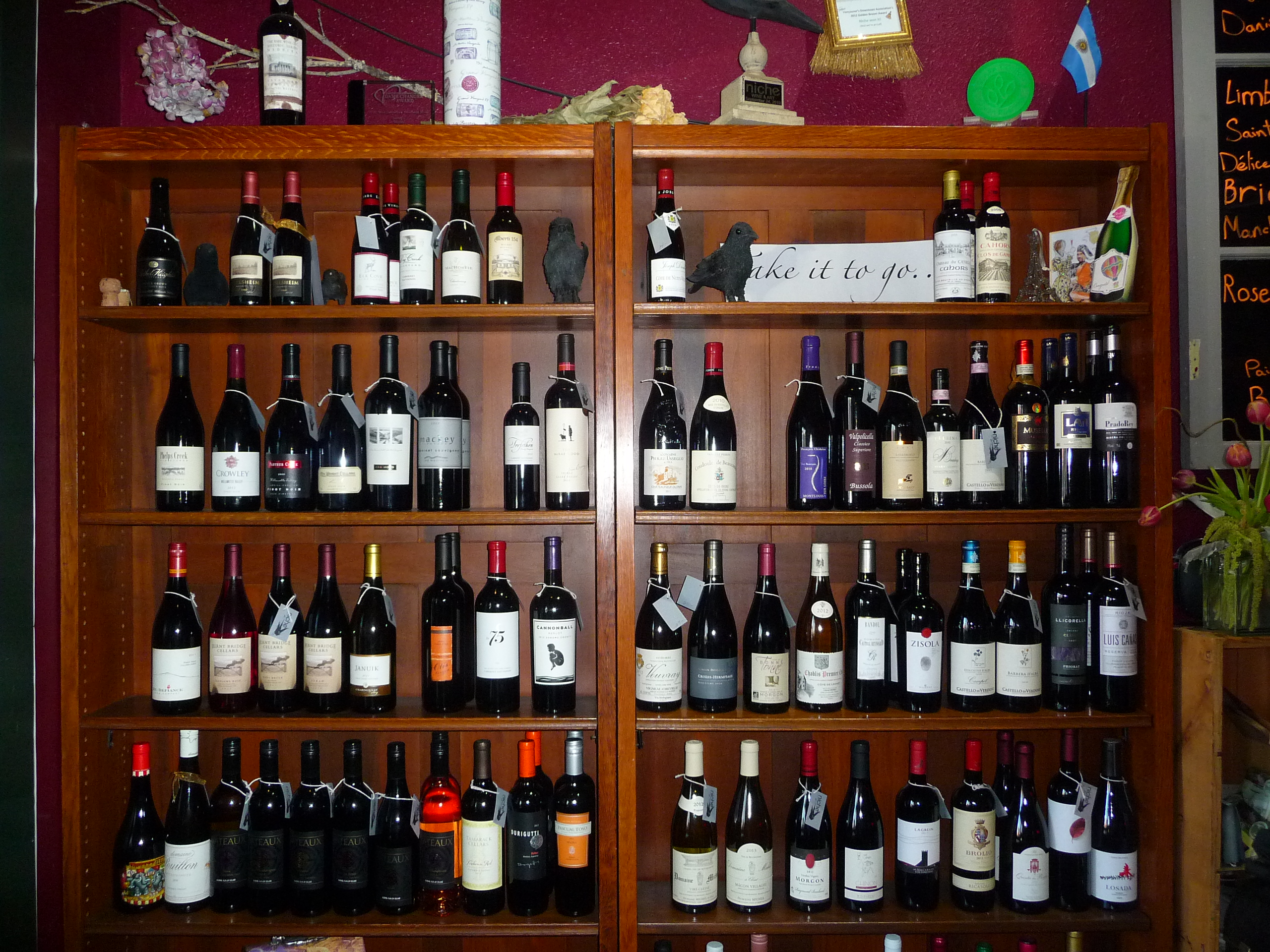 Upcoming events:
Drink This! Vancouver – Fri, Jan 24 is the next date for this popular event where participants take to the walkable streets of downtown Vancouver to enjoy an ever-rotating list of businesses offering locally-made beverages at special prices. From wine to craft cocktails, beer to cider, it's a great time.
Clark County wineries – Fri, Feb 13-Sun, Feb 15 Clark County wineries are already making plans for the annual wine and chocolate tour. Mark your calendars for an opportunity to 'sweet talk your sweetheart.'
This weekend:
Downtown
Brewed – Carrying a selection of Columbia and Willamette Valley wines, the folks at Brewed are well-educated on the choices available. Also available are mimosas, Bloody Mary's and an occasional, seasonally-inspired adult beverage like Irish coffee. Current wine offerings include several from Locati Cellars, Charles Smith's earthy Boom Boom Syrah, AniChe Cellars' Barbariccia which is a sangiovese blend and the ever-sassy Naked Winery's Penetration Cabernet Sauvignon and Foreplay Chardonnay.
Burnt Bridge Cellars – Enjoy award-winning wine at Vancouver's only urban winery. David and Mark source their grapes from Eastern Washington and are particular about their wine competitions. 2014 brought high praise from the San Francisco International Wine Competition.Normal tasting room hours Sat, Sun noon-5 pm. Open every First Friday from 4-8 pm with wine, live music and small bites by Class Cooking.
Cellar 55 Tasting Room – Fri, Jan 9 – Chris Taylor and special guest playing 6:30-8:30 pm. Come enjoy their fantastic Eastern Washington and Walla Walla wines by the glass or bottle. Displaying local art and featuring special happy hours four days a week. Open at noon Wed-Sun.
Charlie's Bistro –  Rumor has it 2015 is bringing big changes for this downtown gathering place. For now, listen to live music every Friday night from 7-10 pm while enjoying bbq pork sweet potato hash with a lovely Cottonwood Syrah, Maryhill Malbec or beautiful Kentucky Bourbon. Charlie's has a great deal for wine lovers every Monday-50% off all bottles of wine $50 and under. Plus, Saturday is always Flight Night from 4-10 pm. Open Mon-Sat.
East Fork Cellars – Housed in the historic Old Slocum House. Normal  tasting hours Sat noon- 4 pm with in-depth information about their wines from owners, Jeff and Stacey, but pours available during Gallery 360′s hours Wed-Sat noon-5 p.m.
Evergreen Wine Cellar – Pam hosts weekly wine tastings for $5 per person though, with the holidays, the day(s) has been sporadic so contact her to be placed on her e-mail blast for up-to-date event notices. She also has the largest selection of sparklings in Clark County and holds extensive knowledge on food pairings to help more occasions be elevated to special ones.
The Grant House –Recently changed live music to Tues and Wed only with happy hour extended to 6 pm. Cozy up in this circa 1849 space with an extensive wines-by-the-bottle list and stay for dinner in "Vancouver's oldest dining room" located on Officer's Row.
La Bottega– Sat, Feb 14 – Planning a special Valentine's Day menu by reservation only. Terrific casual Italian dining with a wine list to complement each flavor profile. Tuesday night wines under $50 are 50% off and wines over $50 are discounted $25. Excellent way to enjoy some premium wines with their locally-focused menu. Wine tasting every Wednesday night from 5-7 pm. $12 includes four tastings and antipasti. Bottles available for take away.
Latte da Coffeehouse & Wine Bar – Thurs, Jan 29 from 5-7 pm Scott is hosting his next wine tasting in the intimate and inviting wine bar. Latte da recently extended hours in the wine bar to focus on some unique restaurant wines paired with a wine-friendly appetizer menu. Now open 'til 10 pm Thur-Sat. Bonus: All wines are available to purchase by the bottle for take away.
Niche Wine Bar – Features: 30+ pours available six days a week and a staff who knows their wine all in a relaxed atmosphere with walls decorated in local artists' work. An inventory of over 160 bottles also available to take away. Live entertainment every Saturday night.
Willem's on Main – LOVED my roasted butternut squash speatzle on a recent visit and my husband's smoked brisket atop a potato cake was happily devoured, as well. Ron and Cathy were terrific and it always makes me happy to see Bateaux Cellars' wine and ports on a wine list. Excellent happy hour Tues-Sat from 4:30-6 pm to enjoy with their carefully-prepared wine list, 50% off bottles under $40 on Tuesdays. Next 4-course Prime Rib dinner scheduled for Sun, Jan 11. Vineyard TBA. Reservations required.
North Vancouver
Farrar's Bistro – If you haven't been this a great Felida neighborhood restaurant that touts 'comfort food with a flair' as its motto (I.e. patty melt on rye, beef wellington with a brandy peppercorn sauce). Happy hour 3:30-6 pm. Complement some small plates with a velvety cabernet sauvignon or herbaceous sauvignon blanc.
Fred Meyer Salmon Creek – Fri & Sat from 3-6 pm wine steward, Kent Gallegos, routinely pairs two wines with Murray's cheeses. Weather and season dictate his selections.
Hudson's Bar and Grill – A largely Washington, Oregon and California-inspired wine list with a selection of three by-the-bottle wines rotated on a monthly basis. Inside the Heathman Lodge near Westfield Shopping Center, enjoy a glass of Washington Chardonnay with a plate of sautéed mussels or a glass of Barnard Griffin Cabernet Merlot with a meatloaf sandwich while warming up fireside under the massive Northwest logs  during 'Hudson's Hour' from 4-6 pm.
Total Wine & More – Every Fri, 4-8 pm, Sat noon-6 pm, Sun noon-5 pm complimentary wine tastings are offered at this beverage store located by Westfield Shopping Mall. Tasting beer and spirits, as well. Check out their calendar for upcoming special event tastings and classes which may include a fee.
Fred Meyer Orchards – Fri, 2-5 pm & Sat, 1-5 pm wine steward, Shawn Martin, hosts a two to three-wine tasting that he pairs with Murray's cheeses and focuses on lesser-known wines to broaden his customers' wine catalog.
Village Vineyard –  This  beautiful winery is currently closed for winter break (although their bed and breakfast is still accepting reservation). Stop by for a tasting and stay for a glass of wine in their lovingly-appointed living room when they re-open on Valentine's weekend. Folks are invited to bring munchies to snack on while enjoying some adult down time. Normal tasting room hours: Sat noon-6 pm, Sun 11 am-5 pm.
North County
Confluence Vineyards and Winery – Open this Sat & Sun noon-5 pm tasting the bold and beautiful reds Confluence is known for to help alleviate holiday stress and offer Christmas dinner wine pairing suggestions. Occasional live music in their festively-decorated and heated tent. Sat-Sun noon-5 pm.
Koi Pond Cellars – Sat, Jan 10 – Live music from 6-8 pm and vin chaud glasses continue to be featured. Come taste new releases-a 2013 sauvignon blanc and 2012 merlot. Mural and artwork by resident artist, Micah Boylan, grace the walls. Happy hour Wed-Fri from 4-7 pm. Open Wed-Sun.
Gougér Cellars – Mon, Jan 12 – Gary is a huge Ducks fan and will be opening his tasting room to offer a butternut squash ravioli dinner for purchase along with his wonderful line-up of wines and non-alcoholic ice creams while enjoying the game on his big screen. Look for a winery expansion in 2015. Normal tasting room days Wed-Sun.
Bethany Vineyard – Tasting their consistently elegant wines Fri and Sat noon-6 pm, Sun noon-5 pm., Bethany has a current wine list of 21 offerings from their floral and earthy 2009 Pinot Noir to their 2012 Free Run Cabernet Sauvignon made with the first juices after fermentation before the skins are pressed, giving it a lighter tannic style with the same black fruit palate cab is known for.
Three Brothers Vineyard – Winemaker, Dan Anderson, was recently featured here. In the midst of a winter wine sale. Tasting hours Fri 1-6 pm, Sat noon-6 pm, Sun noon-5 pm.
Pomeroy Cellars – Thurs, Jan 8 – is the return of Thursday happy hour for 2015. Enjoy $4.75 glass pours with a pizza dinner-for-purchase from 5-9 pm. Come try Dan's rhubarb or cherry wine. Both dry, he's captured the essence of each base ingredient. The rhubard, for instance, is refreshing with a hint of licorice spice and for that I'd drink it as an aperitif or with foods similar to Pinot Gris like the perennial Thai suggestion. Open Thur, Sat and Sun.
Moulton Falls Winery –  Looking to release a Pinot Noir-based port-style wine soon distilled by Battle Ground's own, Double V Distillery. Fri, Jan 9  – $5 on select glasses of wine from 4-9 pm, dinner from 5-8:30 pm and live music from 6-9 pm. Sat, Jan 10 – Live music from 6-9 pm. I tried their seasonally-inspired  glühwein (German-inspired hot spiced wine) a few weeks ago ($4 on Sundays) and it is a cozy blanket in a mug, to be sure.
Heisen House Vineyards – Closed for the month of January. Look for them to re-open Sat, Feb 7th. Normal hours: Sat noon-6 pm, Sun noon-5 pm.
Olequa Cellars – Wine maker, Brian Tansy, has a current lineup of 6 wines. His charming tasting room is open Sat, Jan 10 and Sat, Jan 24 this month. He also welcomes private tastings of his beautiful boutique wines.
Battle Ground Produce – The owner of Battle Ground Produce, Loren, knows his wine and enjoys offering complimentary tastings to customers most Fridays from 4-7 pm. Andreas, Rayne and Scott pour with insight, passion and friendly banter. There's usually something for the beer lover, as well.
Rusty Grape Vineyards –  Live music Wed-Sat from 7-9 pm. Check out their seasonally-appropriate Chocolate Syrah Port, sipping chocolate and vin chaud. The tasting room has undergone a lot of remodeling but open for business through it all. Wednesday is 2 wood-fired pizzas for $15. Thursday brings Thirsty Thursday from 4:3-6:30 pm with special prices on wines, beer and food and Sunday they do it again from noon-3 pm. Fridays in January are Free Dinner Friday while supplies last with a $20 wine purchase. Something's always going on at the Grape. Open Wed-Sun.
Emanar Cellars  –  Fri, Jan 9 – Girls Night Out Sip & Spa beginning at 6 pm Sat, Jan 10 – Wine & Wrinkles beginning at 2 pm and live music from 6-8 pm. Enjoy their Spanish wine line-up with spa treatments and, later, live music along with Spanish tapas. Open Thur-Sat from 4-9 pm.
Pasta GiGi's – Kathy's always creating a new appetizer or weekly entrée special to pair with their pleasing wine list. Amazing, fresh Italian food with a passionate wine staff like Lindsey, Kathryn and Brodie is a sure-fire pairing.
C'est La Vie Crêperie – Jan 5 marked the re-opening from a holiday break and, with that, a new event. Effective Jan 9th C'est La Vie is adding a weekly FRIDAY NIGHT SOCIAL HOUR from 4 -8 pm. With Keri's Wine & Spirit Education Trust diploma and impressive culinary skills it's sure to be worth checking out. Wine-O Wednesday is marked by $1 off mimosas, spritzers and wines by the glass. Keri gives people an excuse to drink wine with the most important meal of the day – breakfast. Perfectly-flavored mimosas with such inspirations as double crème Brie and French onion soup Friday. Très bon. Open Tue-Sat 9 am-3 pm.
East County
Vinotopia – Located inside Cascade Park's Cinetopia, Vinotopia has received Wine Spectator's Best of Award of Excellence for the last five years. Aside from the dizzying array of wines by the bottle, guests can enjoy ½ off bottles of wines on Wednesdays and tastes or glasses of wine from a selection of over 100 daily. Pair that with their Tightwad Tuesday pasta buffet or live music from 6-10 pm every Sat in their dining room and you have a no-fail date night.
BevMo! – Fri 4-7 pm & Sat 2-5 pm, 5 tastings, always complimentary unless otherwise indicated.  Presiding over the pouring could be the very pleasant and cheerful, Anna, accompanied by manager, Kristin. Low key, comfortable atmosphere.
Whole Foods – Hit and miss on whether wine will be tasted on a weekend, Whole Foods features beer or wine tastings Sat from 1-4 pm. Also tasting on Friday evenings from 4-8 pm but it's typically beer-focused.
New Seasons Market – Wine and cheese pairings from 4-6 pm every Fri in January. Jan 10 – Spanish wines at 2 pm. Jan 17 – Hawkins Cellar at 2 pm.
Fred Meyer Fisher's Landing – Every Fri & Sat from 2-5 pm wine steward, Ernie Jones, aims for two tastings with occasional Murray's cheese pairings.
Roots Restaurant & Bar– The medium tannins and dark fruit characteristics of a Diseno malbec would pair nicely with their Carlton Farms pork chop accented with a black currant demi-glace . From Cakebread to Domaine Drouhin to L'Ecole, you'd be hard-pressed to choose wrong and from 3-6 pm Mon-Fri and 9-11 pm Fri-Sat, pair your selection with locally-inspired happy hour bites.
English Estate Winery – Hosting a dinner every Friday night with local, live music that begins at 6 pm. On Sat, Jan 17 the Loafing Shed will host Sew Sisters, a local company up-cycling sweaters into sweater dresses to support Facing Homelessness in Seattle. The only winery open Monday from 4:30-7 pm with $5 glasses of wine to start your week off right.
Birch Street Uptown Lounge – The Sunday night wine flight has been put on hold through January but, rumor has it, February will see its return with the addition of Monday night, as well. Until then, come out and enjoy this classic-style wine and cocktail lounge with live torch singers every Fri and Sat night beginning at 8 pm. You might even hear Santana or Diana Ross's keyboardist. It's been know to happen!
Krystal's Champagne Lounge – Since taking over the place a few months ago, new owners Dan and Krista have been making some changes to this classy addition to downtown Camas including a thoughtful selection of spirits. Enjoy sparklings from California, high-end Champagnes by the glass, wine and beer paired with an artisan cheese plate or charcuterie platter. Open Tues-Sat.
The Puffin Café floats along the port in Washougal. They have a limited and, quite frankly, not great wine selection but, if you're in the mood to feel the island vibe without leaving town – and who couldn't use a dose of the islands on a dreary fall day – this is the place to be (they have indoor seating). Their food menu is tantalizing and their wait staff is genuine.
**If you like what you're reading, follow Corks & Forks by clicking the 'Follow' button on the bottom right-hand corner or follow Corks & Forks (News/Media Website) on Facebook.