Wine and the Goldilocks paradigm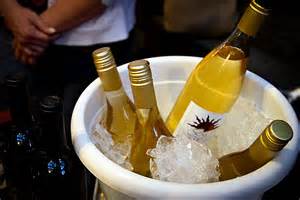 'Serve at room temperature' is a common recommendation on the label of wine bottles but what does 'room temperature' really mean? I've asked several people and 70-72 degrees is the typical response. I can't think of a wine that would actually taste good at 72 degrees – unless we're talking about a mulled wine which is a whole different subject.
Experts widely agree that wine should be stored between 50-59 degrees (55° is ideal) and that kitchens are the worst place for storage because, with cooking, the temperature in that room can vary greatly. Just that little tidbit probably rules out how the majority of wine lovers are storing their bottles so if the kitchen is the most convenient spot in your house, keeping the bottles on their side, in a low cabinet with a door and not in close proximity to a window, the oven or the refrigerator will offer some protection against the cork drying out and its contents being exposed to extreme shifts in temperature.
As for serving wine at the ideal temperature, it turns out the phrase 'room temperature' came about long before central heating and is roughly 59-64 degrees. I've found resources that are varietal-specific but the Wine & Spirit Education Trust has a streamlined chart to keep things simple.
| | | |
| --- | --- | --- |
| STYLE OF WINE | EXAMPLE | SERVICE TEMPERATURE |
| Light/Medium-bodied White or Rosé | Pinot Grigio | Chilled 10°C (50°F) |
| Medium/Full-bodied Oaked White | Oaked Chardonnay | Slightly Chilled 12°C (53°F) |
| Sparkling Wine | Champagne, Cava, Asti | Well-Chilled 6-8°C (43-45°F) |
| Sweet Wines | Sauternes, Tokaji, Ice Wine | Well-Chilled 6-8°C (43-45°F) |
| Light-bodied Red | Beaujolais, Valpolicella | Lightly Chilled 12-14°C (53-57°F) |
| Medium/Full-bodied Red | Shiraz, Cabernet Sauvignon, Châteauneuf-du-Pape, Vintage Port | Room Temperature 16-18°C (60-64°F) |
If a cabernet sauvignon's been stored on its side (bottle sealed with a cork) at the ideal temperature and is destined for consumption in a matter of hours it should need little preparation other than to sit out on the counter for about 30 minutes prior to opening. Warming it up a bit will emphasize the powerful structure of a full-bodied red.
The old adage that reds are not to be refrigerated falls flat for light-bodied wines. A slight chill on this wine style softens the tannins and allows the brightness of its fruit to come alive. Popping a bottle in the fridge for 20-30 minutes before serving should cool it off but remember the longer a wine sits at room temperature, the more it warms up.
Sparkling wine can almost never be served too cold. Some would say 43-45 degrees is a bit too warm. Well-chilled allows for greater bubbles and isn't that the fun of sparklings? A bottle stored in the refrigerator for up to 24 hours is perfect and be sure once it's brought out that the unused wine is plunged into a bucket of ice until its contents have happily been consumed.
Serving wine at the appropriate temperature can make all the difference between a great experience and a mediocre memory.
**If you like what you're reading, follow Corks & Forks by clicking the 'Follow' button on the bottom right-hand corner or follow Corks & Forks (News/Media Website) on Facebook.