First Friday is upon us once again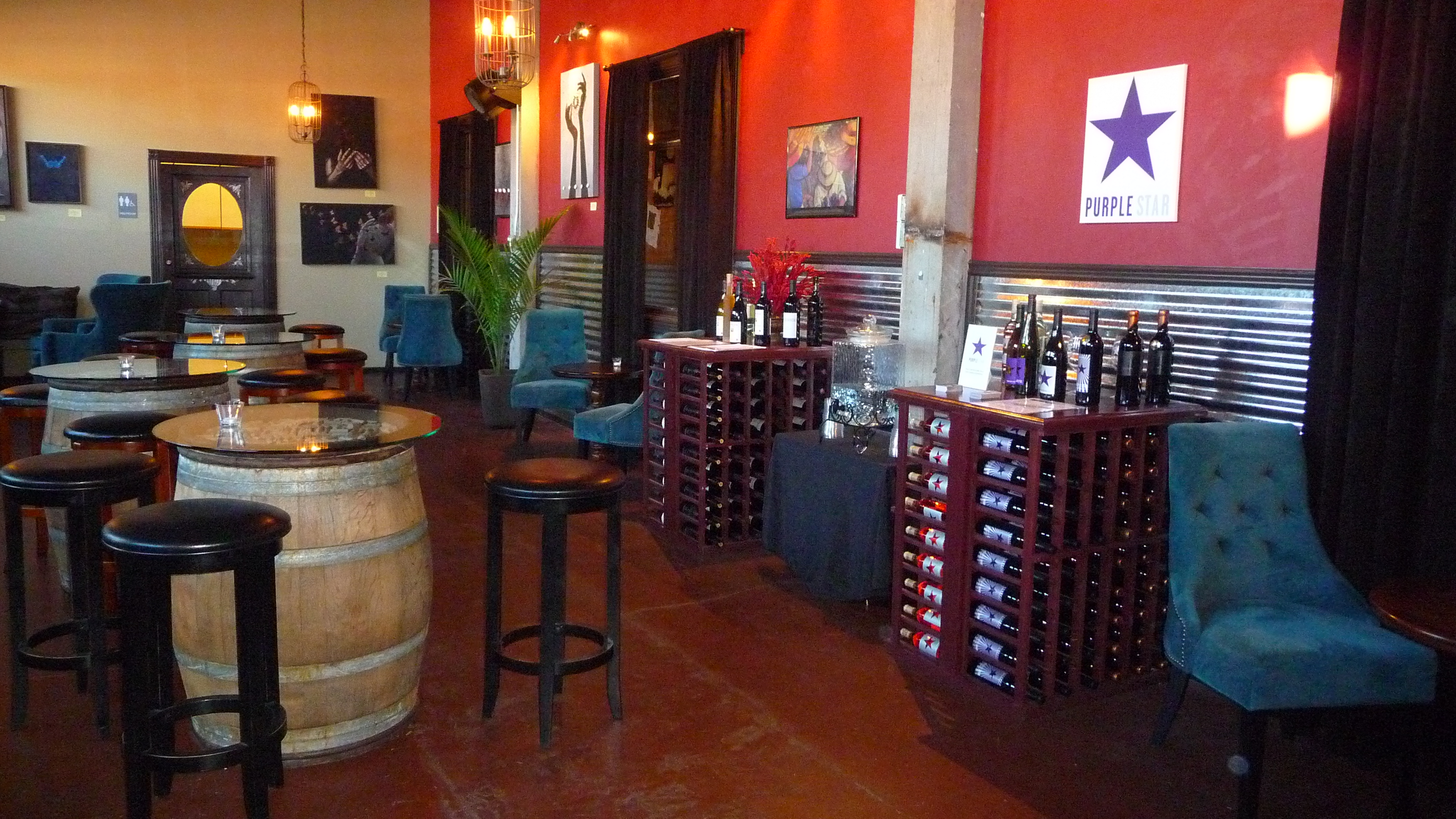 Weekend highlights:
It's First Friday and many communities are celebrating with extended business hours including downtown Vancouver, Camas (in conjunction with their annual Christmas tree lighting beginning at 6:30 pm), Battle Ground (in conjunction with their 25th annual tree lighting beginning at 5:30 pm, largely vintage-store focused) and Ridgefield (Christmas tree lighting during their Hometown Celebration on Sat, Dec 6)
Pomeroy Cellars – Hosting their first weekday happy hour TONIGHT from 5-9 pm. Enjoy $4.75 glass pours, a lasagna dinner and participate in some games, if you're up for it.
Latte Da Coffee House & Wine Bar – Tonight's the night Scott begins extended hours in his newly-installed wine bar. Now open 'til 10 pm Thur-Sat. Enjoy some unique restaurant wines paired with his wine-friendly appetizer menu. Bonus: All his wines are available to purchase by the bottle for take away.
La Bottega – Sun, Dec 7 beginning at 5:30pm hosting their Small Vineyards wine dinner. Each of the six courses expertly paired with wines to bring out the best in both the wine and the food. Click the link for the tantalizing menu. Reservations required.
Upcoming events:
Mid-Jan we're looking to celebrate the return of the Galeotti name to Battle Ground's Main Street when Mike Galeotti, Sr. and his wife, Sheila, unveil Galeotti's Wine Cellar. Like it, follow it and look forward to an intimate wine cellar with wines by the glass or bottle, a small bites menu and a unique wine club as well as live music lined up by local singer-songwriter, Amber Sweeney. Actual opening date TBA.
This weekend:
Downtown
Brewed – Carrying a selection of Columbia and Willamette Valley wines, the folks at Brewed are well-educated on the choices available. Current offerings include Charles Smith's earthy Boom Boom Syrah, AniChe Cellars' Barbariccia which is a sangiovese blend, Locati Cellars' Barbera and the ever-sassy Naked Winery's Penetration Cabernet Sauvignon and Foreplay Chardonnay.
Burnt Bridge Cellars – Opens it doors for First Friday from 4-8 pm. Tonight enjoy live music by flamenco guitarist, James Manuele, tasty bites by the Class Cooking Kitchen, and art by Kim Murton. Normal wine tasting hours are Sat-Sun noon-5 pm. Burnt Bridge wines can also be found on wine lists around town including Willem's on Main, Latte da Coffeehouse & Wine Bar and Roots Restaurant & Bar.
Cellar 55 Tasting Room – Celebrating First Friday with live music by Tried & Blue, Mediterranean food catered by Ingrid's GoodStreetFood, art by Heidi Morkert  and a happy hour from 2-6 pm with discounts on amazing Eastern Washington and Walla Walla wines. Now open at noon Wed-Sun.
Charlie's Bistro –  Fri, Dec 5 – Ragamuffin blues by Sidestreet Reny from 7-10 pm. Charlie's has a great deal for wine lovers every Monday-50% off all bottles of wine $50 and under. Plus Saturday is always Flight Night from 4-10 pm.
East Fork Cellars – Fri, Dec 5-Hosting a First Friday artist's reception from 5-9 pm with live music, Gallery 360  and their award-winning wines. Home for Christmas exhibit runs Dec 3-27. Normal tasting hours Sat noon- 5pm with in-depth information about their wines from owners, Jeff and Stacey, but pours available during Gallery 360's hours Wed-Sat noon-5 p.m.
Evergreen Wine Cellar typically hosts a Friday night tasting from 5-8 pm for $5 per person but has a random tasting this Sat, Dec 6 and a special sparkling wine tasting scheduled for Fri, Dec. 12. Sparklings are near and dear to Pam's heart. She has the largest selection in Clark County and holds extensive knowledge on food pairings for the ultimate in sparkling appreciation. Contact Pam to be placed on her e-mail blast.
The Grant House – Reserve your space sooner than later for their annual Sugar Plum Tea on Sat, Dec 6 from 1-3 pm. $30 for adults, $15 for 12 and under. Ballerinas from the Columbia Dance Production of The Nutcracker will be a special treat. Obviously not a wine-friendly event but The Grant House certainly upkeeps a nice wine selection in a cozy, historic establishment. Live music Tues-Fri 6-8 pm from jazz violin to blues to Americana.
La Bottega– Terrific casual Italian dining with a wine list to complement each flavor profile. Tuesday night wines under $50 are 50% off and wines over $50 are discounted $25. Excellent way to enjoy some premium wines with their locally-focused menu. Wine tasting every Wednesday night from 5-7 pm. $12 includes four tastings (malbec lineup last night)and antipasti. Featuring Portuguese wines the entire month of November. Reservations required for their Sun, Dec 7 Wine Dinner pairing foods with Small Vineyards wine-an importer specializing in small Mediterranean wines.
Latte da Coffeehouse & Wine Bar – Thurs, Dec 18 from 5-7 pm Scott is hosting a sparkling wine tasting in his newly-completed wine bar. Tonight's the night Latte da begins extended hours in the wine bar to focus on some unique restaurant wines paired with a wine-friendly appetizer menu. Now open 'til 10 pm Thur-Sat. Bonus: All wines are available to purchase by the bottle for take away.
Niche Wine Bar – Keep some dates open. This cozy wine bar designed for wine enthusiasts is hosting a bubble sampling on Mon, Dec 8 from 7-10 pm and their annual Port tasting on Christmas Eve from 3-8 pm. Features: 30+ pours available six days a week and a staff who knows their wine all in a relaxed atmosphere with walls decorated in local artists' work. Live entertainment every Saturday night.
Willem's on Main – Fri, Dec 5 – Giving out warm pumpkin soup taster cups during First Friday. Excellent happy hour Tues-Sat from 4:30-6 pm to enjoy with their carefully-prepared wine list, 50% off bottles under $40 on Tuesdays. Next 4-course Prime Rib dinner complemented by caramelized onion risotto and paired with wines by The Mortal Vintner will be Sun, Dec 14. Reservations required.
North Vancouver
Farrar's Bistro – Stop into this Felida neighborhood restaurant and see how Farrar's knocks the sox off its guests with unique appetizers like gorgonzola cheesecake and comfort food like a bistro patty melt paired with a cup of roasted butternut squash-pear soup. Why not complete the cozy blanket feel with a velvety cabernet sauvignon?
Fred Meyer Salmon Creek – Fri & Sat from 3-6 pm wine steward, Kent Gallegos, routinely pairs two wines with Murray's cheeses. Weather and season dictate his selections.
Hudson's Bar and Grill – A recent addition to their largely Washington, Oregon and California-inspired wine list are their featured wines; a selection of three by-the-bottle wines rotated on a monthly basis. Inside the Heathman Lodge near Westfield Shopping Center, enjoy a glass of Washington Chardonnay with a plate of sautéed mussels or a glass of Barnard Griffin Cabernet Merlot with a meatloaf sandwich while warming up fireside under the massive Northwest logs  during 'Hudson's Hour' from 4-6 pm.
Total Wine & More – Every Fri, 4-8 pm, Sat noon-6 pm, Sun noon-5 pm complimentary wine tastings are offered at this beverage store located by Westfield Shopping Mall. Tasting beer and spirits, as well. Check out their calendar for upcoming special event tastings and classes which may include a fee.
Fred Meyer Orchards – Fri, 2-5 pm & Sat, 1-5 pm wine steward, Shawn Martin, hosts a two to three-wine tasting that he pairs with Murray's cheeses and focuses on lesser-known wines to broaden his customers' wine catalog.
Village Vineyard – Check out my recent detailed post about this gorgeous destination winery. Normal tasting room hours: Sat noon-6 pm, Sun 11 am-5 pm. Tentatively mark Sat, Dec 13 for a possible wine tasting with salsa and Cajun dancing, $15 includes wine & dance lessons.
North County
Confluence Vineyards and Winery – After a well-deserved Thanksgiving weekend off, Confluence kicks it back into gear this Sat. Tasting the bold and beautiful reds Confluence is known for Sat-Sun noon-5 pm.
Koi Pond Cellars – Sat, Dec 6 – Live music and $6 vin chaud glasses after the Ridgefield Christmas tree lighting. Mural and artwork by resident artist, Micah Boylan, grace the walls. Happy hour Wed-Fri from 4-7 pm. Open Wed-Sun.
Gougér Cellars – Wed-Sun enjoy Gary's award-winning wine line up with some non-alcoholic ice creams or food options that go beyond small bites. Live music some weekends.
Bethany Vineyard – Tasting their consistently elegant wines Fri and Sat noon-6 pm, Sun noon-5 pm., Bethany has a current wine list of 21 offerings from their floral and earthy 2009 Pinot Noir to their 2012 Free Run Cabernet Sauvignon made with the first juices after fermentation before the skins are pressed, giving it a lighter tannic style with the same black fruit palate cab is known for.
Three Brothers Vineyard – Wrapped up their Fall wine sale last weekend but plenty of award-winning wines to choose from. Their 2011 Sangiovese Reserve is a recent release that would be an excellent choice to warm up with over the next several rainy days. Tasting hours Fri 1-6 pm, Sat noon-6 pm, Sun noon-5 pm.
Pomeroy Cellars – Thurs, Dec 4 – and all other Thursdays through the month of December, Pomeroy will be open 5-9 pm with $4.75 glass pours, dinner-for-purchase and a game night. Sat, Dec 6 – 3:30-6 pm will be a do-it-yourself holiday gift and decoration party. The $50 fee will include all supplies and wine. Open Sat & Sun each weekend. Wed, Dec 31 – No plans for New Year's Eve? The first 40 people to sign up will be spending it with Dan & Destiny beginning at 6 pm. $100 includes dinner for two, a bottle of Pomeroy Cellars wine and live music.
Moulton Falls Winery –  Looking to release a Pinot Noir-based port-style wine soon distilled by Battle Ground's own, Double V Distillery. Fri, Dec5  – $5 on select glasses of wine from 4-9 pm, dinner from 5-8:30 pm and entertainment by guitarist Tom May from 6-9 pm. Sat, Dec 6 – Blues musician, Blind Ray, performs from 6-9 pm. Come try some seasonally-inspired  glühwein (German-inspired hot spiced wine) every Sunday from noon-6 pm.
Heisen House Vineyards – Take advantage of 50 percent off case sales through the month of December. That's a tremendous value for some excellent, locally-made, boutique wines. Featuring hand-made chocolates by Absolutely Beautiful  and try their two new holiday-inspired wines – Vixen and Santa's Helper. Open Sat noon-6 pm, Sun noon-5 pm.
Olequa Cellars – Wine maker, Brian Tansy, has a current lineup of 6 wines. He welcomes private tastings and his charming tasting room is open every other Saturday from noon-5 pm. I'm guess his next Saturday will be Dec 13 but give him a call to confirm. HIs 2013 Riesling has wonderful tropical notes but it's his estate-grown maréchal foch which he's releasing in the spring of 2015 as a rosé that has me intrigued. Wines by the bottle or by the glass.
Battle Ground Produce – The owner of Battle Ground Produce, Loren, knows his wine and enjoys offering complimentary tastings to customers most Fridays from 4-7 pm. Andreas, Rayne and Scott pour with insight, passion and friendly banter. There's usually something for the beer lover, as well.
Rusty Grape Vineyards –  Live music Wed-Sat from 7-9 pm. Check out their seasonally-appropriate Chocolate Syrah Port, sipping chocolate and vin chaud. The tasting room is toasty thanks to the relocation of their wood-fired pizza oven. Wednesday is 2 wood-fired pizzas for $15 and, beginning Nov 5 through the end of the year, a portion of Wednesday proceeds will go to a local charity. Thursday brings Thirsty Thursday from 4:3-6:30 pm with special prices on wines, beer and food and Sunday they do it again from noon-3 pm. Something's always going on at the Grape. Open Wed-Sun.
Emanar Cellars  – Thur, Dec 4 from 5-8 pm- Hosting a Spanish wines, Twi5ted Coffee and Whimsy chocolate pairing. Sat, Dec 6-Local musician, Michael McCabe playing from 6-8 pm. Featuring Bethany Vineyard & Winery's Petite Syrah by the glass this weekend as well as Christmas gift baskets. Emanar's also donating $2 of each Christmas tree ornament purchase to Rock Solid Teen Center – now there's an example of an excellent pairing. Enjoy their Spanish wines with Spanish tapas Thur-Sat from 4-9 pm.
Pasta GiGi's – Kathy is always cooking up a weekend special to go with her ever-expanding wine list. My favorite will probably always be her signature dish – crespelle, with sautéed wild mushrooms, and asparagus accented with a generous amount of truffle oil but my husband is a big fan of her chicken parmesan made with either red sauce or white. Amazing, fresh Italian food with a passionate wine staff like Lindsey, Kathryn and Brodie– a pairing made in Heaven.
C'est La Vie Crêperie – Wine-O Wednesday is marked by $1 off mimosas, spritzers and wines by the glass. Keri gives people an excuse to drink wine with the most important meal of the day – breakfast. Perfectly-flavored mimosas with such inspirations as mixed berry Napolean with chantilly creme. Très bon. Open Tue-Sat 8 am-3 pm.
East County
Vinotopia – Located inside Cascade Park's Cinetopia, Vinotopia has received Wine Spectator's Best of Award of Excellence for the last five years. Aside from the dizzying array of wines by the bottle, guests can enjoy ½ off bottles of wines on Wednesdays and tastes or glasses of wine from a selection of over 100 daily. Pair that with their Tightwad Tuesday pasta buffet or live music from 6-10 pm every Sat in their dining room and you have a no-fail date night.
BevMo! – Fri, Dec 5 4-7 pm & Sat Dec 6 2-5 pm, featuring holiday entertaining wines, 5 tastings, always complimentary unless otherwise indicated. On a recent visit I enjoyed the oaky, lightly buttery flavors of a 2010 Ghost Pines Chardonnay ($21) and was reveling in the silky seductive palate of the 2011 Ghost Bridge Cabernet Sauvignon from Napa Valley($28.95). Presiding over the pouring was a very pleasant and cheerful, Anna, accompanied by manager, Kristin. Low key, comfortable atmosphere.
Whole Foods – Hit and miss on whether wine will be tasted on a weekend, Whole Foods is featuring a selection from their Top 10 this Sat from 1-4 pm. Also tasting on Friday evenings from 4-8 pm but it's typically beer-focused.
New Seasons Market – Thu, Dec 4- Burnt Bridge Cellars is pouring wines at their celebratory First Thursday event from 4-7 pm. Wine and cheese pairings from 4-6 pm every Fri in December. Dec 5- Perrin Wines. Dec 12-Cor Cellars out of Lyle. Sat, Dec 13 – From 2-5 pm Garnier Vineyards outside Hood River. Dec 19-Ryan Patrick Vineyards. Dec 26-For A Song Wines. For last-minute folks, a complimentary bubbly tasting paired with small bites is scheduled for Tues, Dec 30 & Wed, Dec 31 from 1-6 pm.
Fred Meyer Fisher's Landing – Every Fri & Sat from 2-5 pm wine steward, Ernie Jones, aims for two tastings with occasional Murray's cheese pairings.
Roots Restaurant & Bar– My recent purée of cauliflower soup and spaghetti squash/chanterelle mushroom entrée was over the moon. An extensive list of quality wines by the glass or bottle are showcased. From Cakebread to Domaine Drouhin to L'Ecole, you'd be hard-pressed to choose wrong and from 3-6 pm Mon-Fri and 9-11 pm Fri-Sat, pair your selection with locally-inspired happy hour bites.
English Estate Winery – In addition to their Friday night dinners with live music that begins at 6 pm, all  month long English is helping folks shop local by brining local artisians into the Loafing shed. Sat, Dec 6 & Sun Dec 7 from 1-5:30 pm-Sew Sisters will feature they're beautiful up-cycled sweater dresses, the proceeds of which are donated to Facing Homelessness and For Your Glass Only (wine charms designed by a local artist. Dec 14 from 1-5:30 pm- Designs by Debbi (semi-precious stone jewelry made with love by Debbie) and Angie Smith's Photos (outdoor-scape cards, coasters, etc.). Dec 20 from 1-5:30 pm-The Twisted Gem (handmade wire/crochet jewelry, Marie uses Swarovski crystals and other gems, wood and other mediums), Dec 20 & 21 from 1-5:30 pm-Olive Juice Portland (upcycled material reused to make unique purses). The only winery open Monday from 4:30-7 pm with $5 glasses of wine to start your week off right.
Birch Street Uptown Lounge – Sun, Dec 7 – Come out and enjoy a lineup of Rhône wines, poured by the charismatic Dennis, beginning at 4 pm.. Think Côte du Rhône and Crozes-Hermitage. This week it's anyone's guess. This amazing wine and cocktail lounge celebrated 4 years on Dec 3. Live music every Fri and Sat night beginning at 8 pm to accompany classic cocktails, a thoughtful wine list and small bites.
Krystal's Champagne Lounge – serves up more than bubbly in historic Camas with a few specials featured every Friday night. Sparkling, wines and beers also available.
The Puffin Café floats along the port in Washougal. They have a limited and, quite frankly, not great wine selection but, if you're in the mood to feel the island vibe without leaving town – and who couldn't use a dose of the islands on a dreary fall day – this is the place to be (they have indoor seating). Their food menu is tantalizing and their wait staff is genuine.
**If you like what you're reading, follow Corks & Forks by clicking the 'Follow' button on the bottom right-hand corner or follow Corks & Forks (News/Media Website) on Facebook.