Monthly wine review complete with recipes and a sparkling for holiday parties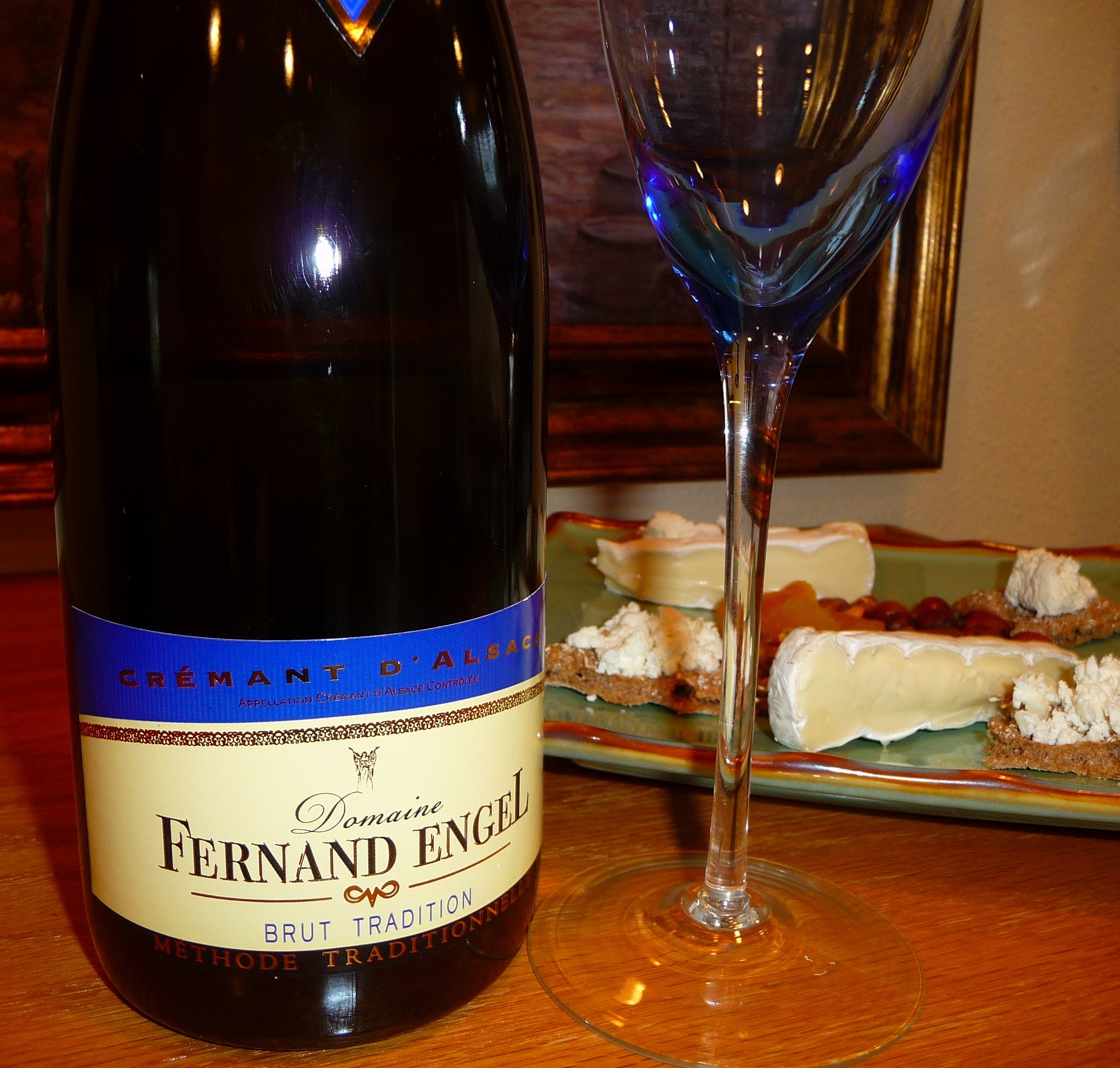 2013 Louis Jadot Pouilly-Fuissé – aka chardonnay. Looking for a wine to pair with the rich mouth feel and pepper seasoning of cream of zucchini soup (see below for recipe), this fit the bill just right. Its bright acidity complemented the smooth texture and mild flavor of the from-the-garden zucchini. The citrus nose gave way to a full-bodied wine with flavors of tropical fruit and a hint of creaminess that chardonnay is known for. Would also pair well with in-season butternut squash dishes. $22 at Fred Meyer.
2007 Marqués de Riscal Rioja Reserva – The main grape in every bottle of Rioja is tempranillo to which grapes such as garnacha, graciano or mazuelo are added to bump up the alcohol level and/or acidity. This wine presents purply red to garnet, evidence of its age, giving oak, savory spice, jammy to cooked fruit, really ripe blueberries and black cherry on the nose. Medium acidity, medium tannin and a velvety mouth feel gave way to flavors of toast, blackberry and vanilla. The savory notes in this wine make it particularly food-friendly with everything from pasta to grilled meats but I chose to pair its earthiness with mushroom risotto (see below for recipe). $18 at Fred Meyer.
2010 Argento Cabernet Sauvignon-Mendoza – Wines from South America can be a wonderful value and so it was with this cab sauv from the Mendoza region of Argentina. Its appearance was an inky black like blackberry with aromas of black berry to black cherry, smoky licorice, black pepper and black olive. The vegetal characteristics combined with high tannins, spice and black fruit leaning toward cooked or stewed fruit worked harmoniously with the earthy tapas spread (see below for recipe). I served up over crusty bread but cabernet sauvignon is a perfect match for quality cuts of meat. $13 at Battle Ground Produce.
Domaine Fernand Engel Crémant D'Alsace – Sparkling wines are often suggested as an aperitif in light of how well they go with party fare. A Crémant D'Alsace is made in the same way as Champagne without the pedigree so it's a wonderfully affordable option for the bright effervescence of bubbles. Equal parts pinot noir, pinot blanc and chardonnay, the bready characteristics of this Crémant worked well with the toasted nuts in the appetizer plate I paired it with as well as the goat cheese and brie although the goat cheese would've been a little less clumsy with a drizzling of fig jam over the top – a nod to the ever so slight sweetness of this brut style bubbly. $19 at Evergreen Wine Cellar.
Next review: Dec. 26. **If you like what you're reading, follow Corks & Forks by clicking the 'Follow' button on the bottom right-hand corner or follow Corks & Forks (News/Media Website) on Facebook.
Cream of Zucchini Soup
2 Tbsp olive oil
1 Tbsp butter
1 medium onion, roughly chopped
2 lb zucchini, trimmed & sliced
1 tsp dried oregano
2 1/2 C vegetable stock
1 1/4 C light cream (I always substitute 6 oz soft tofu for cream in soups)
coarse salt and freshly ground black pepper
Heat the oil and butter in a large saucepan until foaming. Add the onion and cook gently for about 5 minutes, stirring frequently, until softened but not brown. Add the zucchini and oregano with salt and pepper to taste. Cook over medium heat for 10 minutes, stirring frequently. Pour in the stock and bring to a boil, stirring. Lower the heat, half0cover the pan and simmer gently, stirring occasionally, for about 30 minutes. Process the soup in a blender or food processor until smooth, then press through a sieve into a clean pan (I never do this). Add two-thirds of the cream (this is where I add 6 oz soft tofu) and stir over low heat until hot but not boiling. Add more stock or water if the soup is too thick. Season with salt and pepper. Pour into heated bowls. Swirl in the remaining cream. Serves 4-6. Adapted from Vegetarian by Linda Fraser.
Risotto with Mushrooms
1/3 C dried wild mushrooms, preferably porcini
6 oz fresh cultivate mushrooms
juice of 1/2 lemon
6 Tbsp butter
2 Tbsp finely chopped parsley
3 3/4 C vegetable stock
2 Tbsp olive oil
1 small onion, finely chopped
1 1/2 C medium-grain risotto rice (Arborio)
1/2 C dry white wine
3 Tbsp freshly grated Parmesan
coarse salt and freshly ground black pepper
sprig of flat-leaf parsley, to garnish
Place the dried mushrooms in a small bowl with about 1 1/2 C warm water. Soak for at least 40 minutes. Rinse the mushrooms thoroughly. Filter the soaking water through a sieve lined with paper towels and reserve. Wipe the fresh mushrooms with a damp cloth and slice finely. Place in a bowl and toss with the lemon juice. In a large, heavy frying pan or casserole, melt 1/3 of the butter. Stir in the fresh sliced mushrooms and cook over moderate heat until they release their juices and begin to brown. Stir in the parsley, cook for 30 seconds more and remove to a side dish. Place the stock in a saucepan and add the mushroom water. Heat broth to a simmer. Heat another 1/3 of the butter with the olive oil in the same pan the mushrooms were cooked in. Stir in the onion and cook until it is soft and golden. Add the rice, stirring for 1-2 minutes to coat it with the oils in the pan. Add the soaked and sautéed mushrooms and mix well. Pour in the wine, raise the heat slightly and cook over moderate heat, cook until the broth is absorbed or evaporates, stirring the rice with a wooden spoon to prevent it from sticking to the pan. Add a little more broth and stir until the rice dries out again. Continue stirring and adding the liquid a little at a time. After about 20 minutes, taste the rice. Add salt and pepper. Continue cooking, stirring and adding the liquid until the rice is al dente, or tender but still firm to the bite. The total cooking time of the risotto may be 20-35 minutes. If you run out of broth, use hot water. Remove the risotto pan from the heat. Stir in the remaining butter and Parmesan. Grind in a little black pepper and taste again for salt. Allow the risotto to rest for 3-4 minutes before serving, garnished with a spring of flat-leaf parsley. Serves 3-4. Taken from Vegetarian by Linda Fraser.
Tapas Spread
1 large clove garlic, minced
1/2 onion, finely chopped
4 medium-sized mushrooms, finely chopped
6-8 sun-dried tomatoes, soaked in olive oil, chopped and with olive oil
8 black olives (Kalamata preferred), finely chopped
1 Tbsp Dijon mustard
1 Tbsp tomato paste
1 tsp dried rosemary
1/2 tsp dried thyme
1/4 tsp fresh black pepper
1-2 Tbsp olive oil
Put all ingredients in 10″ skillet. Saute over medium heat for 10-15 minutes until onions become translucent, garlic cooks and all ingredients incorporate well. Add 1-2 Tbsp live oil as needed. Serve over 6 warmed or toasted French bread rounds (2 1/2″). Makes 6 rounds; 2 servings. Original recipe by Viki Eierdam.