Wine in Clark County in 1976?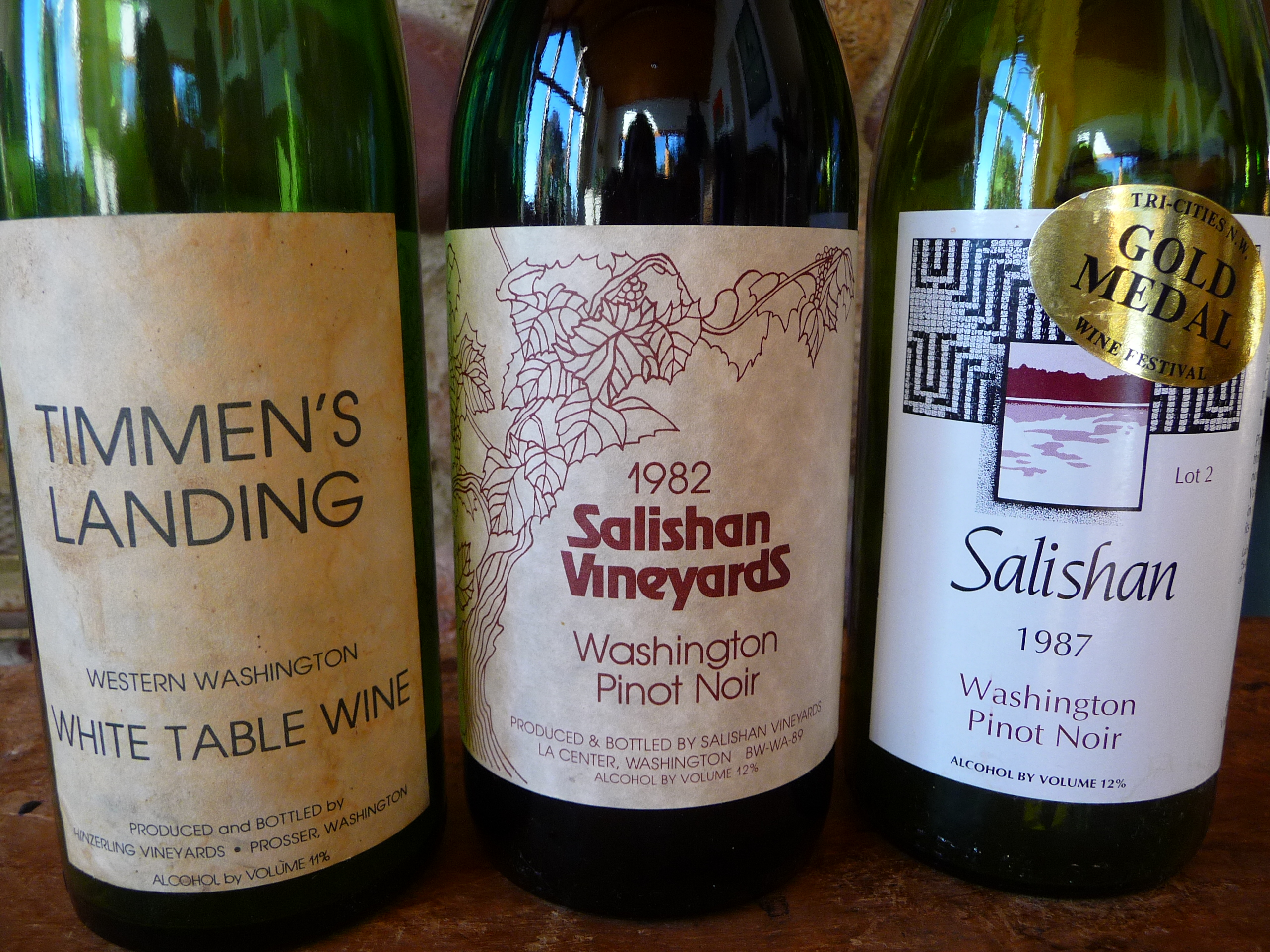 A history buff I have never proclaimed to be but there are moments in time or subjects in time that intrigue me. The fact that Clark County had a winery in La Center from 1976-2006 is of particular interest to me and it became more so when I discovered that the owners of that vineyard still call that sunny spot of land home and enjoy reminiscing about their years in the wine business.
So it was with an explorer's heart that I travelled the sun-drenched roads of North County yesterday to spend the afternoon with a couple whose hospitality knows no bounds. Due to the recent freezing weather we've had and the fact that their 40+ year old pinot noir vines are quite overgrown, I have no glorious photos to share…sadly…but the anecdotes and details of wine-making swirled in the air as smoothly and fully as the 1994 Salishan Washington Cabernet Sauvignon (all estate-grown) in my glass.
Yes, that's 1994! We began with a 2002 Chardonnay but it was, predictably, oxidized. The 2002 Pinot Noir was not bad but it had some caramelization around the edges so Lincoln reached for what he believed to be Salishan Vineyards' last edition-a blend of mostly 2004 cabernet sauvignon with a bit of raisiny and overly tannic 2003 pinot noir. That bottling would've explained the velvety mouth feel though there were none of the earthy characteristics commonly found in pinot noir. Joan and Lincoln didn't realize until after I left and they were putting the bottles and glasses away that he'd opened the 1994 cabernet. It was a prime example of how the high acids and tannins of this grape variety make it the premier red for aging. An exciting field trip, to say the least.
Among the 12 acres, very little was dedicated to cabernet sauvignon but, in moderate summers with the temperate falls we're prone to having, it obviously met their expectations which caused me to think of the quarter acre of cabernet sauvignon planted to the east at English Estate Winery. Andee Mowrey was sharing with me just a couple weeks ago that when theirs is released (as it will be over Thanksgiving weekend), it goes quickly.
We may not have the lineage of the Willamette Valley but I believe we have a richer wine history in our area than folks realize and the pioneering spirit of Lincoln and Joan Wolverton, who dared to plant grapes in SW Washington in 1971 when so many experts were telling them it couldn't be done, should be celebrated and not forgotten.
**If you like what you're reading, follow Corks & Forks by clicking the 'Follow' button on the bottom right-hand corner or follow Corks & Forks (News/Media Website) on Facebook.