Several area wineries open today and Moulton Falls Winery has plenty of reasons for a drive in the country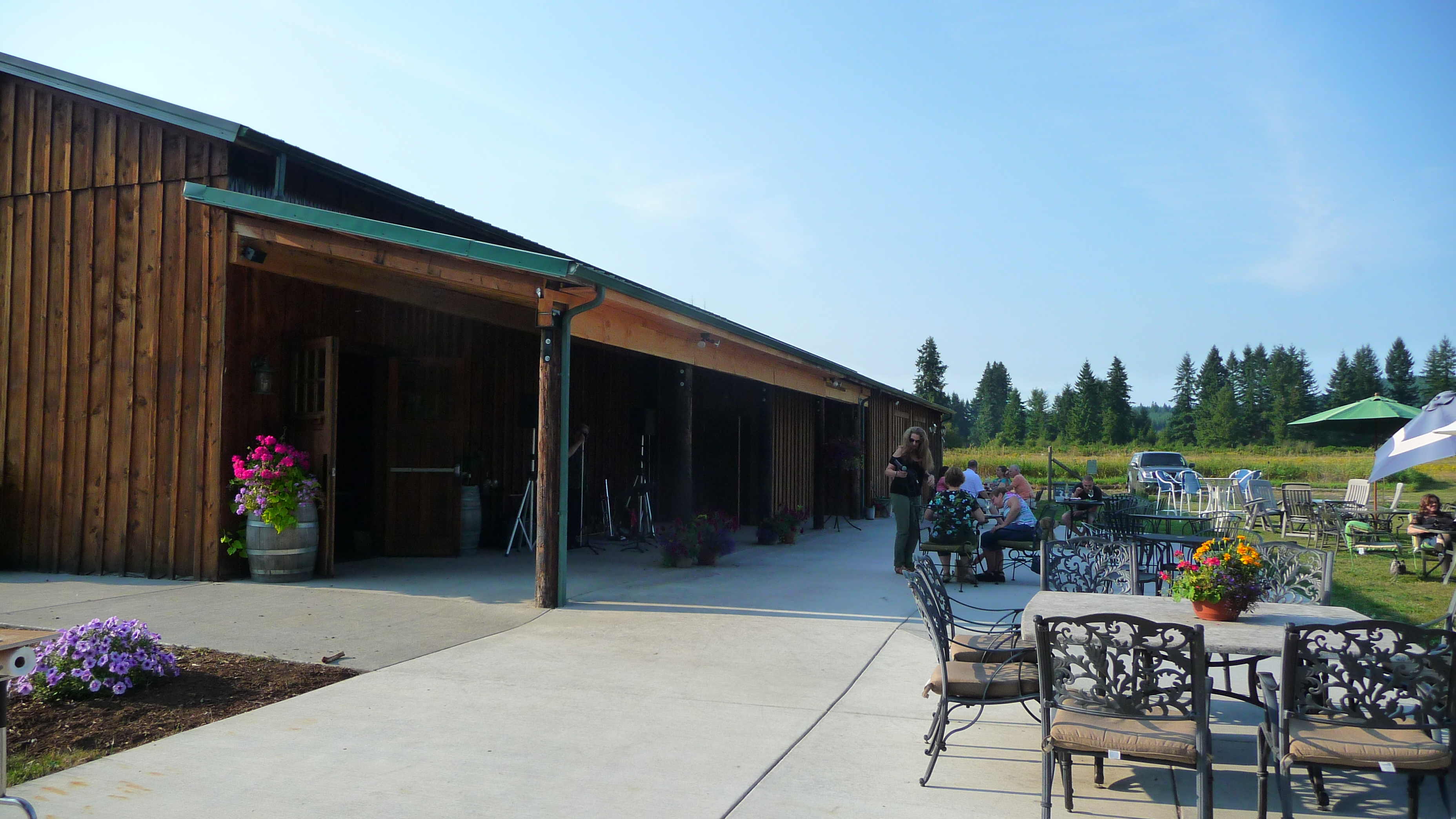 Just a quick note that several area wineries are open today for the Labor Day holiday. Confluence Vineyards and Winery are only open from 2-5 pm so be sure to check Facebook pages before venturing out. Others include: Koi Pond Cellars, Rusty Grape Vineyards, Moulton Falls Winery, Three Brothers Vineyard, and English Estate Winery is extending their normal Monday hours.
Memorial Weekend of 2012 the doors to Moulton Falls Winery in Yacolt opened for business. Owner and winemaker, Joe Millea, presided over the tasting room along with his then-girlfriend-now-wife, Susan. People were greeted by some very nice wines and their 140-pound Golden Retriever/Great Pyrenees mix, Jake.
Between the winter holidays of 2013 and August, they've made some modifications to their building and grounds in order to be in compliance with requirements set forth by the Clark County Community Development Office. The County has given Moulton Falls Winery the green light and now Joe and Susan are ready to focus on wine, an expanding food menu and some extremely talented local musicians.
Wine offerings include their Big Jake Chenin Blanc which is a tribute to their winery dog, a slightly sweet Riesling with a hint of spice made in the German style, a brand new Syrah/Petit Verdot blend and an aromatic and well-balanced Sangiovese.
Moulton Falls sources fruit from the Red Mountain AVA (American Viticultural Area) in Eastern Washington and the Columbia Valley AVA, a little closer to Clark County.
The Chelatchie Prairie Railroad, which has been increasing its train rides over the years as they've raised money to improve and extend the line, runs right past Moulton Falls so the two began partnering after the winery opened to offer four wine runs a year. The next one is scheduled for September 13. Riders meet and are picked up at the winery, taken on a two-hour excursion through the picturesque landscape of North County and then dropped back off at the winery where ticketholders are treated to a free tasting of Moulton Falls' current releases.
Expanding on his 'support local' theme, Millea has set up the same offer with visitors to the Cedar Creek Grist Mill in Woodland, the Lelooska Museum in Ariel, and North Clark Historical Museum in Amboy. His desire to showcase the natural beauty of the area is gaining speed.
"We're getting a lot of people from Portland who find out about Moulton Falls. A lot of college kids who want to go swimming (search the internet) and find our winery near the parks (Lucia and Moulton Falls). I'm working with a lot of businesses up here to promote tourism, to showcase just how gorgeous it is up here and how much there is to do," Millea said.
The quality of talent interested in performing at the winery from Vancouver and the Portland folk scene is a compliment to the stunning natural beauty of the area and the terrific audience coming out to appreciate these musicians.
Names like Terry Robb, one of the top acoustic blues guitarists in the world, Grammy award-winning guitarist, Doug Smith and acclaimed folksinger, Tom May, who's toured all over the US, Canada, Europe and used to play with Gordon Lightfoot, are just a few examples of the caliber of musicians that shine up at Moulton Falls.
On a recent Saturday night I enjoyed a mushroom pizza drizzled with truffle oil while sipping on a glass of their Sangiovese listening to Doug Smith accompanied by his wife, Judy Koch-Smith, who is also an accomplished jazz flutist, and folk-rock acoustic guitarist, Don Mitchell, who has a natural comedic talent that is absolutely endearing.
Not only was I fortunate to enjoy all this but I saw first-hand how friendly the local crowd really is. I was invited to join Clark (a regular at Moulton Falls who comes out from downtown Vancouver for the finger-picking music) at his table and his appreciation for the style of music being showcased at Moulton Falls was infectious. Joe and Susan are certainly on to something and the town of Yacolt is darned lucky to have them so close.
Moulton Falls Winery is open Fri 4-9 p.m., Sat noon-9 p.m., Sun noon-6 p.m. and located at 31101 NE Railroad Avenue, Yacolt. For more information, call (360) 686-4070, go to www.moultonfallswinery.com or connect with them on Facebook.