Winery on the grounds of historic Pomeroy Farm open this weekend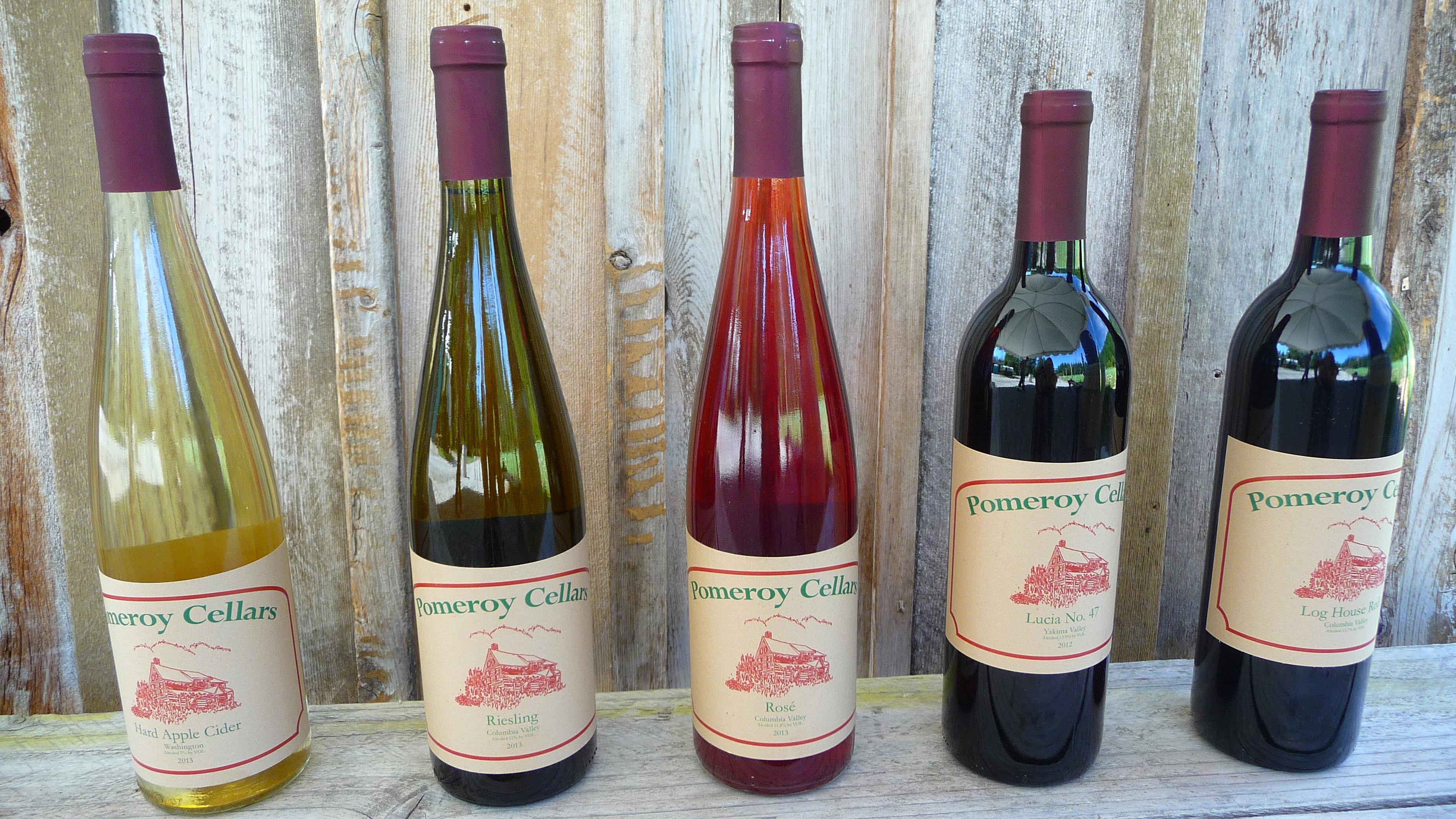 On the grounds of the 114-year-old Pomeroy Farm sits the newest winery to join the burgeoning wine scene in Clark County and, judging from a recent tasting, Pomeroy Cellars is sure to become an area favorite in quick fashion. Although the Grand Opening is set for September 20, Pomeroy has been hosting informal tastings on the weekends since Memorial Weekend.
Winemaker, Dan Brink, the great-great-grandson of farm founder, E.C. Pomeroy, is looking to add his mark to the family's legacy.
"The goals I had when I started, I wanted to have really excellent wine and I wanted to provide a really awesome setting for people to come enjoy and kind of a cool vibey tasting room that fit with the rest of the farm," Brink said.
His 2013 Hard Apple Cider, while not specifically going for a cider typical of the Normandy region of France, definitely leans that direction although there is no carbonation. He best describes it as an apple wine, drier than what folks have come to expect of the exploding popularity of hard ciders in the Northwest.
Brink uses the term kabinett to describe his 2013 Riesling which is a German phrase used, among other things, to describe it as a semi-sweet wine as opposed to a sweeter Riesling. With the warm summer area residents have been experiencing it's understandable that this Riesling is currently their most popular wine. It's a dry wine (trocken if we're staying with German terms), has a beautiful, floral nose and a clean minerality.
A dry Rosé with a lovely cranberry color, created by leaving the juice in contact with the skins for 36 hours, hints to its aroma and flavor profile. This Rosé is 100% dry with soft tannins and raspberry on the nose as well. It'd make a lovely patio wine or pair nicely with traditional barbecue and summer salads.
Pomeroy's Bordeaux-style 2012 Lucia No.47 blend was my favorite because, as I've said in past posts, a wine that can drink well on its own and stand up to food will usually win out with me. Made of equal parts Cabernet Sauvignon, Merlot and Syrah, it has a big bold nose with deep cherry in the aroma and palate as well as pepper. Brink believes it will age well up to 15 years and I can imagine it evolving from plum to fig as time marches on.
Brink's Lucia No. 47 is a nod to his great-grandma Angelina who was a school teacher in the Lucia Falls School District which was designated number 47. While she was there, the student body grew too large for the school house so a new one was built. The wood from that school house was used to make the blacksmith shop that stands on the Pomeroy Farm.
Their Rhone-style Log House Red non-vintage blend rounds out the offerings currently available. Made primarily of Grenache with Syrah and a bit of Petite Syrah, Log House is Pomeroy's biggest red -full bodied, more pepper, drier, leather, tobacco. It's a weighty wine with round tannins that scream for high-end grilled meats and isn't afraid of spice.
Grapes are sourced from Yakima and Columbia Valley although Brink's growing a block of Pinot Noir and another of Siegerrebe to experiment with estate wine in a couple of years. I was first introduced to Siegerrebe – a Germanic variety similar to Gewurztraminer – years ago when my mom and her husband moved to the base of Mt Baker, down the road from Mount Baker Vineyards. It's one of the six varietals that this Cascades winery continues to grow on site and I think Pomeroy will have equal success given its growing season.
Together with his girlfriend and operations manager, Destiny Fuller, Brink is looking to honor his family's heritage and take advantage of the sweeping vistas that surround them. Set in the midst of the vast 677-acre farm, people can enjoy wines by the glass or by the bottle at an inviting picnic table, pair the wine with a gourmet meat and cheese plate or hummus platter and even play a game of Bocce on the lawn. Outside food is allowed and leashed dogs are also welcome in outdoor spaces only.
Brink said "One of the cool things that we offer, that not a lot of other wineries offer, is this view and this setting to come out and enjoy."
Pomeroy Cellars' Grand Opening is scheduled for September 20th from noon-8 p.m. A Bocce ball tournament will be one of the days' highlights as well as live music by Jeff Hill, dinner available for purchase courtesy of Mill Creek Pub and complimentary chocolate pairings by Whimsy Chocolates.
Pomeroy Cellars is currently open Sat-Sun from noon-6 p.m. at 20902 NE Lucia Falls Road, Yacolt. For more information, go to www.pomeroycellars.com, connect with them on Facebook or call (360) 686-3785.