Koi Pond Cellars will be open from noon-5 pm on Labor Day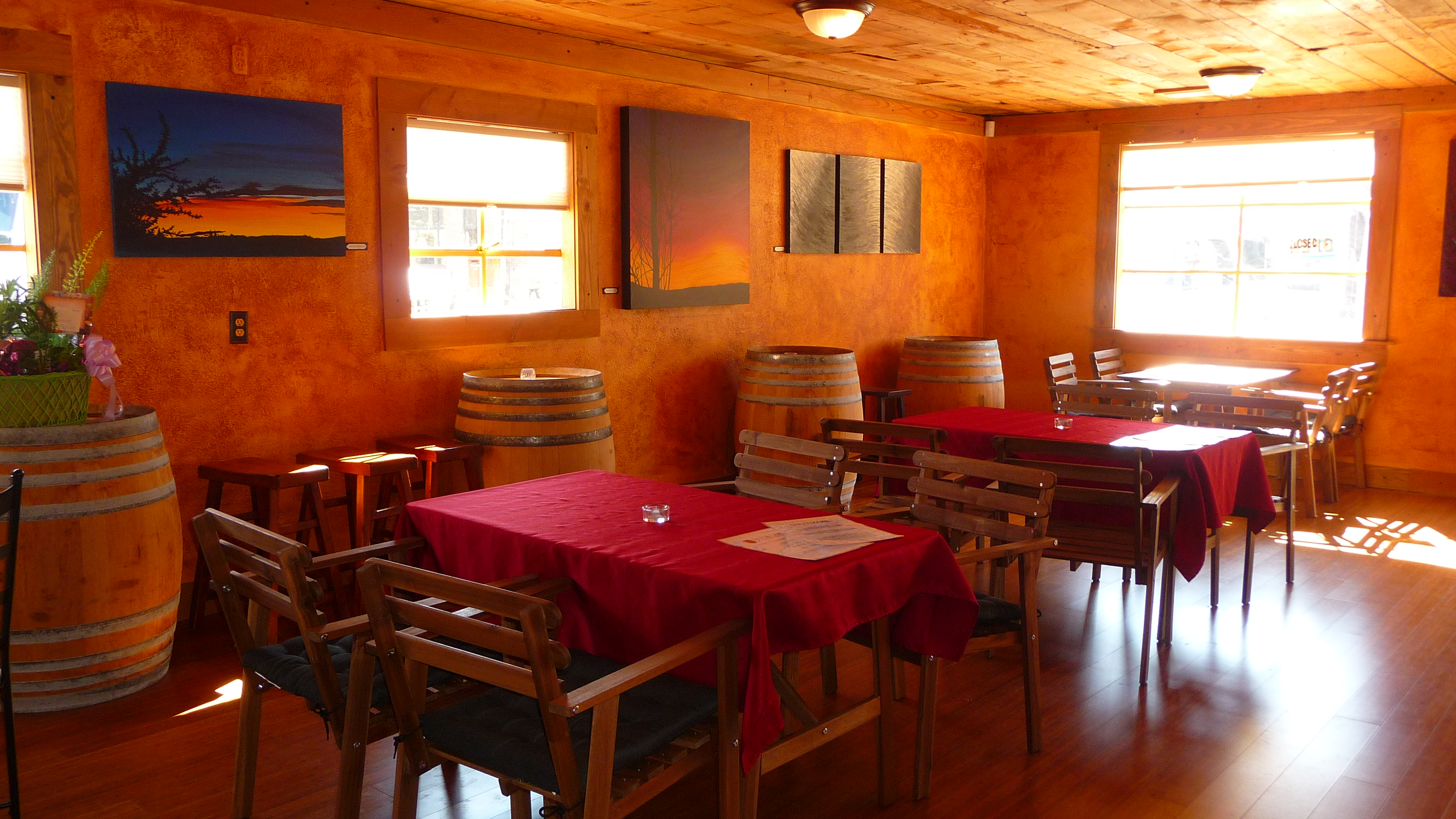 Koi Pond Cellars has been making wine for a couple years and tasting intermittently at their location next to Shorty's Nursery in Ridgefield but on June 28 of this year they held a Grand Opening for a full-fledged tasting room that's open Tuesday-Sunday in downtown Ridgefield.
Yesterday, after a pleasant walk around the trails of Whipple Creek Park with Challenge and Baby Girl and an even nicer picnic in the shade of Overlook Park where Ridgefield holds their weekly Farmers Market, we headed to Koi Pond Cellars to check out their new digs and taste their offerings.
Koi Pond is co-owned by husband and wife, Wes and Michelle Parker as well as their cousin, Jesse Grillo. Michelle was capably managing the tasting room on Tuesday and we enjoyed picking her brain for a couple hours and swapping stories about the expanding wine scene in Clark County.
Their current line-up is balanced with a semi-dry white, sippable and food-friendly red, bolder Cabernet Sauvignon and a surprising dessert wine.
The non-vintage Geisha White is considered a Rhône-style due to the presence of Viognier, Roussanne and Marsanne which they rounded out with Grenache Blanc (another Rhône-style grape seen in the south) and Sauvignon Blanc. Strong green grape on the nose with a slight spice, as well. The flavor profile is mainly citrus with a clean minerality and spice returns in the finish. Obvious accompaniments would be shrimp, scallops, halibut, Thai food. It's versatile in that it's a great sipping wine and the profile would be enhanced with food. Dry Creek Valley AVA of California, $16.
Next up was the non-vintage Geisha Red. This was probably my favorite because I prefer reds and it was more versatile than the Cab – sip it or pair it, it's nice either way. 80% Zinfandel and 20% Petite Syrah make up the Geisha Red. Again the grapes are sourced from the Dry Creek Valley AVA of California – brilliant of Koi Pond as California has a long and successful history with Petite Syrah and Dry Creek is one of the best regions for Zin. No surprise then that this Geisha Red was immediately approachable while still retaining its full body. The expected spice and pepper were present (love that), medium tannin, some Cola and a light plum (that'll probably age into a deeper plum). $19.
At $58 a bottle, the 2012 Walla Walla Cabernet Sauvignon seems a gamble for a new winery but it's an excellent wine that already hints to aging beautifully so time will tell if Koi Pond can amass the following to support their desire to work with quality Walla Walla vineyards. It's also going on a tempting sale as of September 1 – 30% for a case, 35% off per case for club members – for the entire month (or as long as supply lasts). Aged in French oak for two years, this Cab Sauv has all the beautiful components a fan would expect; leather, earthy, dry, elegant. Michelle was tasting some green pepper that wasn't there a week or so ago, another indicator of the greatness of Cab which is known to have the best aging capabilities of any wine. This is a wine best appreciated with food. Steak and prime rib for meat lovers are two go-to choices. Eggplant and Portobello mushrooms drizzled with balsamic vinegar for vegetarians. A bold cheese plate would not be out of the question like Manchego, Asiago, and an assortment of blue-veined cheeses. $58.
A wine flight at Koi Pond ends as beautifully as it begins with Elle's Cocoa Syrah. It's a port-style dessert wine fortified with brandy. The nose is immediately hot and balanced with the scent of chocolate and brandy. Definite chocolate and brandy in the flavor profile with a nice round finish. This is a dessert wine that's a bit dangerous in that it's not syrupy like a lot of dessert wines can be. It's so well balanced and elegant that I might be inclined to drink a 4-6 ounce glass and already be looking forward to the next night to have another. I've had a lot of port-style wines that I've enjoyed but, again, Koi Pond seems to have backed off the sweetness just enough to allow for a little more flexibility with the consumption of this Cocoa Syrah. A home run in my opinion. Walla Walla AVA, 18% alcohol, $28.
Aside from the inviting tasting room with art displayed by Micah and a friendly greeting from their Fox Terrier, Bella, Koi Pond has small bites available, happy hour Tue-Thu from 4-7 pm and lots of events scheduled including live music. It is a dog-friendly tasting room for well-mannered dogs on a leash. We even snuck our not-dog-friendly pups in when Michelle's kids took Bella on a walk. That was extremely sweet of them.
Koi Pond will actually be open noon-5pm on Labor Day with $5 wine flights and happy hour prices all day. That's also the day their Cabernet Sauvignon sale begins so glasses of that will be $10 each.
Koi Pond Cellars is located at 118 N. Third Ave. Currently open Tuesday-Friday 1:00-7:00pm, Saturday noon-7:00pm and Sunday noon-5:00pm.