White wine continues to beat the heat and pair well with garden-fresh kale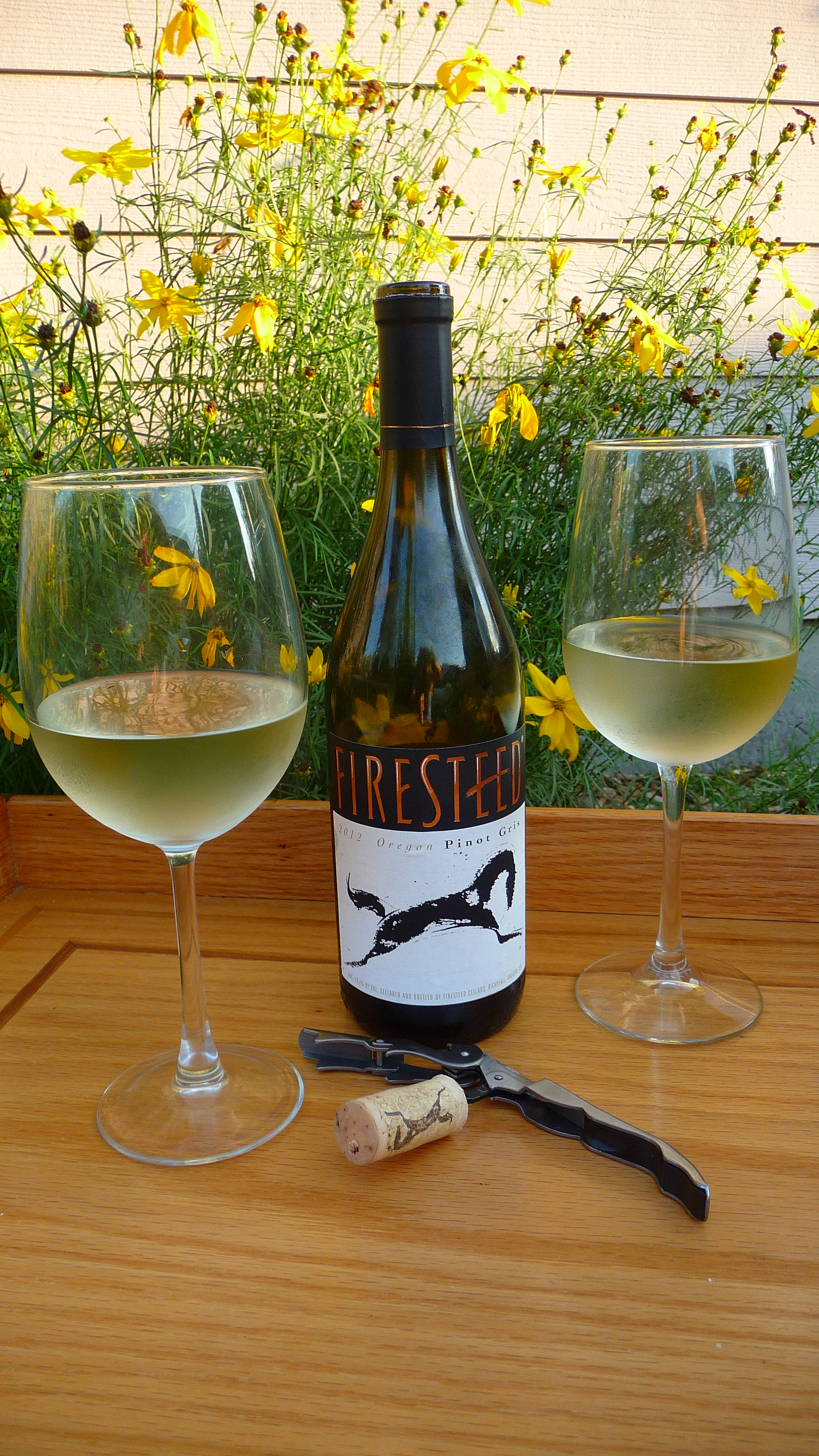 When feeling hot, hot, hot what's a girl to do but keep choosing white wine. 2013 Fire Road Sauvignon Blanc and 2012 Firesteed Oregon Pinot Gris have been two recent purchases. Along with the kale from our garden, they've both paired nicely with a take on Spinach Salad with Apple Vinaigrette, modified a bit for the kale and slightly different acidity and sugar levels of each wine.
2013 Fire Road Sauvignon Blanc is from the Marlborough region of Australia and, you well know by now, that's my favorite area for a Sauv Blanc. This Fire Road didn't have the lemon/lime citrus I'm accustomed to but, rather, grapefruit. Not a tart grapefruit but the nose as well as the taste were a refreshing distinct grapefruit. The pairing that really resonated with me was grilled halibut. That would be wonderful. 13% alcohol, purchased at Battle Ground Produce for $14.
I enjoyed reading the back of the bottle so much that I thought I'd share. "Marlborough's worst ever fire, Boxing Day 2000, burnt 6,000 hectares, for over three days, killed thousands of stock and threatened the wine town of Blenheim, as well as a number of vineyards and wineries.
Disaster was avoided by the brave residents, of what is now known as Fireroad, who battled the blaze, by using buckets and hand held hoses and were eventually assisted by a fortunate wind shift." Amazing story, huh?
Next up was the 2012 Firesteed Oregon Pinot Gris. Oregon is one of the top regions for Pinot Gris which makes sense when one realizes that it's a cousin of Pinot Noir, the darling of the Willamette Valley. Interestingly the back of this wine bottle says it's considered the optimal wine to serve with salmon which is quite true of Pinot Noir…drizzle the fish with a blueberry sauce and you'll look like a native Northwesterner no matter where you're from.
I don't personally think I'd serve the 2012 Firesteed with salmon and I have to be the biggest salmon fan I know. It seemed too acidic to me to do that but wine is all about personal preference. The scent of mineral, light grape fruit, green, raw grape and some lime caught on the nose. Again, medium acidity, light in body leaning toward a buttery Chardonnay and some apple but not tart. 13.7% alcohol, purchased at Battle Ground Produce for $12.
So this Kale Salad was too sweet with the Sauvignon Blanc. I'd take the sugar down to ¼ cup for the Sauv Blanc and leave it at ½ C for the Pinot Gris. It actually made A LOT of dressing. I think two large bunches of kale is a better amount if it's all tossed well to coat.
Kale (Spinach) Salad with Apple Vinaigrette
One – two bunches of kale, washed, stems cut away and chopped
½ C granulated sugar
½ C apple cider vinegar
2 tsp grated sweet or purple onion
¾ C finely chopped apple
1 tsp mustard
½ tsp salt
¼ C vegetable oil
Dash cayenne pepper (1/8 tsp)
¼ C pecans, chopped
Whisk together all ingredients except kale. Refrigerate kale and dressing separately until serving time. Pour dressing over kale just before serving and toss. Serves 4.
**This is not my original recipe. I modified it from a recipe at southernfood.about.com.