Saturday was a great day for a backyard party and a smoky bottle of Zinfandel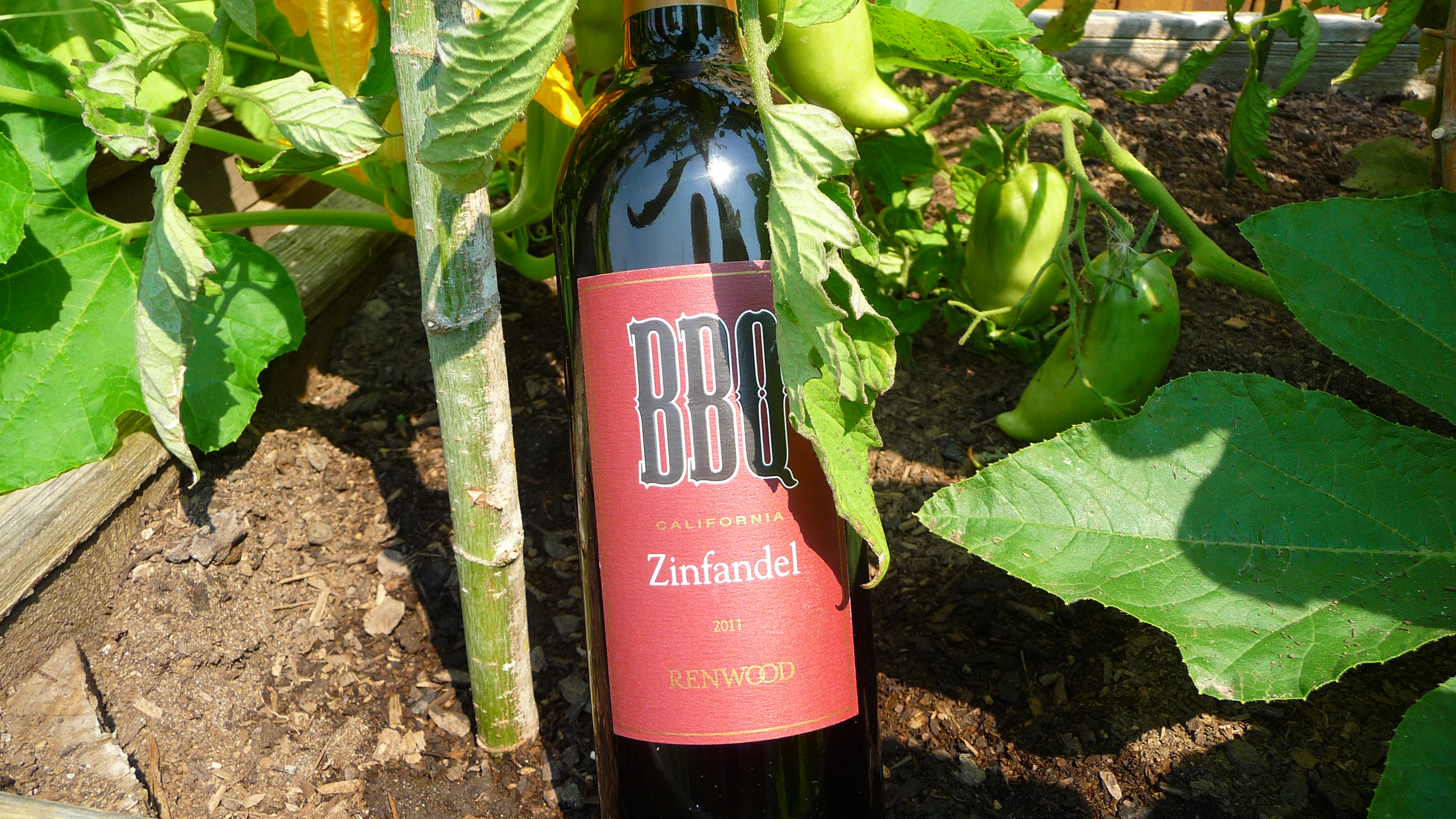 Saturday we spent the afternoon and into the evening at a backyard barbecue that we were invited to. Barbecue=Zinfandel. Even though I don't eat meat, it made sense to me.
A couple months ago we'd been at a Friday night wine tasting at Battle Ground Produce where we picked up two bottles of Renwood's 2011 BBQ Zinfandel from California for $12/bottle. We happened to have a bottle left so off we went with a bowl of Wheat Berry Salad as our side dish contribution.
For the record, the Zinfandel would not have been a good accompaniment with the Wheat Berry Salad so that's why I drank it first. Well, that's the excuse I'm giving because to say that I just drank two glasses before having any food makes me look like I lack temperance. Now I don't want to admit that. I'd rather give the appearance of having the forethought to avoid a poor wine/food pairing.
Allison threw a great party. I got a huge kick out of the vegetable crisper drawer filled with Jell-O shots that she kept walking around to people like the perfect hostess. Her backyard was filled with intimate seating, plenty of space for the kids to romp around and great landscaping accents like mason jars mounted to the fence with fresh flowers in them. I thought that was so clever but had nothing to take a photo of them with. The party spread into the front yard with kids playing in the cul-de-sac, groups visiting in the grass and men milling about 'supervising.'
This is only the second time I've been to Allison's house but she's a girl after my heart. Along a buffet in her kitchen was a line of glassware. She made an announcement that these were all items she wanted out of her house so anyone was welcome to whatever they wanted on the condition that they truly took them from her house. The only other option for my wine was Solo cups and, since wine tastes horrible in plastic, I snagged the biggest martini glass she had and walked around with my wine-tini (which is actually a drink I've had in Dallas but it was very sweet). It's now washed up sitting in my Goodwill box. I do not like to acquire things. They breed.
Just a low-key, very nice way to spend a summery Saturday afternoon. Thanks, Allison, for the invite and the excuse to enjoy my last bottle of 2011 BBQ Zinfandel.
Back to the wine. The meat being served was barbecued pulled pork. Now that would be a wonderful food pairing with the BBQ Zinfandel. I'd say this smoky Zin was nearly created for that or steak, burgers, ribs. It'd also be great with barbecued vegetable skewers. A little green pepper to go with the touch of green pepper on the nose. Mushrooms for the earthiness of the wine. Eggplant to compliment the pepper on the palate. Slices of red onion would be on par with the spice notes.
Guess I should've brought some vegetable skewers because that would've been AMAZING.