Location, location, location…East Fork Cellars nailed it.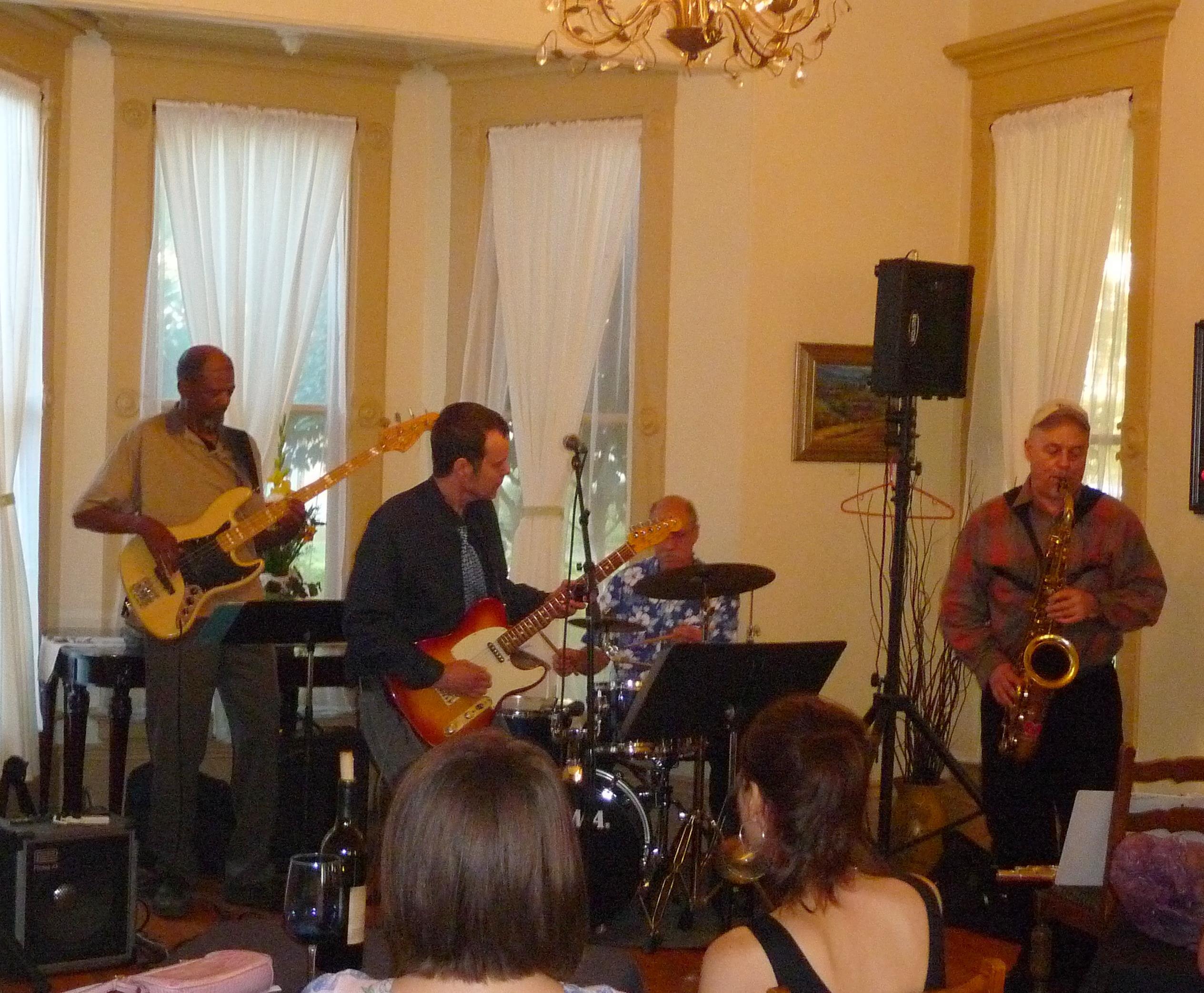 This past Saturday night we spent a relaxed summer evening listening to live jazz at East Fork Cellars, perfectly situated in the middle of all the downtown Vancouver action in Esther Short Park.
We met our friends, Steve and Karin, and, for a few hours, enjoyed the sounds of Thee Aristocrats, a local jazz band made up of Alex Jones, Bob Blaidell, Christopher Read and Jerrold Fentress. Their electric guitar, bass guitar, drums, sax and flute can be heard in clubs around Portland and wineries in North County. The four of us wished the sax had its own mic because that's our favorite instrument and the electric guitar seemed to drown everything else out BUT we really enjoyed the group. They play a mix of instrumental and vocal numbers which keeps things interesting and adds another dimension to them.
What we also enjoyed, of course, was the wine and the setting itself. Many Vancouver folks may remember that East Fork's original location had been next to Pacific Northwest Best Fish in Ridgefield since 2008 (closed in April 2014). That's where owner and winemaker, Jeff Waddell, along with his business partner, Stacey W. Stroup, established a wine and music following. Waddell's been a professional musician for 30 years, touring with Tommy Two Tone, Cheap Trick, Ted Nugent and REO Sweedwagon to name a few. He still performs with other bands from time to time and plays lead guitar in East Fork's house band, Les Cellar Rats.
In June, at the second annual Craft Winefest held in Esther Short Park, East Fork garnered Double Gold for their Cellar Rat Red and Double Gold for their 2012 Dry Riesling. The honors were determined in a double-blind tasting and chosen from 23 participating wineries.
All their wines currently available are made from grapes sourced from the Columbia Valley AVA. Their 2012 Dry Riesling has notes of lemon and citrus with medium acid, medium body and a pleasant minerality. It'd be wonderful with medium cheeses, a light pasta dish, Thai food and artichokes. $15 a bottle
A nose of deep cherry and tobacco is prevalent in the 2011 Cabernet Sauvignon. It's higher in tannin with a lovely cherry to light cranberry taste. A great dinner wine. $28 a bottle.
Their Expedition Red is a blend of Barbera, Tempranillo, Sangiovese & Syrah. These are mainly Italian grapes so dig deep into your inner European. Thick meat sauces or red sauces over pasta, even pizza with spicier, better-quality meats. Of course I'd go with Portobello mushroom drizzled with balsamic vinegar. Thicker, heavier, but not spicy like Mexican or Spanish, food. This is not a patio sipping wine and the purpose of it would be lost on that, frankly, unless you wanted to pair it with strong cheeses like blue-veined or, better yet, blue-veined cheese crumbled on meat or over a salad dressed in balsamic. Medium tannin, dry, cranberry notes. $27 a bottle.
Cellar Rat Red is a versatile wine. It's a blend of Cabernet Sauvignon, Merlot and Syrah. While this blend showcases three full-bodied wines, the result is an approachable sipping wine as well as a wine to elevate a meal with. Merlot softens the edges of the Cab and Syrah brings another dimension to the party, namely a little pepper, spice and a hint of smoke. I'd pair it with salmon dressed with a mustard sauce or a dressed-up eggplant dish but premium cuts of meat would be an excellent accompaniment for meat lovers. $24 a bottle.
Another fun fact about East Fork is that outside food is allowed at the tables while listening to scheduled, live music inside their Slocum House Tasting Room or you can order off a menu that Hilton Hotels' Grays at the Park put together to pair with East Forks' wines. Kind of an added bonus there, I think.
Oh, and a special nod goes to Lynda Lathrop. She has to be one of the most accommodating and knowledgeable ladies presiding over a tasting room. Truly, if you go in and she's pouring, soak up her plethora of wine wisdom.
East Fork Cellars is located at 605 Esther Street, Vancouver. Contact (360) 750-8000 or go to www.eastforkcellars.com.