Pinot Grigio, Crespelle and Cannoli on the veranda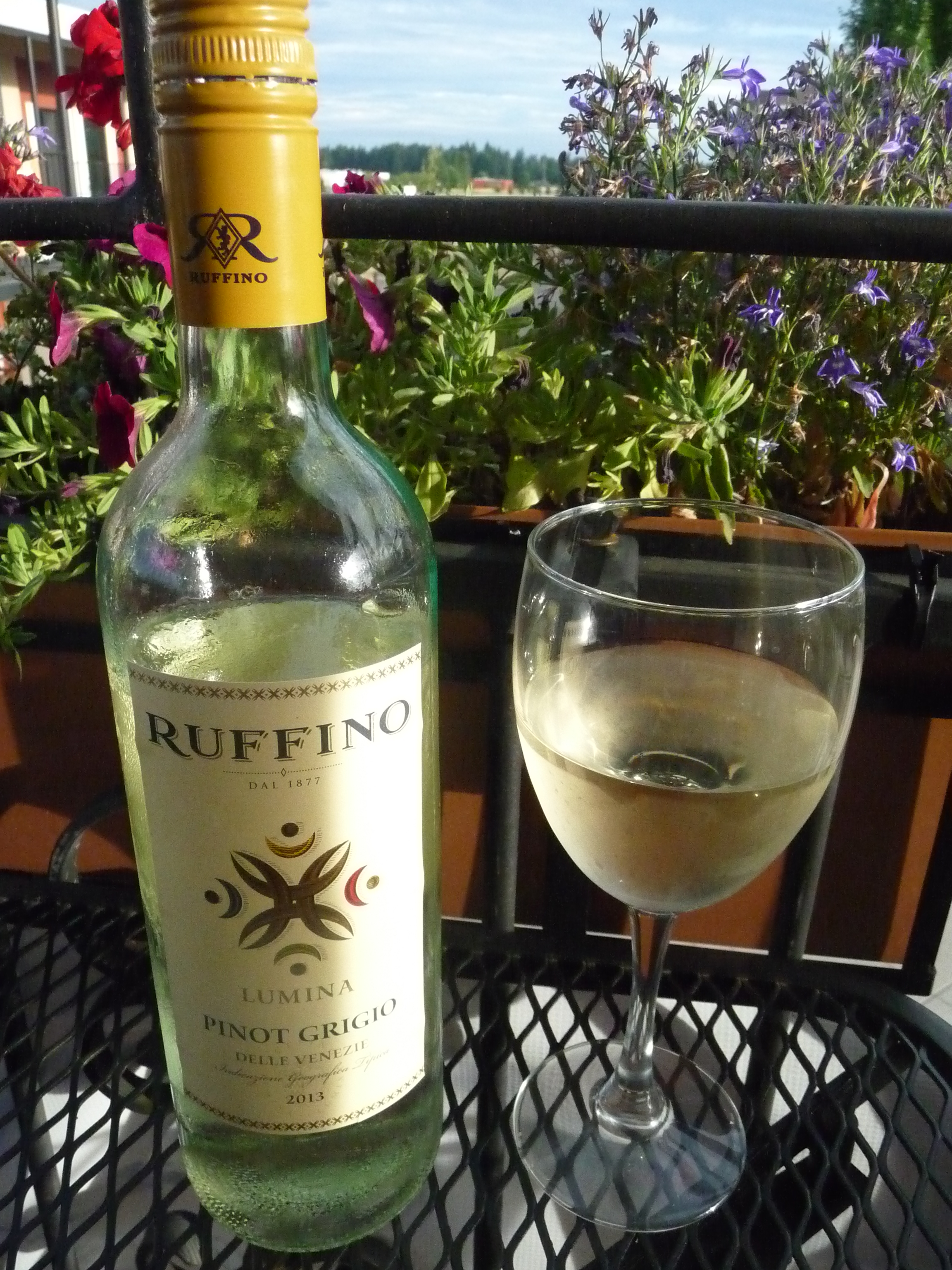 The other night our dining experience had my husband and me reminiscing about a near-and-dear-to-us restaurant that closed suddenly and left us rather lost with our Italian cravings.
Since 1957 Sylvia's Italian Restaurant on Sandy Boulevard had been welcoming diners. My dad used to take me to Sylvia's when I was a teenager. I introduced the place to my husband. We took my niece, Chantal. My sister has memories of their wonderful food. We introduced close friends to their rustic Italian charms and menu. Alas, it closed unexpectedly in 2005 leaving their wait staff as stymied as their faithful patrons.
But I digress. Sitting on the balcony of Pasta GiGi's watching the sun slowly make its way to bed on Monday night we felt blissfully at peace with our Italian bistro choice. In her second day on the job our server, Kathryn, nailed it by being accommodating but not ever-present and always cheerful.
First up was a pleasant bottle of Ruffino Pinot Grigio which just fit the evening. Light, crisp, slightly citrusy and a little floral. Dan's side Caesar salad had chunks of fresh Parmesan which more than hinted to the quality we could expect from our main course.
The view was lovely. The wine was nice. The staff was pleasant. Okay, the Crespelle (Pasta GiGi's signature dish) and Chicken Parmesan knocked it out of the park.
To quote an oft-quoted movie 'you had me at' truffle oil. I've seen truffle oil on other menus. Truffle oil fries, I won't mention names, but they must be using 1/8 teaspoon because I'm hard-pressed to be able to taste it. Pasta GiGi's is not scrimping on this too-rarely used, decadent oil. Crespelle is a crepe "filled with steamed asparagus, ricotta cheese, sautéed mushrooms and parmesan with a cream sauce, drizzled with truffle oil."
The truffle oil married with fresh mushrooms just sent me over the moon with joy. It's such a rich flavor that one can actually go with less of the heavy cream sauce that's so often doused on pasta dishes because truffle oil elevates any dish it accents. Chunks of fresh parmesan again made an appearance. I savored each bite and am looking forward to my next excuse to have another.
My husband insisted he hadn't enjoyed a dinner like that since we were in France for a day back in May (for our Spain/Portugal trip). The marinara sauce of his Chicken Parmesan was fresh. The chicken had a range-free taste (don't know if it actually was) and the bed of pasta it was on only added to the frenzy he was in. Just when he was sure it couldn't be improved upon, our hostess, Lindsey, told Dan it's even better with the fettuccini sauce. Guaranteed he'll be back to try that.
Not that we needed anything more after our meal but the serving of Cannoli took us both back to Boston. I swear they have the best Cannoli in my memory…until now. The caramel sauce those cute little shells were lying in brought the chocolate and sweet cream together beautifully and the addition of fresh strawberries was a nice touch.
We missed the owner, Kathy Aikens, but she left her kitchen in capable hands with chef, Paul Durazo, and gained two more fans (oh, wait, we already were). Now if we could just get her to add gnocchi in vodka-cream sauce, it'd be Heaven on Earth.
Pasta GiGi's, located in the Battle Ground Village, is open six days a week: Monday-Friday lunch hours 11 am-2 pm, dinner hours 4-9pm; Saturday lunch hours 11 am-3 pm, dinner hours 5-9 pm; closed Sundays.