A brief British Columbia wine tour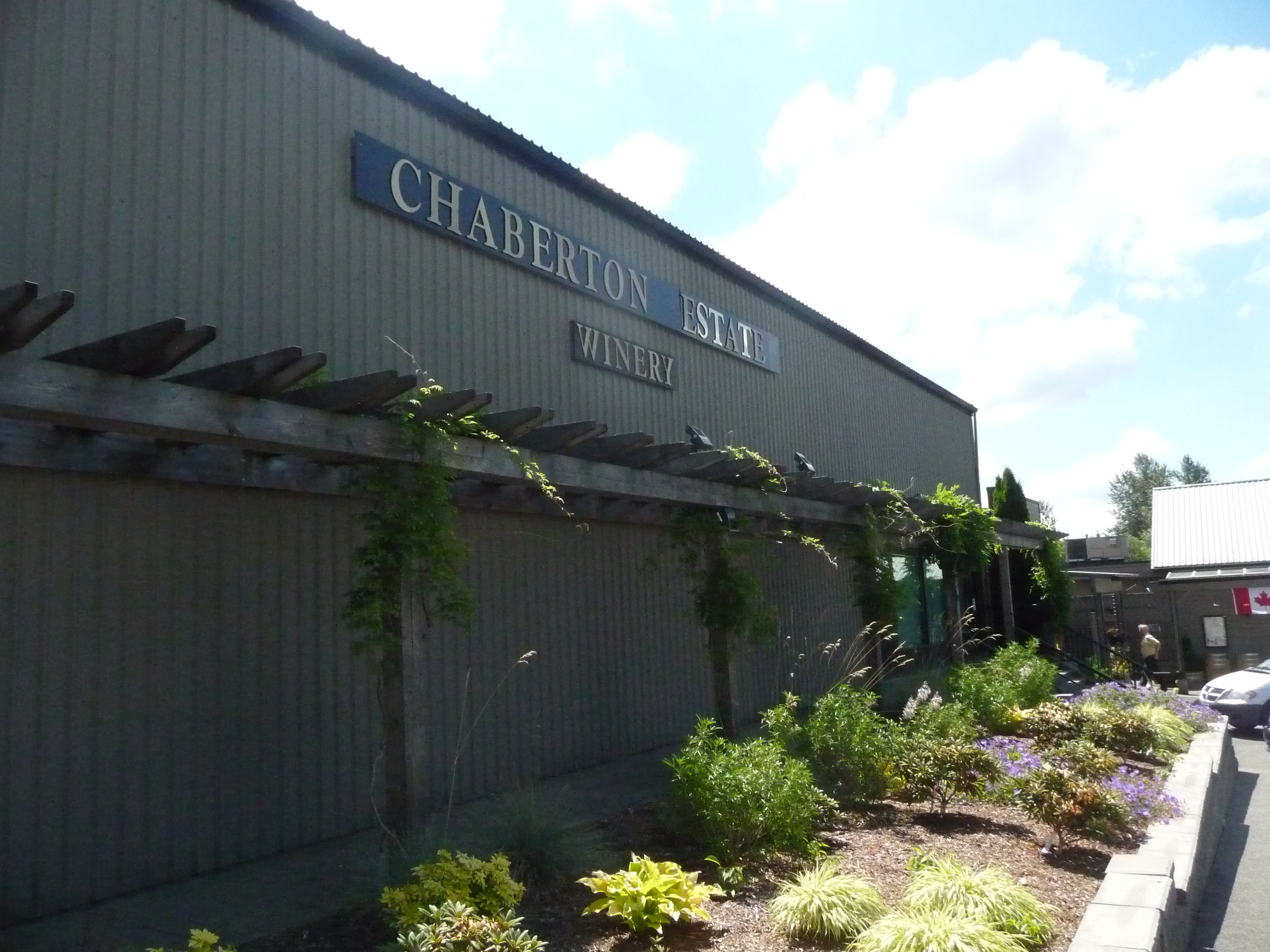 While up in Bellingham visiting my folks last week my mom and I ventured across the border to tour some Canadian wineries. The company was nice, the weather was perfect and the wines were light.
Wine has a lot to do with preference and what a palate is accustomed to. Living in the Northwest, I am accustomed to warmer climate grapes-sourced from Walla Walla, and the Willamette Valley-which affects my purchase of other wine-making regions like Napa, Sonoma, Spanish Tempranillo and Italian Sangiovese.
All the wineries we visited were in the Fraser Valley so the majority of the grapes are being sourced from the Okanagan Valley-cooler climate hence lighter wine in body. If I lived in Canada and these were the wines I drank regularly, I'd probably warm up to them with greater ease (pardon the pun). If I had a 'younger' palate, I might prefer them to the heavier-bodied wines I've graduated to over the years I've been enjoying wine.
Having said that, the wines that stood out in the Fraser Valley were the whites. If you ever want to drive this trip…well, I'd never be able to tell you the actual route we took but there are 10 wineries in the Abbotsford/Langley area and they really aren't a great driving distance apart…so long as you're not in a car I'm navigating. Langley and Abbotsford are a one hour drive from Vancouver, BC and Langley is probably a 10 minute drive east of the Blaine-Peace Arch US-Canada border crossing and downtown Langley is full of cute shops, restaurants and cafes. FYI: None of the wineries charged a tasting fee. Who knows how long that will last so plan a trip sooner than later.
I've stayed in Ladner, BC a couple different times. It's bordered by the Fraser River and makes a great lodging option for kayaking and biking and then there are several wine tour possibilities to choose from North, or East. The Fraser Valley is just a beautiful area. Keep in mind there are a few wineries that make nothing but fruit wine (sounds obvious that wine is made with fruit but I'm referring to a blackberry wine versus a Merlot), a couple meaderies and even a winery in Langley making rice wine (Seoul Ricewine).
In Langley/Abbotsford The Official Wine Tour Handbook to British Columbia lists (The ones we visited are in bold):
Abbotsford
Langley
Chaberton Estate Winery (recent name change)
Fort Wine Company (fruit wines)
Mason Manor Mead
Backyard Vineyards (formerly Neck of the Woods Winery)
Seoul Ricewine
Chaberton Estate Winery – Wine shop manager, Maurena, poured for us and supplied us with a plethora of information about their wines. My favorite was their 2013 Dry Bacchus which showcased stone fruit, had a pleasant medium acidity, not too sweet, would pair well with cheese or be easily drunk on its own. We both walked away with a bottle of this. $17.35 CAD.
Chaberton is the oldest and largest winery in the Fraser Valley. They receive 66% less rain than Vanc, BC and 33% less than in-town Langley. One of the fun things about tasting in other regions is grapes that may be unfamiliar or rarely used in one's own climate. Siegerrebe (Zigareba) is a cooler-climate grape made of Gewürztraminer and Madeline Angevine. You'll find it at this winery and others. It has slight spice notes and I think it'd pair wonderfully with crab. Tasting Room Hours Mon-Sat 10 am-6 pm, Sun 11 am-6 pm.
Backyard Vineyard (previously Neck of the Woods) – This place was just cozy and had several cheese platter options that paired nicely with their wines. There's also a Groupon winery tour that can be purchased for Backyard. I enjoyed their 2013 Pinot Gris with green apple and melon notes-$16 CAD.
I think it'd pair well with Thai food or shrimp. Of the reds, I'd say the 2012 Nosey Neighbour Red was my favorite for its name-$15 CAD. I thought of Rusty Grape in Battle Ground. They're constantly having neighbor issues and I think they should name a red 'Nuisance Neighbor' but I digress. The 2011 Merlot was probably my favorite for the high tannins. Again, the wines were lighter than I'm used to so this bordered on bold-$17 CAD. Tasting Room Hours Sun-Wed 11 am-6 pm, Thu 11 am-9 pm, Fri, Sat 11 am-10 pm.
Blackwood Lane Winery – Out of my price range but worth a stop if your pockets are deeper than mine. Two wines were offered for a complimentary tasting. Bottle costs: $44, $44, $69, $99/bottle. Winemaker, Carlos, was animated and had this fantastic story about how he developed a high-end palate for wine at an early age. He was an Embassy kid over in Europe. When the grown-ups have gatherings, the children are corralled in the basement (Not locked up. Just kept out of the way). One time, he decided to pass the time drinking wine but he was too smart to touch the newly boxed stuff at the entrance to the storage room (that would be obvious and he'd be in trouble). Instead, he decided to open the dusty old bottles in the very back-the decades-old ones. It wasn't until he went to University in the States and was relaying the story to a roommate that he realized the hundreds, if not thousands, of dollars worth of wine he had trained his palate to enjoy. Needless to say, his wines are all aged in new French oak and they have a very clean palate. We tried the 2009 Merlot and 2010 Syrah. His wines are quite lovely. Tasting Room Hours Wed-Sun 11 am-5 pm.
Mt Lehman Winery – Their 2010 Viognier was just a little different with hints of orange on the nose and taste. I purchased a bottle for $20 CAD and it was a perfect accompaniment on the patio Tuesday night. Kind of wish I'd bought a couple bottles. Mt. Lehman is the highest-awarded winery in BC and, again, they're using some grapes that are less familiar to SW Washington; Ehrenfelser, Oraniensteiner, Cabernet Foche, Zweigelt. I enjoyed the 2012 Heartbreak (white) and 2009 Old Settler which is a blend of five different grapes-blends are just a lot of fun, I think. Tasting Room Hours Wed-Sun noon-5 pm.
Vista D'oro Farms & Winery is not listed as open on Wednesdays but it's on the same road as Chaberton Estate and their gate was open. Co-owner, Patrick Murphy, was walking around the property and showed us around, though, which was very sweet of him. They're renovating an old barn to feature live music and a friend or relative (?) sings opera so will be performing in the space when it's complete. The high ceilings of the barn will make a truly magical place to experience opera in the vineyard. He walked us up to The Shop & Tasting Room to sample their walnut port (fortified with brandy)-a unique and quality port with walnuts sourced from their 10 acres.
A variety of preserves are also made and sold on-site. In the shop, cheeses and charcuterie are also available for purchase to supplement an upscale picnic or elevate an evening at home. Tasting Room Hours Thu-Sat 11 am-5 pm, Sun 11 am-5 pm.
All in all, it was a fun way to spend a day and if a person really enjoys wine as a hobby or in a more serious fashion, every wine tasting experience adds to your knowledge of wine.
FYI: You might want to make sure your phone will work across the border (roaming fees add up) and/or buy a SIM card when you cross over. It didn't take my mom long to realize my internationally-poor navigational skills were now her immediate concern and she really should've bought a SIM card but, hey, what would be the fun in arriving at your destination smoothly and efficiently without a couple missteps along the way. In my defense, we never backtracked or overshot anything, we made it home safe and sound at the end of the day and we both cried all our eyeliner off from laughing so hard.
For more information on wines of the Fraser Valley and other areas of B.C. go to: http://winetourhandbook.ca/