Evergreen Wine Cellar is a Friday night hit in my book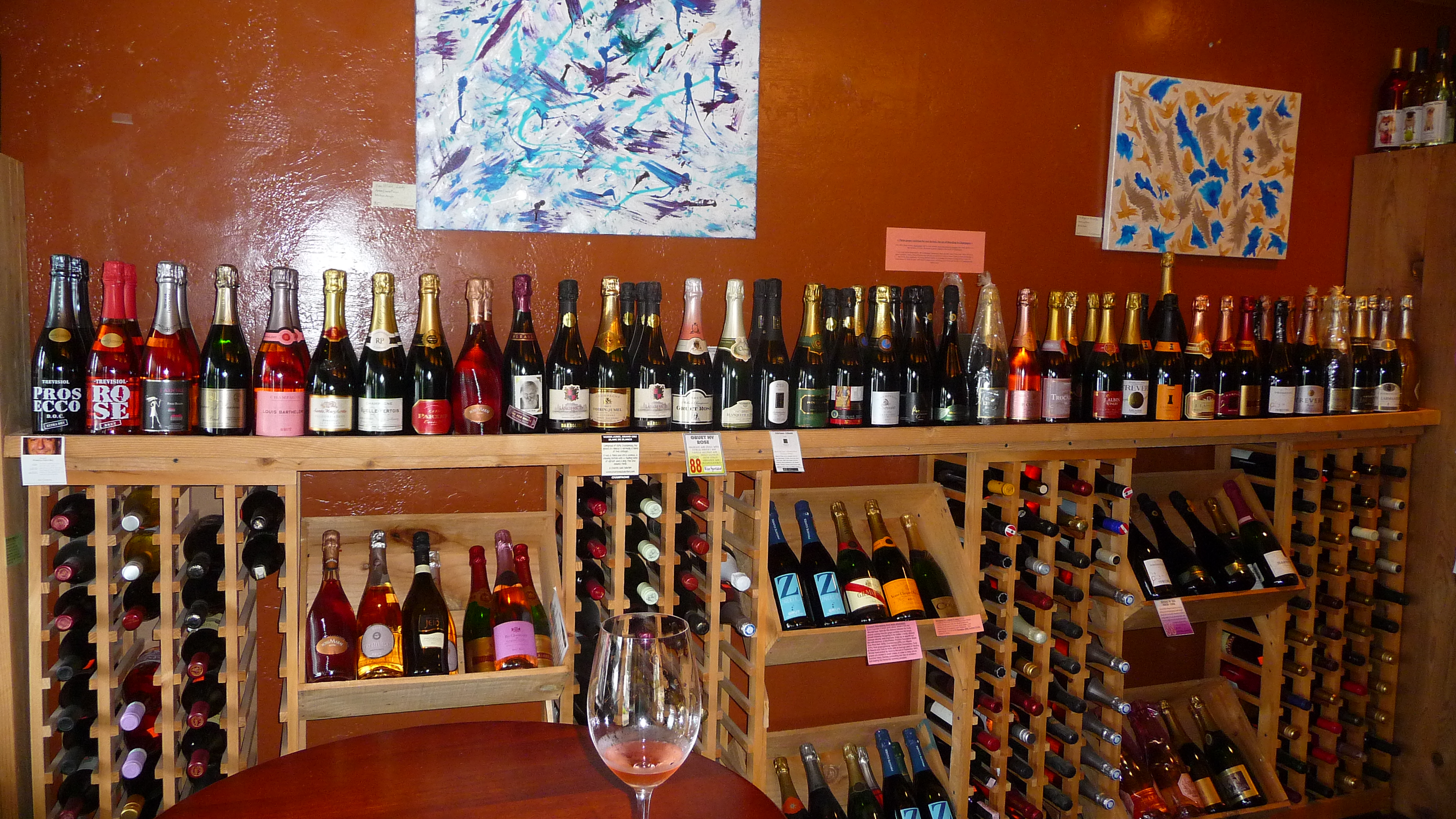 Evergreen Wine Cellar won the coin toss in our house for what to do on Friday night and we chose well.
The owner, Pam Robertson, had a line up of eight small vineyard Italian wines in the front room and a crock of spaghetti in the back room along with Kalamata olives and a popular round of bleu cheese with crackers. The spaghetti had meat in it so I wasn't able to have any but it probably paired wonderfully with the three reds she was offering.
A bit surprisingly, some people remarked that the spaghetti was a nice accompaniment to a couple of the whites, as well.
She started us off with Perazzeta's Sara Bianco IGT which is a blend of Trebbiano, Chardonnay, MalvasiaBianca and Sauvignon Blanc. Aroma of lemon and citrus were immediately evident with a light floral nose as the wine warmed a bit. For me it was a bit sour on its own but it paired nicely with blue cheese. $12
Next up was Perazzeta's Sara Rose IGT, made of 10% Sangiovese. I enjoyed this one more and could smell the strawberry I was expecting once it was off ice for about five or six minutes. I could see how it'd go nicely with spaghetti since it's a Sangiovese although as a chilled blush that might bring frowns. Wine's all about personal taste. $14
I really enjoyed Antonio Sanguineti's Vermentino. Sanguineti is known for racing European cars and listening to opera as he zips down the autostrada, according to the tasting notes. A fine Italian gentleman. Pam suggested pasta with lemon and I agree that'd make lovely, light marriage. It's described as a clean wine and I found it to be a wonderful option for sipping on its own. $14
Cantina Altarocca "Arcosesto" Orvieto garnered a smile from me and my husband since we visited this beautiful hill town years ago on our first trip to Italy. We actually took an underground tour of the city and were told there's more Orvieto underground than there is above it due to the amount of tufa (a form of limestone) present. Its high acidity makes it bold enough to have alongside Kalamata olives and blue cheese but I think a well-seasoned Halibut would be a fantastic choice. $16
A characteristic sweet aroma greeted me as I swirled the Moscato Giallo Trentino DOC in my glass and lifted it to my nose. Moscato is commonly a lovely aperitif or patio wine. This one was not as sweet on the palate and had a dry finish, not at all unpleasant just a bit surprising. Pam threw out the idea of Thai food which I could see or maybe even Middle Eastern-light on the masala. $20
Number 6 for the night was a 2011 Casa Contini Brindisi Riserva-80% Negroamaro, 10% MalvasiaNera and 10% Sangiovese. The body was a bit light like a Pinot Noir but a delightful wine particularly for the price point. I enjoyed it; easy enough to have on its own, it stood up to the blue cheese, would go well with lightly-seasoned grilled meats or pasta dishes such as spaghetti. $12
"In the shadow of the famous Towers of San Gimignano" read the tasting notes of Le Rote's Chianti Colli Senesi DOCG and I paused there to remember the towers and the roofs from above one of those towers (heavy sigh)…tasting notes were spot on; black cherry, tobacco and a hint of oak. Although there were many enjoyable bottles that could've been purchase for a myriad of occasions, this is the one we left with. 90% Sangiovese, 5% MalvasiaNera, 5% Canaiolo. $15
Finishing out the evening was Montepulciano d'Abruzzo DOC Reserva from La Quercia. Sorry, another Italy moment-Montepulciano is the walled hill town where we spent a week in a classic Tuscan apartment and hoped, if we were dreaming, that we'd never wake up. The wine is 100% organic which sometimes is obvious because some of what our palates are accustomed to are not in a bottle of organic wine. I certainly was not aware this was organic but I still preferred the Chianti. It was lighter than I expected but a pleasant enough wine. $20
It's been a long blow-by-blow post but I'd be remiss if I didn't mention that Pam's $5 wine and food pairing nights seem quite popular. There were no less than 25 people milling about at any given time, they all seem to know each other, they all seem to know Pam quite well and many of them extended themselves and made us feel like part of the "regulars." She doesn't post tastings on her website so, if you're interested in knowing when the next one is, be sure to sign up by shooting an e-mail to her at pam@evergreenwinecellar.com. It was a fun way to start the weekend off. Bonus: Our pups romped in Ft Vancouver Park afterwards so even they would give Evergreen Wine Cellar 8 paws up!