Evergreen Wine Cellar's Italian tasting tonight, Latte da's wine bar reopening and the Oregon Historical Society's wine exhibit.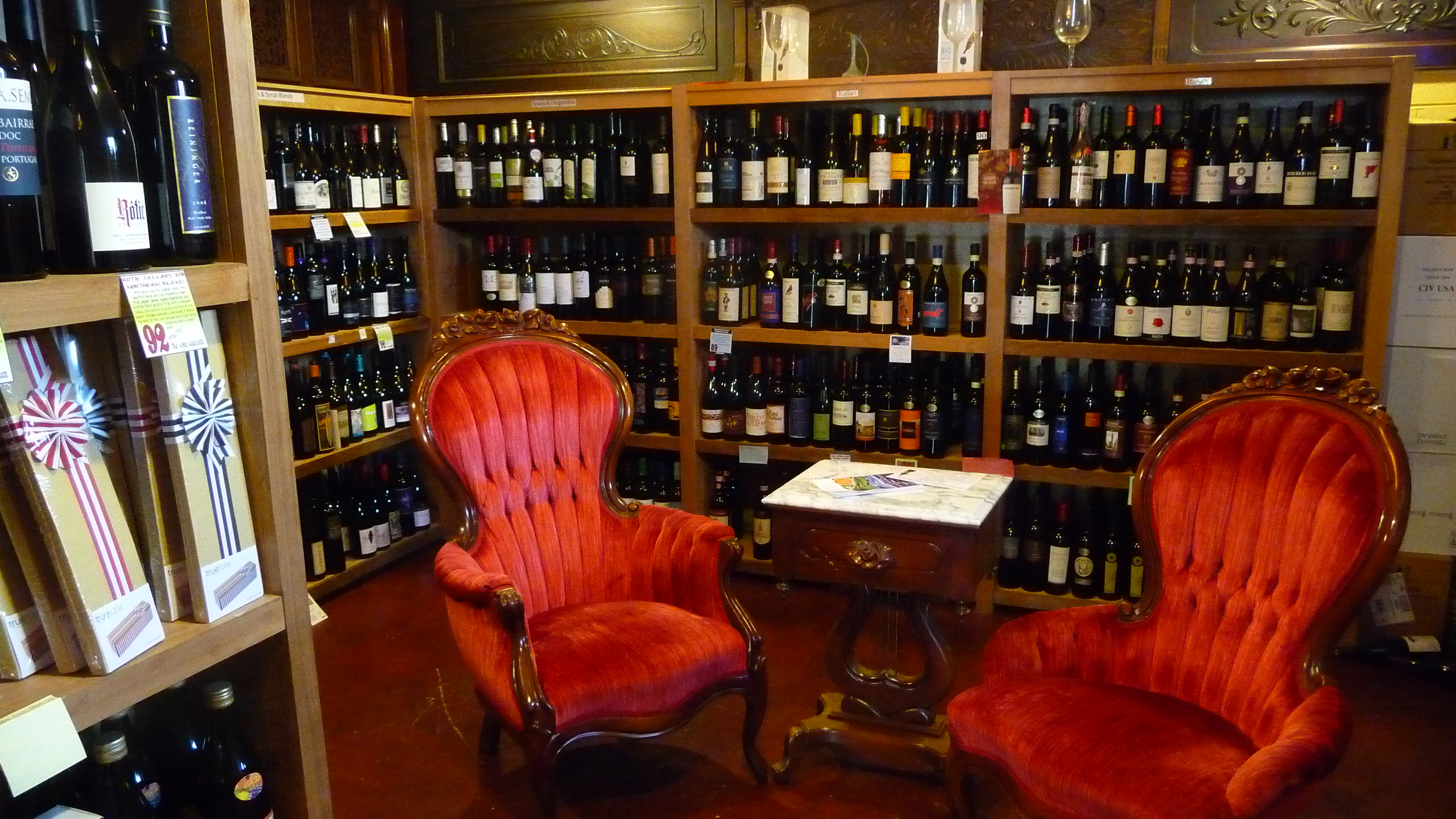 Tonight Evergreen Wine Cellar is hosting a tasting of 8 Italian wines paired with wine-appropriate small bites of olives, spaghetti, blue cheese and chocolate. The event is from 5-8 p.m. with a $5 per person fee.
Evergreen Wine Cellar opened March of 2008 and owner, Pam Robertson, particularly enjoys using her food and wine pairing skills to help customers make informed purchases.
Evergreen Wine Cellar is a locally-owned business that carries the most diverse selection of sparkling wines in town and there's a fantastically impressive wall of bubbles to the left of the shop as you enter to solidify that claim.
Walking a bit deeper in, there's a cozy room that's akin to a comfy library furnished with wingback chairs and walls that Pam's husband paneled with old piano covers from the days when the store was a piano shop.
In total there are three rooms chock full of local and imported wines from around the world making it a fun wine shop to explore. Pam's knowledge adds value to every visit. She's working toward adding a wine club in the coming weeks and hopes to expand her wine and food tastings to full-fledged classes at some point.
For now, weekly wine tastings are generally offered but it's best to sign up on her mailing list for the most up-to-the-minute information on what's going on at Evergreen Wine Cellar. Evergreen offers competitive prices, works with special events and offers wine shipping, as well. Check them out at 2608 E Evergreen Blvd, Vanc.
Latte da Coffee House & Wine Bar is celebrating the grand re-opening of their wine bar tonight from 4-8 p.m. They're rolling out their new menu, featuring wines by Burnt Bridge Cellars (Vancouver) and Forgeron Cellars (Walla Walla), as well as appetizers by Camas' Navidi's Olive Oils and the Beautiful Pig – a Longview charcuterie. Rounding out the celebration will be wine bottle giveaways and music by classical guitarist, James Wallace. Latte da is located at 205 E 39 St, Vanc. They have ample covered outdoor seating, open air outdoor seating and a variety of cozy indoor spaces to while away a lazy Friday evening with some close friends.
While I try to focus mainly on Clark County goings on, The Oregon Historical Society has an exciting exhibit that opened June 7 and will continue through Sep 20 – Clink! A Taste of Oregon. They've paired (pardon the pun) the exhibit with a few wine-related events, as well.
Oregon Vineyards: Through the Eyes of an Artist runs from Jun 7-Sep 20, as well, and "features local artists sharing their unique interpretations of Oregon vineyards."
On June 30 at 9 p.m. on OPB (Channel 10) Oregon Wine: Grapes of Place will be presented. This program focuses on Willamette Valley pioneers disregarding naysayers and establishing vineyards that would rival Burgundy, France.
The first Willamette Week Wine Wednesdays has passed but there are still two more opportunities this summer to attend happy hour events on the last Wednesday of July and August from 5:30-7:30 p.m where Oregon wines will be tasted. Tickets are $15 which includes tastings, appetizers and after-hour museum admission.
For those interested in exerting energy for the love of wine, an Oregon Wine Country half marathon will be held on Sun, Aug 31 beginning at Stoller Family Estate located in Dayton, OR.
The Oregon Historical Society wraps up its wine focus on Sep 14 from 1-4 p.m. with an end of summer celebration which includes tastings from Brooks Winery, Cooper Mountain, Elk Cove and ArborBrook Vineyards. I'm guessing some Sokol Blosser wine will be thrown in since Susan Sokol Blosser will be giving a presentation at 2 p.m. Cost: $15 which includes tastings but not museum admission.