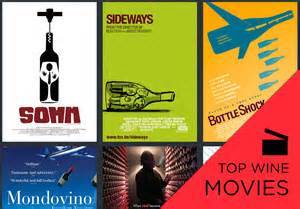 I've been wanting to post a blog about wine movies for months so here goes. Some are obvious, some not so much.
Year of the Comet: This 1992 movie is the oldest in my all-time favorites and, as such, is a bit campy but it was created by the same folks who brought us Princess Bride which is a classic. Penelope Ann Miller and Tim Daly are adorable together and, with Daly's dashing good looks, it doesn't event take long to ignore his cheesy mustache. She's the daughter of a wine auctioneer with a great bit of knowledge that goes unnoticed by her father until she stumbles across an extremely rare bottle of wine. Daly plays her crass, unsuspecting hero as bad guys chase them across Scotland.
A Walk in the Clouds: Sometimes it doesn't appear that Keanu Reeves can walk and chew gum at the same time but he always looks great doing it. Paired with the gorgeous Aitana Sanchez-Gijon, he's a soldier returning from war to an aloof Debra Messing when a chance encounter with Sanchez-Gijon lands him in the midst of her family and their vineyard. The scenes with Anthony Quinn are priceless.
Sideways: Admittedly, I wish there was a PG version of this movie because I totally do not get the crude sex scene that's thrown in, like, 15 minutes before the end of the movie that has nothing to do with anything. Aside from that, I'm a huge fan of Virginia Madsen and I love how Sandra Oh's character allows extremely expensive and well-crafted wines to just be drunk because that's really what wine's for. I do not like Paul Giamatti (in anything) but he and Thomas Haden Church's characters are suppose to be putzes (is that a word) and they do it phenomenally well. If you like road-trip movies and wine, it is what it is.
A Good Year: Russell Crowe's character is a successful investment broker who inherits a family member's Provence vineyard. It happens all the time, very realistic. Regardless, he deals with work balance issues, there's a love interest and he learns about wine.
Bottle Shock: On the list, this is in my Top 2. 2008 Bottle Shock is based on true events that occurred in 1976…events that put Napa on the map. You will learn things about wine from this movie and be entertained in the process. The cast includes Alan Rickman, Bill Pullman and Chris Pine. The interactions between Alan Rickman and ex-pat Dennis Farina's characters are as entertaining as the ones that take place on the family vineyard between best friends, Chris Pine and Freddy Rodriguez as they battle for the heart of the new vineyard intern, played by Rachael Taylor, and Pine and his dad (played by Pullman) as they engage in a war of the wills.
Somm: This 2012 movie is actually a documentary about the much-touted Master Sommelier journey. In its over 40 years of existence only 219 (to date) have held the Master Sommelier title world-wide. It's a glimpse into an obsessive, exhausting and consuming passion. A must-see for wine lovers.
Pick up a bottle of your favorite Sauv Blanc, Cab or Pinot Noir and settle in with a couple of movies that'll just leave you wanting to learn more about wine.