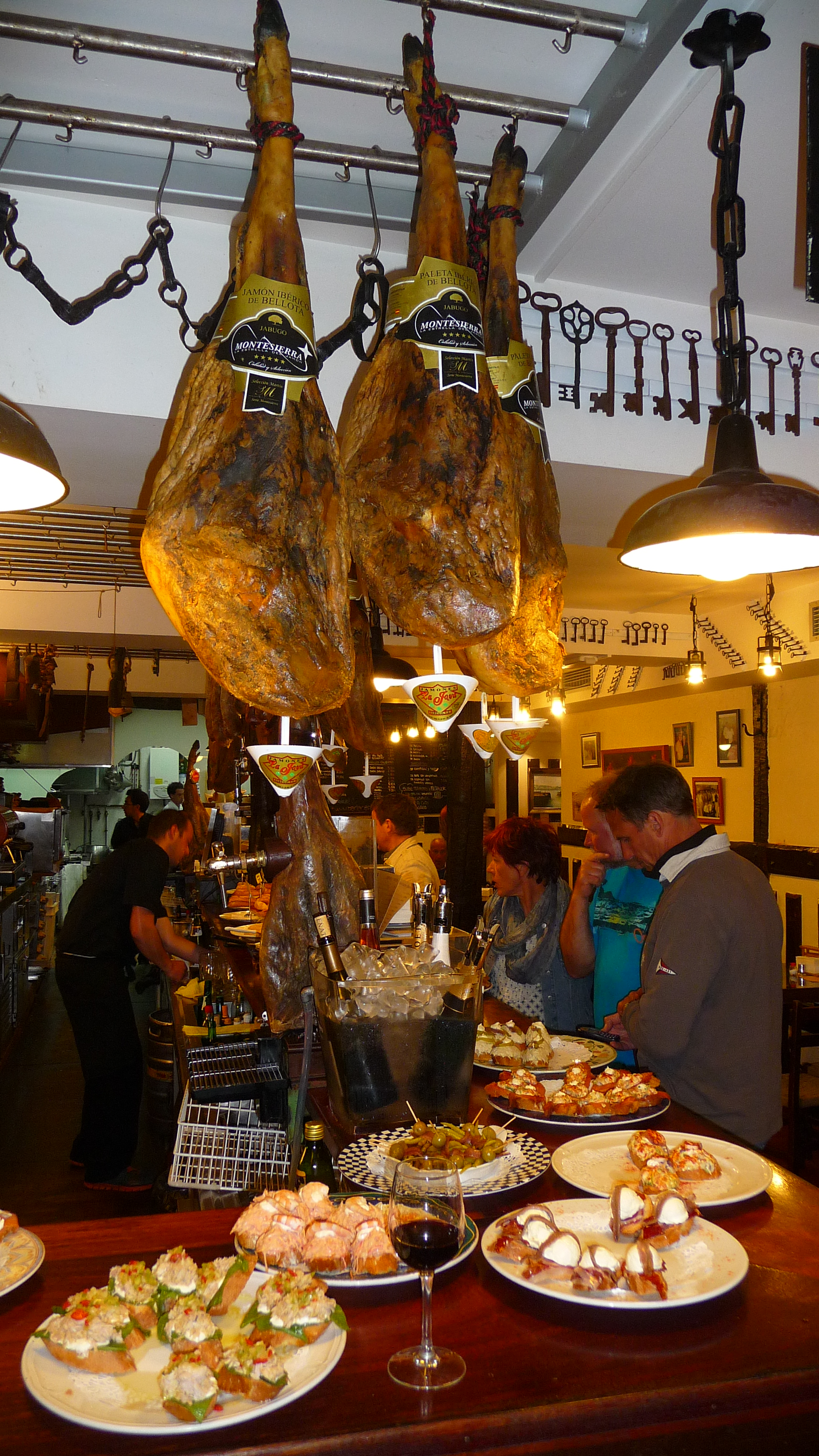 We're spending our last night in Madrid before flying home tomorrow. I thought I'd post more while here but we've either been too busy or I've been too tired. Dinner doesn't start here until 9 pm and that's still more a tourist crowd. After visiting five European countries, I will say that Portugal seems to have the absolutely nicest people I've ever met (and I've met a lot of nice people in the other countries) and a person would be hard-pressed to find a bad glass of wine in either Portugal or Spain.
Having said that, as a vegetarian I prefer the food in France and Italy. Portugal and Spain are unbelievably ham heavy. Everywhere you turn there are ham legs hanging from the ceilings. The first night in San Sebastian we had a fantastic experience at Itvrritxo/Jatetxea (That's Basque first and Spanish second…no idea what it means) but when I told the waiter 'sin carne', his reaction was hilarious. He repeated it and repeated it with the most incredulous tone. I'm laughing remembering the moment.
I have so many travel tips to pass along and satisfying wine experiences. Anything Crianza is delightful but the cider is nice, as well. While still in San Sebastian, we walked up to the top of Monte Urgull where the remains of Castillo de la Mota can be found and shared a bottle of 2013 Zapiain Astigarragako Sagardoa sidra (cider) at Café El Polvorin on the way down. This café is not what Americans would probably picture. If you didn't know it was there, you wouldn't know it was there but it had the most stunning views of where Concha Bay meets the Atlantic Ocean. It was a quintessential travel memory (two hours at the famed La Perla Spa afterwards was very nice, as well).
Another one stemmed from a wine class a few weeks ago in Portland. During the lecture, the instructor touched on the ability to tour cooperages in the Rioja region. I inquired as to whether she was aware of one in particular and she recommended R. Lopez de Heredia Vina Tondonia in Haro, Spain. I booked a tour for May 22 straight away and our time there was magical. My husband, a wood worker himself, was in Heaven watching one of their full-time coopers work with barrels. His arms were like Popeye after 30+ years of creating, shaping and repairing wine barrels. Our guide (Lidia) shared with us that many years ago the workers could drink 3 liters of wine a day but today, sadly, only 1 liter. How much more pleasant would work be if we could all do that?!
While still staying in Vila de Gaia across from Porto, Portugal we enjoyed a delightful port tasting at Kopke and visited with a well-traveled couple from the States who both work for Kroger. There are several port lodges in Vila de Gaia and, after one full tour, one probably would prefer tastings only. Kopke is progressive in this respect with several different tasting experiences available paired with crackers, white chocolate, milk chocolate and dark chocolate from their wines to their white ports, ruby ports and tawny ports. Do-over moment, to be sure.
In the Douro Valley, we had a fantastic fish lunch at Restaurant Avelha Tendinha located in Peso da Regua before traveling the photo-perfect windy roads to Pinhao. Rather than tour a quinta (and there's a terrific 3 hour experience at one on the left side of the bridge crossing into Pinhao), we opted for a tasting only at Royal Oporto Wine Company. Our hostess lined up nine (9) different ports from sweet white to 20 year old tawny per our specifications and we were left alone in a comfortable, unpretentious setting.
Sangria here in Spain is even different than at home. Mixed with lemonade, it is so much more refreshing and far less sweet than what I've tasted and made myself. I far prefer it and will try to replicate it at home this summer.
Leave it to me, I found what I'm sure is the only vegetarian restaurant in San Sebastian (Hurrup Etaklik on Rue de la Citadelle across from a local bar with a fantastically sweet waiter – Bar Trueba) and we've enjoyed two dinners at Zagat-rated Artemisa II at Tres Cruses #4 off Gran Via.
Of course we've enjoyed some culture. The highlight for me was viewing Picasso's Guernica today at the Reina Sofia although we also walked through Madrid's Royal Palace (the Gasparini Room was my favorite), Toledo's famed Cathedral, took a boat tour down the Douro River, and reveled in the surprisingly colorful ceilings at Almudena Cathedral.
Looking forward to seeing our puppies but we have more travel memories to satiate us in our golden years. It's a big world out there but the more we see, the smaller it truly seems.