Memorial Weekend provides an array of tasting options all over the County.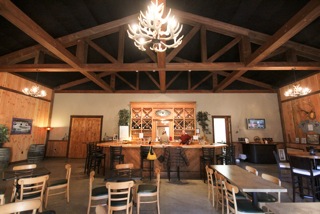 Memorial Weekend is upon wine lovers everywhere and, while I'll be spending it in the Basque region of Spain (San Sebastian), there's plenty of voluptuous vino in and around Clark County to fill a long weekend.
This is one of two weekends during the year that wineries throw open their cellar doors in a bigger way than usual.
Confluence Winery seems a bit off the beaten path but it's only three miles from the Ridgefield exit and the drive is carpeted with bucolic vistas. Once there Confluence truly is offering wines that are just a little different than other wineries in the area. Greg's gained his experience from a man who's been making wine for over 40 years. Their 2011 Bellisimo and 2011 Equilibrium are my favorites.
Gouger Cellars Winery, in the old Ridgefield firehouse, has an ideal rooftop patio for drinking in countryside views as well as his well-crafted wines. Gary's goal is to host music on the patio. He also makes his own line of wine-inspired ice cream for all ages to enjoy.
Taking nothing away from the craftsmanship and artistry of other wineries in the area, Bethany Vineyard & Winery is arguably the big daddy of visual mastery. The expansive view as you meander up the drive is equal only to the whimsical pond that is made the backdrop of many weddings and special events. Walt is a hard-working man with a genuine fire to share his love of wine with everyone who comes in to the tasting room as well as other winemakers in the area. Bethany also hosts a Music in the Vines concert series each summer. This is a perfect location to enjoy a picnic lunch.
A neighbor of Bethany, off NE 29th Avenue, is Three Brothers Winery. Three Brothers is distinct in its care with Tempranillo which won them a Double Gold at the 2012 US National Wine Competition. Spice, tobacco and smoky tasting notes remind me of walking into a cigar bar and makes me hungry for my Goat Cheese-Stuffed Chicken with  Sundried Tomatoes. As is the case with many wineries, Three Brothers hosts a summer concert series so be sure to ask about the upcoming line up.
Thirty five minutes away, in a pastoral setting near a railroad crossing, sits Moulton Falls Winery. Do not let the drive keep you away from this wonderful destination winery. Saturday promises to be clear and sunny. Combine the drive with a walk around Lewisville Park or a light hike around the trails of Moulton Falls. For your efforts, you will be rewarded by an impressive tasting room unlike anything else in the area.
Walking in, you are overtaken by the smell of wood and the vastness of the space and then envy the group who's scored the leather couches in front of the woodstove (or become the envied). Moulton Falls teams up with the Chelatchie Prairie RR for wine runs throughout the year so be sure to inquire about their 2014 schedule. Keep an eye out for Jake, their Great Pyrenees mix who looks like a golden retriever on steroids.
Less than 15 minutes southwest brings you to Heisen House Vineyards which has the distinction of being a National and State Historic Site. In addition to tastings, they have scheduled festivals throughout the year. If you're in the mood to poke around a quirky country store, be sure to take a left out of their drive onto NE 279th St and pull into Heisson Store, home of the politically incorrect yet uproariously funny Red Neck board games as well as other locally made gifts and foods.
Heading back toward downtown Battle Ground, be sure to stop in at Olequa Cellars on 142nd Avenue. As I've mentioned in the past Olequa is not open every Saturday but they sure will be this Saturday (and Sunday, I believe). Brian's wines are worth the time it takes to plan and prioritize and it's my understanding he now has a selection of food available as well as live music in the afternoon.
Emanar Cellars is a favorite of mine. Richard and Mar opened their elegant Spanish-style tasting room at the entrance to the Battle Ground Village last October. They've incorporated some sweeter wines for palates that do not lend to the full-bodied Tempranillo-heavy Spanish wines but their red line-up is still impressive and exciting. Mar hails from Madrid and they're both well-versed on the grapes that go into the style of wine they're pouring. They've added outdoor seating and patrons can purchase wines by the glass beginning May 31st! They're also one of the stops on the Passport to Battle Ground Memorial Weekend tour.
For all their efforts, Rusty Grape Vineyards is probably a well-known name with Clark County residents. People drive in from Portland routinely to enjoy the relaxed Cheers-esque feel that Jeremy and Heather have worked hard to provide a quick five minutes east of Old Town Battle Ground. This place has a lot going on; approachable wines, live music, movies on the lawn, craft fairs, wood fired pizza, craft beer and they're open until at least 9 pm.
But wait, there's more. East Fork Cellars Winery closed their Ridgefield location back in April but scored the coveted Old Slocum House spot in downtown Vancouver last July. To pair with their fun-loving, ready to drink wines they regularly host live music and will, no doubt, be rolling out a hospitable carpet for fans of the grape this holiday weekend.
While downtown, be sure to check out Burnt Bridge Cellars, owned by an engineer and a chemist. Mark deftly runs the winery while David uses his skills to take prized Walla Walla grapes and create award-winning wines…just for us! Their reds are full-bodied and luscious-words that reach nirvana for me.
Cellar 55 rounds out the wine tasting options in downtown Vancouver (though there are restaurants that have some terrific wine selections but that's a different post). Michelle Brinning partnered with Trish Nolan back in September to expand this wine storage facility into a four-winery cooperative that feels like a posh cigar lounge (non-smoking, don't worry). With so many wineries to choose from, the tastings provide a mini-tour of wine-making styles and grape varietals. Live music this Friday and Saturday are also on tap.
A round up of tasting options would be sorely incomplete without venturing to English Estate Winery which I posted about a couple weeks ago. This is the second-oldest winery in the area, the first (Salishan Vineyards) having closed years ago. The ability to use estate-grown grapes planted in the 1980's is enjoyed by this family-run winery and, with the generations of experience, oenophiles are in for a treat and a true education with a visit. Every Friday night there's also live music and catered food available.
This aggressive wine tasting tour illustrates how much our area has grown literally and figuratively with the options in quality and award-winning wines and I've heard there's more to come. Make it a point to get out and explore for yourself. Cheers!