Brewed in downtown Vancouver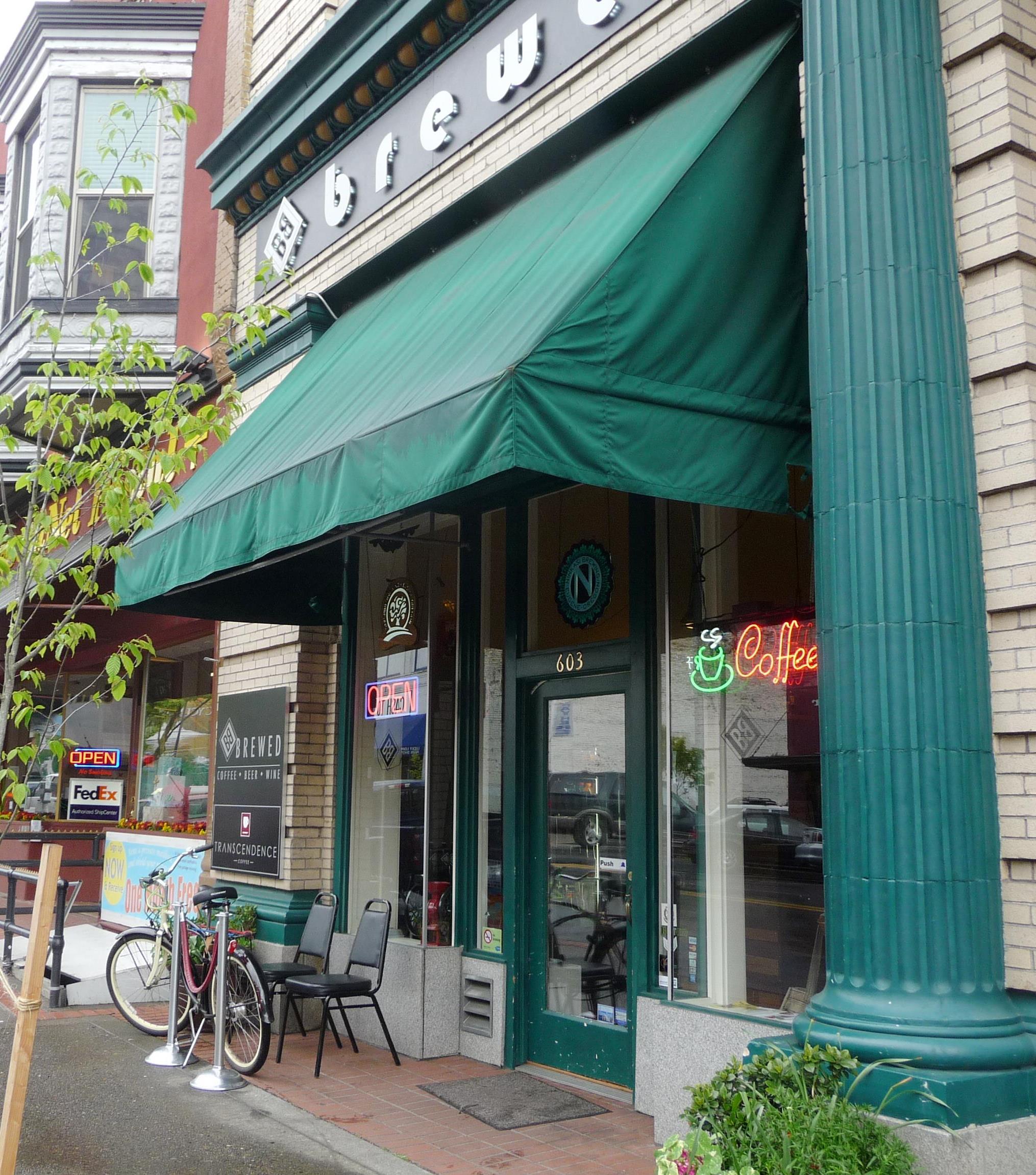 Last Tuesday night my husband and I comfortably passed some time at Brewed in downtown Vancouver.
The space is bright and inviting downstairs; intimate and relaxing upstairs. The wait staff has always been very friendly and interested in getting to know the folks that frequent their establishment.
Brewed's wine selection is limited but intentional. At any given time there are six reds, three whites and a blush available. My choice of a 2011 Charles & Charles blend of 72 percent Cabernet Sauvignon and 28 percent Syrah was a nod to the fact that I am first and foremost a Cab girl. I was vacillating between Naked Winery's Penetration Cabernet Sauvignon and, once I made my selection, the good-natured server (Kody) tempted me with a taste of the Penetration. I hated to admit it was a clear step up but Charles Smith does what he does well – which is make approachable wine with the intention of being consumed now. He lays no claim to fashioning a wine for aging because, truth be told, over 90 percent of wine purchased in America will be sipped within hours of its purchase.
Having said that, since this blend was predominantly Cab Sauv, it had the potential to be aged. Due to the acid and tannin structure of Cab, it tends to age the best of the Big 7 grape varietals. This wine definitely showed to me as more of a food-friendly wine than one you could have all on its own. While I know it would make me seem more impressive to say I drink all my wine with a nice meal, I don't. I prefer to drink most of my wine on its own or paired with some munchies. By the time dinner comes along, my wine is gone. Oops!
Several years ago we checked out the Charles Smith tasting room on Spokane Street in Walla Walla. He has a few lines to choose from with different focuses for each; K Syrah, Charles Smith, Charles & Charles, ViNO and he's even dabbling in sparkles with Secco Italian Bubbles – a partnership he's formed with two sisters from Italia!
At Brewed you'll find seating for about 6-8 downstairs but a lot of fun to be had upstairs where at least 26 could gather comfortably between a cozy nook with a bird's eye view of the restaurant below, a farm table with seating for eight, counter-level seating perfect for hunkering down with a lap top in front of their big screen tv, a couple couches and a bean bag chair in the tv space and a few more tables. There's even a couple full bookshelves; just a warm, community feeling, really.
Breakfast, lunch and dinner can be had at Brewed so there's plenty to pair with a glass or two of wine. They also rotate a nice selection of microbrews and pints are $3.25 for anyone in the party who's not a wine drinker.
Open Mon-Thu 7 a.m.-9 p.m., Fri-Sat 7 a.m.- midnight. and Sun 7:30 a.m.-3 p.m. Keep an eye out for a new look to Brewed sometime this summer as they change up their current footprint to bring more space and options to patrons.
**If you like what you're reading, follow Corks & Forks by clicking the 'Follow' button on the bottom right-hand corner or follow Corks & Forks (News/Media Website) on Facebook.