Latte da Coffee House & Wine Bar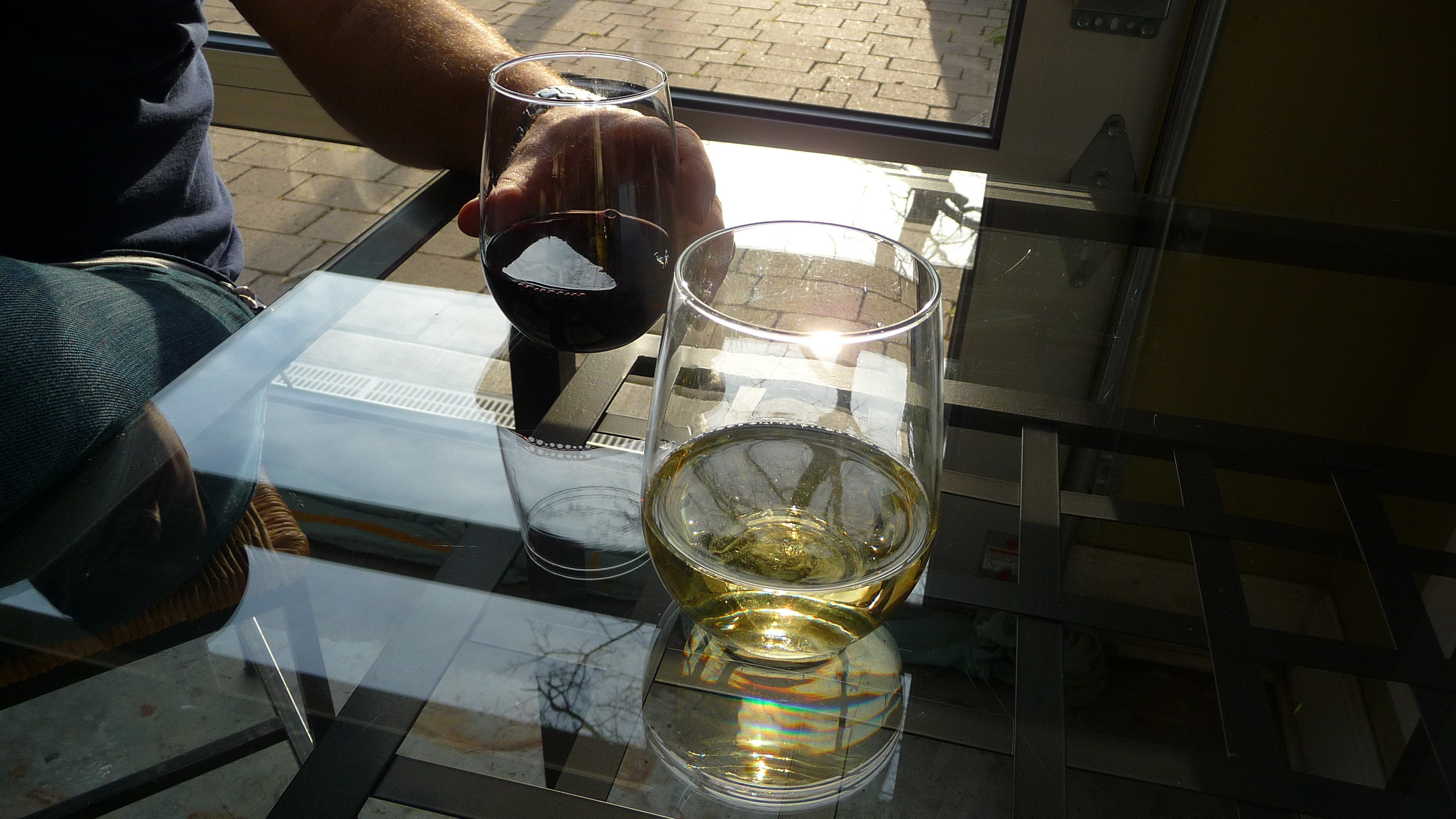 In early April there were some lovely days before we went to Dallas and San Antonio. One afternoon we lingered at a sleepy coffee shop that has a nice wine selection which I've mentioned in the past – Latte da Coffee House & Wine Bar.
Latte da has a terrific patio space for warmer days that extends from the front of its circa 1940's home-turned-cozy dining and sipping spot but we chose the converted garage since I really wanted to be outside and our dogs were with us. As we sat at a corner table encircled by windows the sun cascaded in, warming us on the outside while our wine choices warmed us from the inside.
Their small wine selection seems perfectly chosen to cater to a variety of palates while keeping their stock manageable. The one draw back is that all their wines are served in stemless glasses; not the best presentation for whites but I've asked the owner about it in the past and he feels it cuts down on the breakage of glass ware. He's a super great guy and, again, I love his space so I just roll with it.
As many of you know I'm much more a red wine gal than a white but sometimes, when the sun's streaming just right and I'm itching for those languid 80 degree August days being a slug on my back patio, a Sauvignon Blanc or Pinot Gris sounds perfect.
Latte da accommodates with a refreshing Maryhill Winery Pinot Gris ($5.49) but my husband opted for their Winemaker's Red ($5.99) which is also consistently a sure bet. A mid-straw color with a hint of spice and light apple on the nose with an off-dry finish, this Pinot Gris delivered the refreshing, clean mouth feel I was looking for. It would've probably paired nicely with a slice of their Spinach & Artichoke quiche ($4.75) or Veggie Panini ($8.79)
Open Mon-Fri 6:30 a.m.-8 p.m., Sat 7 a.m.-5 p.m. and Sun 7 a.m.-5 p.m., there are plenty of opportunities to linger over coffee with a satisfying breakfast or wine with some satiating accompaniments. Keep an eye on their community board out front. They have live music, sip and paint events and a host of other fun gatherings.
**If you like what you're reading, follow Corks & Forks by clicking the 'Follow' button on the bottom right-hand corner or follow Corks & Forks (News/Media Website) on Facebook.