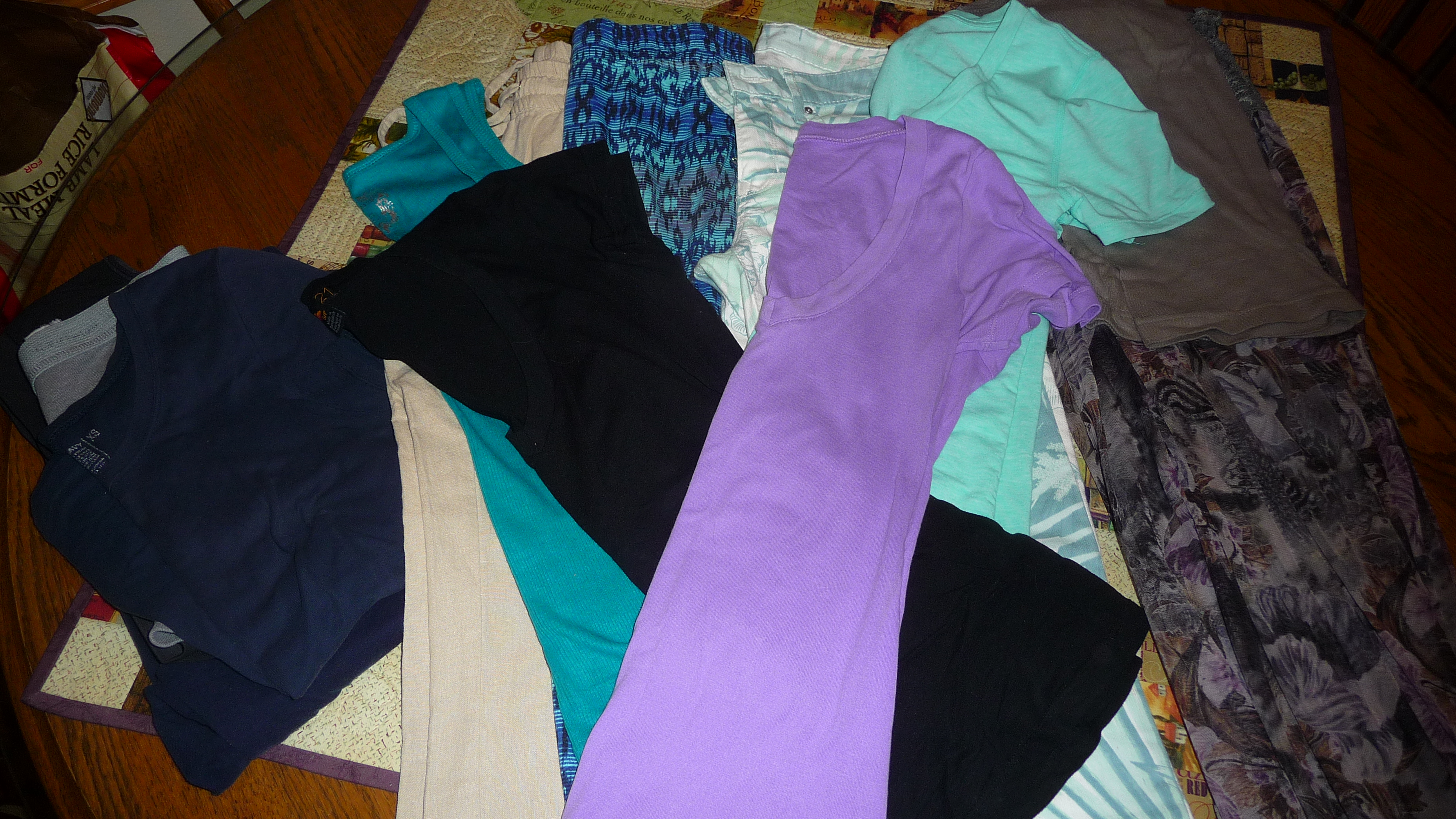 Dan & I leave for Dallas tomorrow. Actually I'm suppose to 'wake up' in 4 hr 15 min. Ugghh! But I wanted to share what I'm taking with me. Seven days in Dallas and San Antonio requires 4 bottoms, 5 tops and a minimum of 13 outfits, thank you very much. Ooh, my carry-on bag will be so roomy I might even be able to buy another skirt at that terrific boutique my friend bought the beautiful skirt with the lacey waste for me at a couple years ago. Hmmm…..
When I visited my folks a couple weeks ago my mom went shopping with me and convinced me to buy the fun turquoise pants I'm taking along with a turquoise T-shirt that goes with the long skirt with the slit up to the knee (Okay, Ross, it goes further than that but knee, thigh, they're just a few inches apart). Then we found these fabulous linen camel pants and, seriously, all this stuff matches so well I can get away with nine pieces of clothing for a 7 night trip. I just love that. I'm cheating in my count a little bit because the navy pile to the left is my night/work out pile but they're not street clothes so I can do that, right?
I firmly believe that the less a person packs on a trip, the more fun they're bound to have. Take it from a gal who's lugged her carry on all over the streets of Rome. If it'd been any bigger, we would've needed more than one glass of wine to get over the nightmare (and sore shoulder). May I encourage all you clothes horses out there, if you think you 'might' need it, you probably won't. Leave it at home and pack only items that'll go with at least one more thing.
Thank you, mom, for being my personal shopper. Now if someone could just get me this excited about yard work.