Columbia River Wine Sellers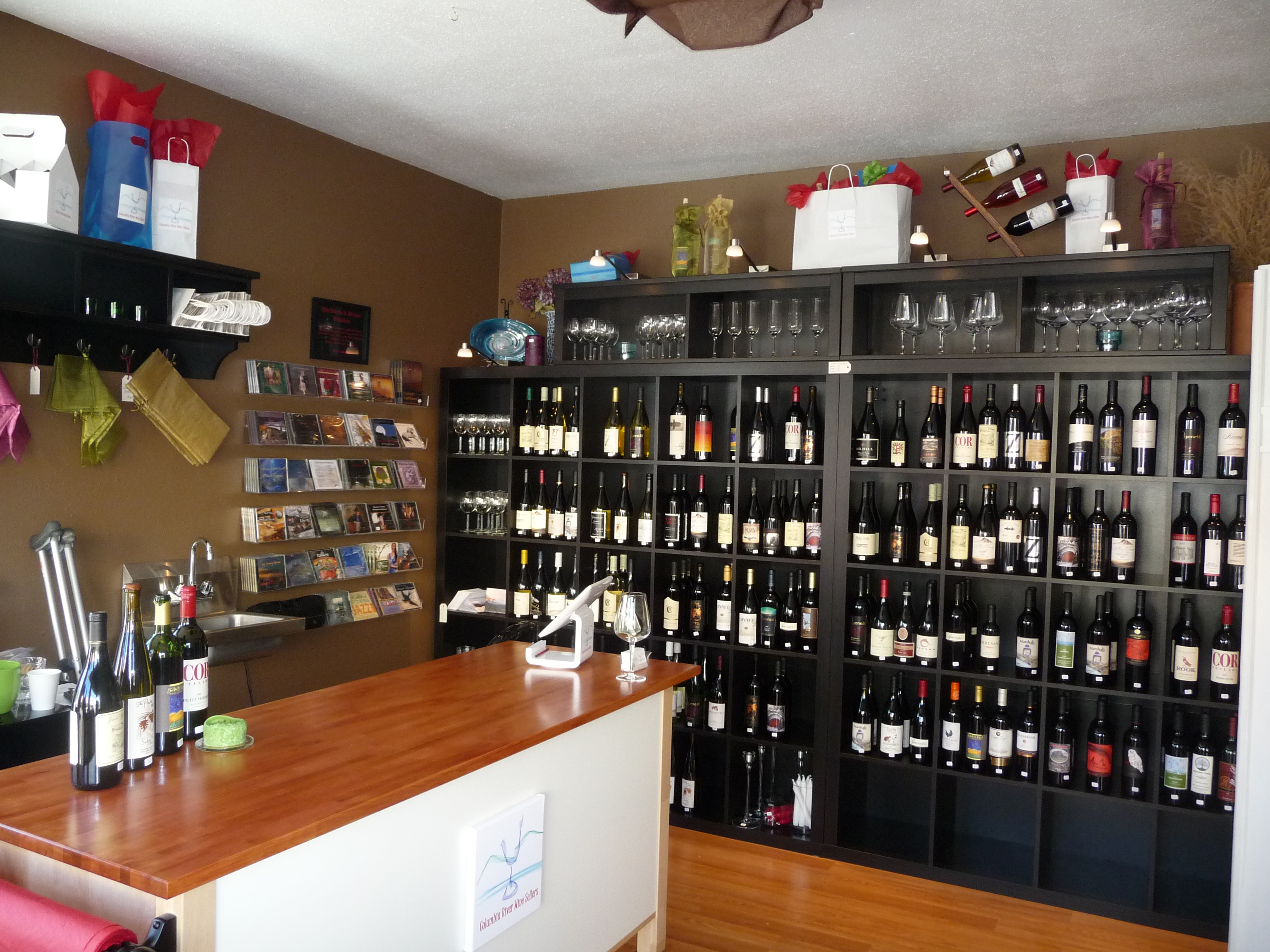 A few weeks ago my husband and I took our pups out for their first hiking experience. We walked up Beacon Rock which proved to be a less than brilliant thing to do with deaf and sight impaired dogs. Baby kept wanting to back up on the trail which, for the most part, is scaffolding all the way up the rock. Dan finally stopped trying to take her picture, saving us all the horrific flashbacks of my dog plunging to her death. Later on we walked along the Cottonwood Beach trail. Keep their 8 paws on solid ground is a far better idea.
All this worry and stress could only be quelled by wine. Back in Stevenson the Chamber directed us to Columbia River Wine Sellers which opened on Black Friday – November 28, 2013.
Rob Barrick is co-owner of Columbia River Wine Sellers and, that day, our gracious host. We were happy to discover we could actually buy a bottle, have him open it and drink a glass on the spot. We tasted a Bowlus Hills wine thought I don't remember if it was Merlot of Cab Sauv. Knowing me it was a Cab Sauv. We chose a 2012 Druid's Fluid which is a blend of Merlot, Syrah, Cabernet Sauvignon and Zinfandel. Blends have been popular for awhile now and I really appreciate them for the lighter grapes' ability to soften the edges of the bolder ones and bring a balanced, food friendly or patio casual wine to the table, so to speak. Druid's Fluid was jammy with enough spice to keep it from lingering there and a hint of vanilla on the nose.
Columbia River specializes in Gorge wines. They do have some wines from the Willamette Valley but, predominantly, the wall is lined with the Washington Gorge, Hood River, the Dallas, Walla Walla. Just a terrific selection of vino that's thoughtfully chosen in this smaller space.
Rob was telling us that in the summertime, they're looking forward to opening the roof up for their patrons. A sweeping view of  the Gorge on a brilliantly sunny day with a perfectly chilled white wine or a fun, light red would be spectacular and I could picture it.
Another interesting tidbit about Columbia River is that Rob is a Celtic musician. He's played Highland bagpipes since he was 9 and has also played bass guitar in several bands. Cds that he's collaborated on with other Celtic artists are sold in the shop so it's just another facet to Columbia River that really speaks to the community he and Helen Pollock are working on nurturing.
We bought our Forest Pass for 2014 on this outing, securing the idea that a return to Columbia River Wine Sellers is in our future.